ADMISSIONS BLOG
Cost of Living in Beppu: Part 1 Apartments
University life is a life filled with financial decisions. You want to have fun and travel around. However, with the looming thought of paying your bills, rent, insurance fees, and most importantly, your tuition, making wise financial decisions becomes difficult at times. Usually, as university students, we try to be as self-sufficient as possible, be it through part-time jobs, opening a small business with friends, or if you're a bit of a daredevil, investing in stocks and cryptocurrency. For that reason, we have to keep in mind our expenses, so as not to go broke and request money from back home. Through this blog, you will have a clear idea of how much goes into living expenses here in this small suburban city of Beppu.
Now, this is the most important point for students, housing expense. Usually, in Beppu, the rent and moving-in fee differ according to location and the time of construction of the building. The newer the apartment building, the more expensive it gets. APU students usually like to live around the following areas:
Kamegawa
・

Pros: closer to APU campus; cheaper area; has its own train station; very peaceful

・

Cons: far from the city center
Mochigahama/Minamisuga
・

Pros: grocery shops and supermarkets; cheap restaurants including McDonalds; beaches and parks within reach

・

Cons: sometimes might feel overwhelmed with too many people; many apartments are available but some are relatively old
Ishigaki
・

Pros: peaceful; residential area; beautiful surrounding views

・

Cons: upslope; a bit inconvenient
Beppu Station area
・

Pros: basically everything the city offers

・

Cons: basically everything here is expensive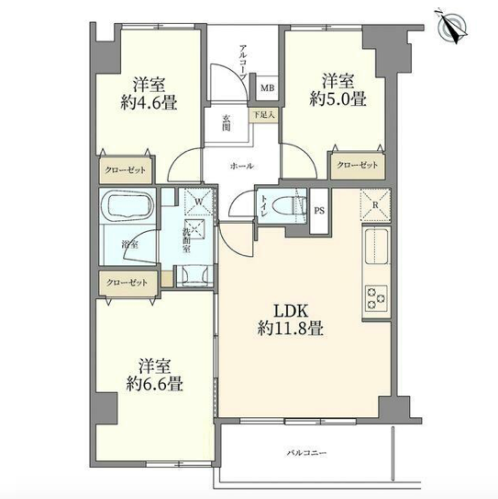 Fig: Floorplan of a 3LDK apartment
Generally, in Japan, apartments are classified based on the number of rooms it has (the number refers to this), kitchen (K), dining (D), and living space (L). For example, a 3LDK apartment means an apartment with 3 rooms, a kitchen, dining, and living space. Among APU students, 1K, 2DK, and 3DK are the most chosen types of apartments. Usually, people who like to live alone and invest in their self-time, prefer 1K/1DK/1LDK apartment types. Students who may want to live alone but prefer more space, or want to fulfill their lifelong dream of living in an apartment with their best friends (like Chandler and Joey or Leonard and Sheldon) usually opt for 2DK apartments. Students who want to cut down their living costs by a good margin and want to live within a community, usually opt for 3DK apartments. An international employee working at a local housing agency in Beppu was kind enough to pass me the information on rent in various locations. Below is a chart which shows on the basis of how much 1 person has to pay and which are chosen by students as a place to stay during their university life: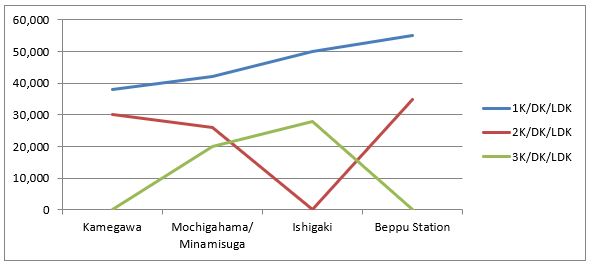 There are a few exceptions in the Mochigahama/Minamisuga area, where apartment rent goes up to ¥60,000 per person in a 1DK apartment, ¥45,000 in 2DK, and ¥30,000-¥35,000 for a 3DK apartment. And the 0 for Ishigaki and Beppu Station is for unavailability of those types of apartments.
Students can also rent a whole 1 or 2 story house to live with share mates, usually around the Kamegawa and Ishigaki areas. Those houses tend to be cheaper and better than an average 3DK apartment. However, they tend to be positioned in less convenient locations, far from grocery stores, superstores, malls, restaurants, and bus stops.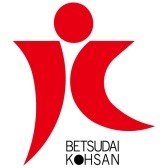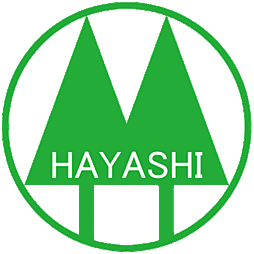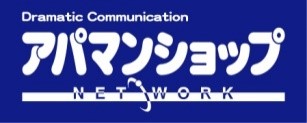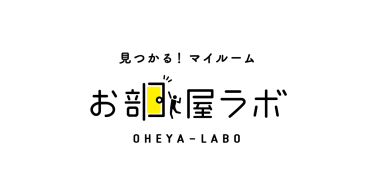 As for housing agents, there are a few good agencies in Beppu, such as Betsudai Kohsan, Hayashi Kohsan, Apaman Shop, and Oheya Rabo that help out students in searching for houses at the cost of an agency fee which usually ranges around ¥40,000 - ¥50,000. Betsudai Kohsan has the best English support for foreign students having two international employees who are APU graduates. Hayashi Kohsan and Oheya Labo too have some form of English support currently. There is another area that is quite famous among the APU students. However, it is pretty much uphill and a bit far away from the center of Beppu. The name of this area is Yamaguchi. The housing here is quite cheap with the rent depending on the number of people staying in one apartment with the benefit of little to no moving fees. For 1 person it is ¥25,000 for the older ones, ¥32,000 for renovated ones, ¥36,000 for 2 people and ¥39,000 for 3 people in renovated ones.
--
Be on the lookout for part 2 about utilities and more!
---
■Recent Entries by Fatin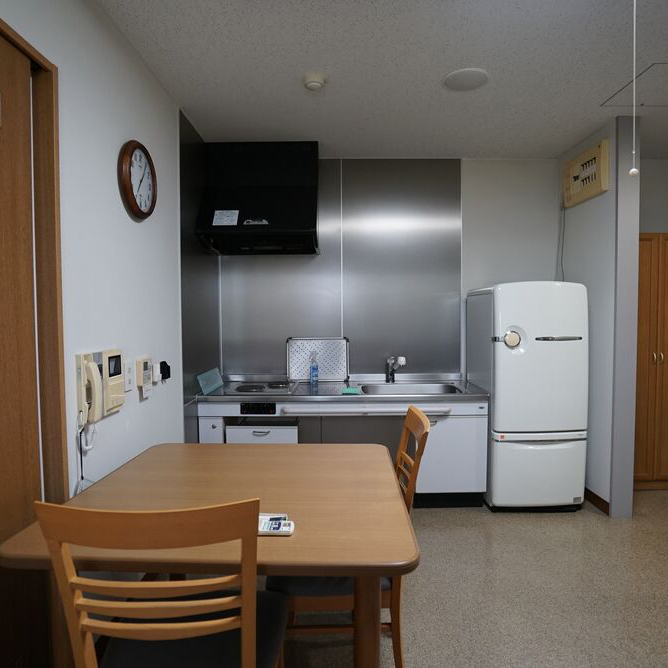 ---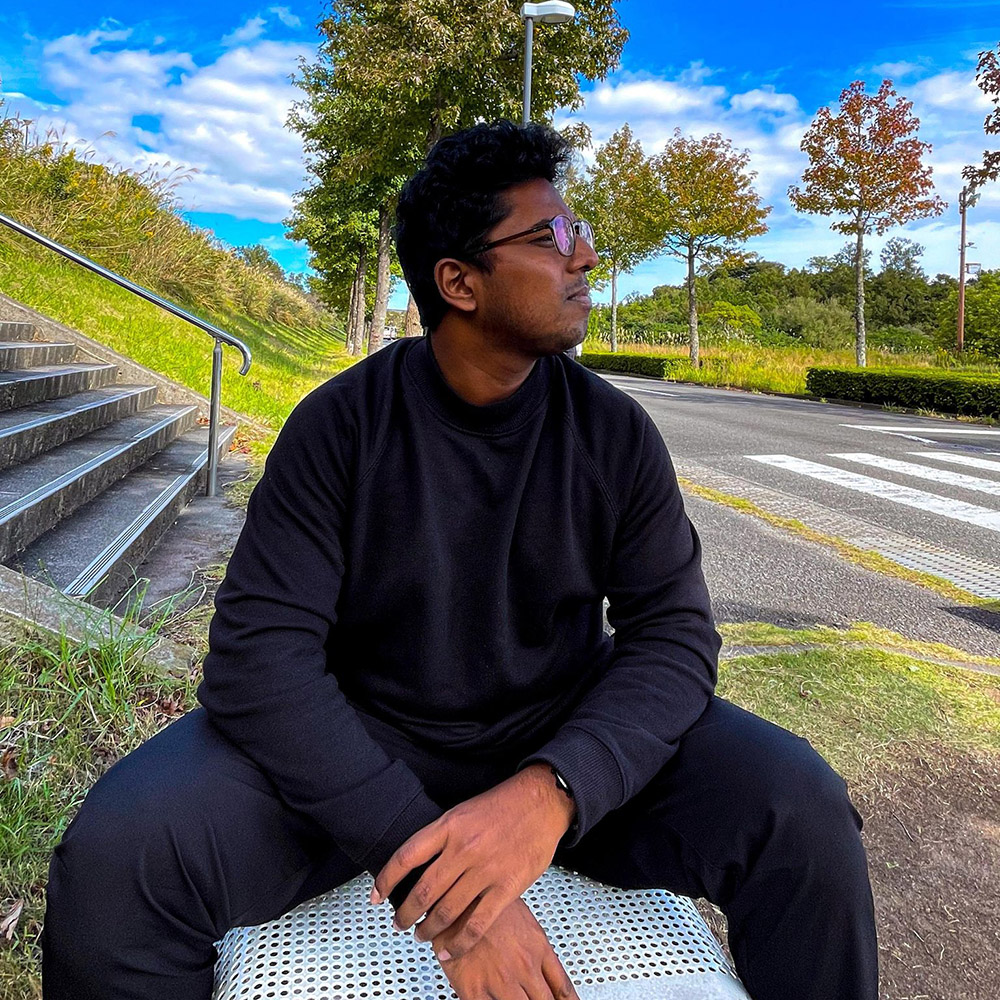 Fatin
Mohammad Fatin Ishraq is an APM student from Dhaka, Bangladesh, and a fresh recruit of the APU Social Media Unit. His love for taking pictures knows no bounds, for which you might randomly catch him around Beppu, standing and looking at a random view with awe and clicking away with his phone. Besides oxygen, he breathes Pokemon and One Piece.