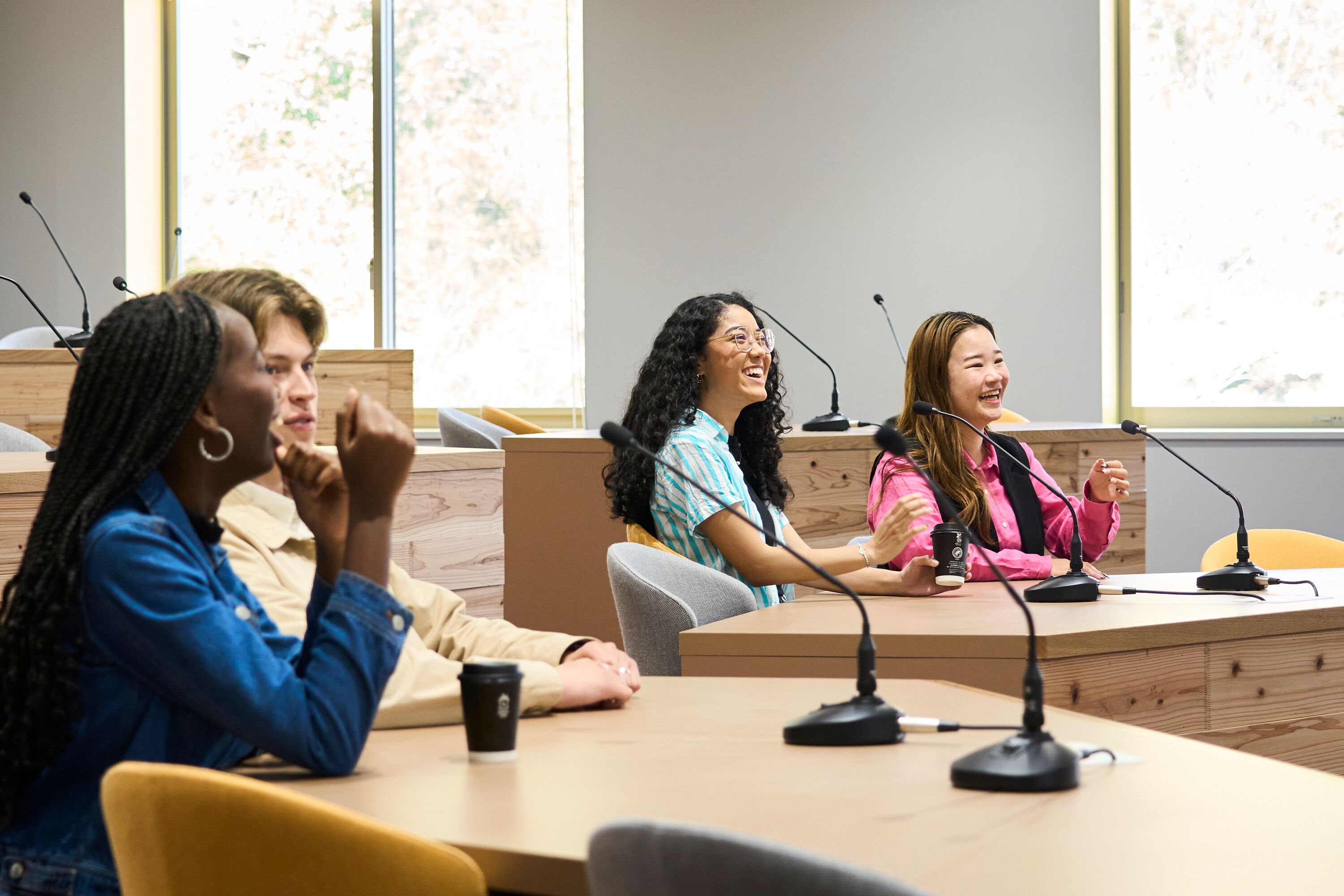 Our Programs
Academics at APU
Choose from one of our programs – Asia Pacific Studies (APS), International Management (APM), or Sustainability and Tourism (ST). Study under the guidance of highly experienced faculty from twenty-three countries and regions. With most courses available in both English and Japanese. And thanks to APU's flexible curriculum, you can broaden your knowledge by taking courses from all colleges. In your first and second year as an English-basis student, you will study courses related to your major in English. We also encourage students to learn the Japanese language while taking major classes. Your aim will be to raise your skill enough to be able to take major-related courses in either language by your third year.
Complete a 4 Year degree in Japan in English
Our Style of Education
The main focus of your studies at APU is not memorizing facts or passively listening to lectures. You will begin tackling complex problems our world is facing through discussions and interactive classes. Doing so alongside students and faculty from a wide variety of cultural, socio-economic, and religious backgrounds is a valuable growing experience.

Daily interactions with those who have grown up in different cultures, speaking different languages, and having different values is a learning opportunity that cannot be replicated. The environment at APU is conducive for multicultural exploration and learning. It encourages you to listen, learn, and grow into a responsible and successful global citizen. We invite you to use this completely unique environment to lay the foundation for your future success.
Areas of Study

International Relations
Global Economy
Culture, Society, and Media

Areas of Study

Strategic Management and Leadership
Marketing
Accounting and Finance
Entrepreneurship and Operations Management
Concentrations

Environmental Studies
Resource Management
International Development
Tourism Studies
Tourism Industry Operations
Hospitality Operation
Social Entrepreneurship
Regional Development
Data Science & Information System
More Information Regarding Academics at APU
Academic Year
The APU academic year begins in April. Each year is divided into two semesters, and each semester is comprised of two quarters and a session. Registration and grade announcements are semester-based, with grades for all courses, including first quarter, released at the end of the semester. There may also be instances where classes are scheduled on Saturdays or holidays.
Graduation Requirements
In order to graduate from APU, students should fulfill all of the following requirements. Those who have fulfilled these requirements will be eligible to graduate from APU.


1. Students must be enrolled at least four years.

The following three cases however are exceptions.

Accelerated Graduation Program students can graduate after three years of study.
Second year transfer students can graduate after three years of study.
Third year transfer students can graduate after two years of study.
2. Students must have completed the required number of credits.

Students must have obtained at least 124 credits in total and fulfill the requirements specified by their respective curriculum.
3. Each college has seperate and specific graduation requirements.

Students need to refer to each colleges pages or curriculum for these specific requirements.
Accelerated Graduation Program
The Accelerated Graduation Program has been devised to encourage the academic efforts of outstanding students who wish to graduate in three years or three and a half years. Those accepted to the program are allowed to register extra credits and higher level subjects each semester (with the exception of certain subjects). Students must understand the specific program criteria, such as the credit requirements and grades. Those who aim for accelerated graduation must have clear plans for the future and be ready to make continuous efforts to achieve their goals.
Transfer from a non-four year university or third year transfer students will not be eligible to register for this program.
Additional Information
More About APU's Education
Admissions and Enrollment Information