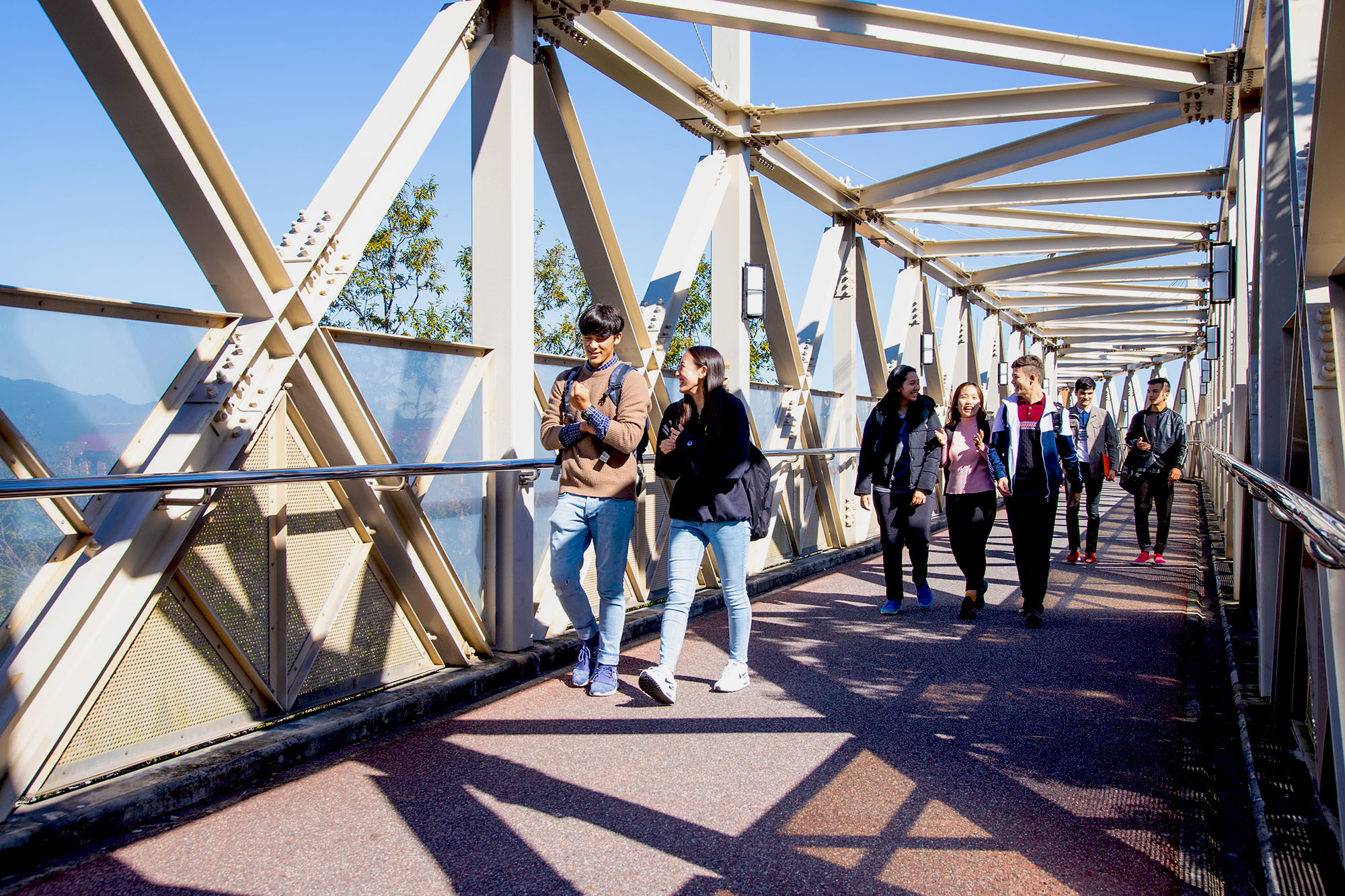 College of Asia Pacific Studies (APS)
College of Asia Pacific Studies (APS)
About APS
The College of Asia Pacific Studies (APS) is a learning community that encourages students to gain valuable knowledge and critical thinking skills to challenge the status quo in order to find innovative solutions to our world's issues. APS pushes students to go beyond conventional thinking and communicate with openness and curiosity in order to expand one another's knowledge, skills, and life experiences. This approach connects academic learning with practical problem solving to meet the emerging challenges of the Asia Pacific region. On APU's multicultural campus, students improve their observational and analytical skills as well as their level of sensitivity to diverse perspectives. Alongside this, the APS curriculum offers students a balanced combination of knowledge in chosen fields of study, life skills necessary for success, along with a global network of friends and colleagues that last a lifetime.
Bachelor of Social Science
(BSocSc)

April & September
enrollment
Faculty
DEAN OF APS

Yoichiro Sato

Specialized fields: Politics and International Relations

The mission of the School of Asia Pacific Studies (APS) is to help students develop into someone who can contribute to the sustainable development and coexistence of the Asia Pacific region. We do so through understanding of diverse politics, economies, societies, and cultures of the Asia Pacific region, as well as acquiring basic and specialized knowledge of international society, the environment and development, and tourism along with cultivating language skills, communication skills, and problem-solving abilities, and with an understanding of the diverse issues facing the region. Students at APU have a common trait of not only wanting to improve their international skills but also possessing a high level of interest in social issues and problems. Our faculty members, who are actively involved in the world's top-level academic societies in their respective fields, offer highly interdisciplinary and specialized classes to improve the qualities of these students. I believe there are no easy paths to the future, but that we can find the next destination together at APU, where faculty and students come from all over the world.
Associate Deans of APS
Kumi Seike
Specialized field: Sociology, Theoretical Sociology, and Sociology of Social Concepts

Takuro Kikkawa
Specialized fields: Politics, Area Studies, and International Relations

Takayuki Kubo
Specialized fields: City Planning/Architectural Planning, Economic Policy, and Area Studies
A full list of faculty for the College of Asia Pacific Studies can be found here.
APU Professor's reseach can be found on Research Office's page, divided by Books and Journal Articles by faculty.
Areas of Study
APS has established 4 areas of study in order to conduct education and research for the development of wide-ranging problem solving ability and specialized know-how of the issues facing the Asia Pacific region. Studies are centered on solid language proficiency and a basic understanding of the diverse cultures, histories, societies, natural environments, and historical conditions of the Asia Pacific region.

International Relations and Peace Studies

This area of study allows you to delve into the intricacies of conflict resolution and peace-building as well as cultivate the ability to deal with increasingly complex global issues. Your studies will draw from the three disciplines of international law, political science, and economics and help you gain the necessary critical thinking skills and a policy-oriented approach to succeed in the field.

Environment and Development

Profit-driven development has brought with it a raft of environmental and other issues, and sustainable development is an urgent issue for our times. Lectures in this area of study tackle the question of sustainable development in relation to policies and efforts to balance environmental conservation and economic development.

Culture, Society and Media

This area of study enables you to analyze the societies, cultures, and values of the Asia Pacific to deepen your understanding of the issues this region faces. You will gain a global perspective, fundamental media skills, and the ability to view societal issues from several angles.

Hospitality and Tourism

As cultural exchange and promotion of regional industries through tourism are vital to the development of the Asia Pacific region, this area of study explores multiple facets of tourism through the lenses of culture, society, and community. You will focus on the theory and practice of hospitality management as it relates to the tourism, health, service, and welfare industries.

The Hospitality and Tourism area of study received the United Nations World Tourism Organization Tourism Education Quality Certification. This certification is granted to institutions that have high-quality tourism education, research, and training programs. APU is the second institution in Japan to receive the UNWTO TedQual Certification.
APS Mock Lectures
Curriculum Overview
The College of Asia Pacific Studies aims to cultivate human resources that, upon comprehensive understanding of the diverse political conditions, economies, societies, and cultures of the Asia Pacific region, will 1) achieve basic and advanced knowledge in such areas as global society, environment and development, and tourism; 2) develop language, communication and problem-solving abilities; and 3) through understanding of the diverse problems facing the Asia Pacific, will be able to contribute to sustainable development and coexistence in the region.

Graduation Requirements

Graduation requirements and the subjects that students can take differ depending on the student's curriculum, enrollment basis language and status as either a domestic or international student. Graduation requirements are listed in the sections for each curriculum. Please make sure you read the "Graduation Requirements" carefully.

Core Subjects

Students are strongly encouraged to complete these subjects, "Introduction to APS" and "Introduction to Area Studies". In "Introduction to APS", students learn the approaches and theoretical frameworks of each Area of Study to gain an understanding of what will be like to pursue major studies in the Areas of Study. In "Introduction to Area Studies", students learn the methods for learning about the Asia Pacific region - that is, the subject of research in APS. By taking these two subjects, students can learn the ideals and objectives of APS. "Introduction to APS" is automatically registered by the university, but students need to register "Introduction to Area Studies" by themselves if they want to take it. Please make sure to refer to the "Core Subjects".

Required Subjects for each Area of Study

These subjects serve as the first step to a broader and deeper learning in the academic fields by providing students with basic knowledge and theories they need to understand the field. For more detailed information please see "Required Subjects for each Area of Study".

Curriculum Outline

As one of graduation requirements, students must choose one Area of Study from the following Areas of Study and then complete at least 2 credits from the required subjects (Common Liberal Arts Subjects) for the Area of Study of your choice and 28 credits from the Major Education Subjects for the Area of Study. The name of that Area of Study will be noted on their diploma. For more details regarding the application procedure for an Area of Study, please refer to the "Curriculum Outline".

Subject List

For a full look at all the subjects for APS as well as Language Courses, please refer to the "Subject List".