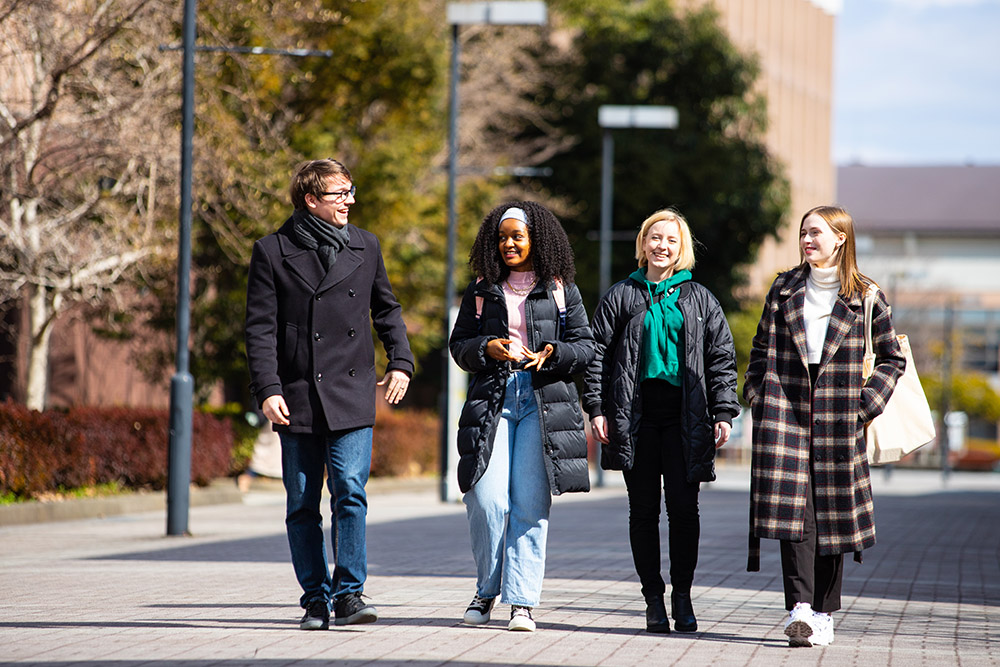 College of
Sustainability and Tourism (ST)
Are you Interested in Creating a Sustainable Society?
Our university is moving towards new changes for the 2023 academic year which includes our new college and reforms to our current colleges. We will continue to release the latest information regarding these changes here on our international admissions website, but for the most up to date information regarding A New APU 2023, see our main APU website!
About the College of Sustainability and Tourism (ST)
In ST, you will study the formation of sustainable societies through environmental resource management and sustainable tourism. One of the few university programs of its kind, we help students to become scholar-practitioners, who employ innovative research to solve real-world issues. Our faculty members are specialists in environment, development, tourism, entrepreneurship, and ICT, and are active on the global stage through contributions to academic journals and international organizations. They also serve policy committees in the national and local governments in Japan.
ST supports students in becoming individuals who discover local resources found in nature, history, and culture, with the goal to protect and develop these into a tourism source to contribute to regional development amidst globalization. You will also tackle societal issues and gain skills to support efforts to achieve global SDGs. ST's education goes beyond the classroom, requiring problem-based learning in real-world settings, available inside and outside Japan, with strong emphasis on developing skills in research and data analysis.
Bachelor of Sustainability and Tourism

April & September enrollment
PROSPECTIVE DEAN OF ST

Li Yan

Specialized fields: Urban Planning & Urban Environmental Policy

In China, there is a proverb that states, "Meet all changes by remaining unchanged." To live in our rapidly changing world, it is essential to equip ourselves with this ability to remain unchanged so we can cope with the countless situations and needs that arise. This includes the ability to think, act, and cooperate with those around you despite differences.

In ST, the curriculum serves as a response to today's everchanging international society, with a focus on the extremely pressing issue of creating sustainable societies as well as the impact of tourism within societal mobility and digital transformation. Through this curriculum, and against the backdrop of our multicultural campus, our students gain this ability to adapt to meet all changes. I hope that you will choose to study at our university and contribute to making APU's future vision, "APU graduates possess the power to change our world," a reality.
The college has nine concentrations that form the shared foundation of sustainable development and sustainable tourism. Students can choose a combination of subjects from these concentrations according to their career aspirations as well as the knowledge and skills they wish to acquire.
Find a full list of all the classes available at APU under the College of Sustainability and Tourism here.
| | |
| --- | --- |
| Environmental Studies | Fundamental study of nature, society, economy, and education |
| Resource Management | Learning focused on recycling-oriented societies, energy, and climate change |
| International Development | Learning focused on developmental sociology, anthropology, economics, political science, and conflict |
| Tourism Studies | Fundamental study of tourism related to economics, society, history, and culture |
| Tourism Industry Operations | Fundamental study of tourism industry analysis, new product creation, and marketing |
| Hospitality Operation | Learning focused on hotels and resort operations |
| Social Entrepreneurship | Learning related to NGO/NPO operation and project management |
| Regional Development | Learning focused on sustainable development and design of local regions through the lens of tourism |
| Data Science & Information System | Learning focused on fundamental ICT skills and applications in specialized fields |