ADMISSIONS BLOG
Campus Food Trucks: Cheese Chicken to the Rescue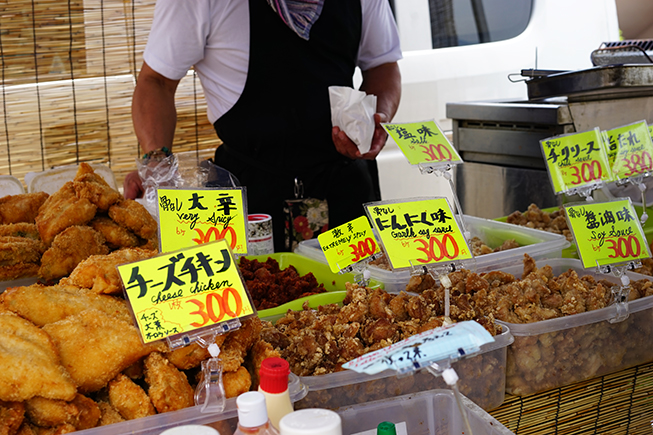 Everyone knows the feeling: you've just finished your fourth class of the day, and your hunger is increasing every second. But with your next class starting in fifteen minutes, there's no time to for a leisurely and filling meal in the cafeteria…and then you remember the one person who can come to your rescue. Mr. Fujiwara.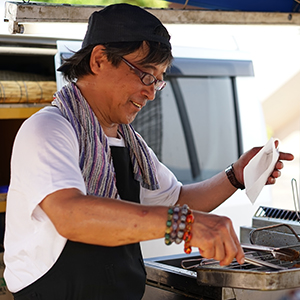 So, who is Mr. Fujiwara? A lot of APU students may not know his name, but almost everyone has tried his chicken. With mouthwatering selections of karaage (Japanese-style boneless fried chicken), Mr. Fujiwara has been making the life of APU students easier since 2012.
Yes, I am talking about the food truck that comes to campus every Tuesday and Friday. It is one of the most popular vendors that visit us, with some serious lines forming during the breaks between classes.
If you happen to walk by and the wait isn't already long, my advice to you is stop everything and get in line right away—this is a rare event as the line will likely fill up again in seconds. If the only thing standing between you and some delicious cheese-stuffed chicken or hot spicy karaage is a few short minutes, don't pass it up. But even if you have to wait a bit longer to partake in this amazing food, trust me, it's worth it.
But why did Mr. Fujiwara start coming to APU to sell his food? That's what I went to find out when I decided to interview him one fine morning.
I actually went quite early to avoid waiting in a line of hungry students. But guess what? By the time I got there, the line was already twenty students long.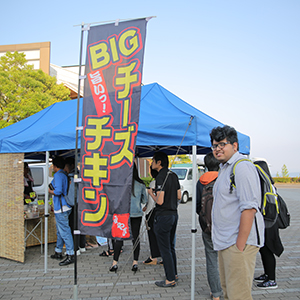 So I gave up for the time being and stopped by again later in the afternoon. Sometime during third period, I find him free, and he kindly agrees to my interview. Finally! But as I ask my first few questions, the line of students begins to grow longer and longer...
So I wait. Again.
Finally, I get him free for five minutes at the end of the day. This is his story.
Mr. Fujiwara decided to bring his food truck to APU five years ago. At the time, he had been selling his fried chicken successfully outside at a local supermarket. (In fact, he still sells chicken there on days he isn't at APU.)
His business was going very well, but he noticed APU students would come all the way just to buy his karaage at this shop, even though it is located quite far from APU and from where many students live off-campus.
When he realized just how much of a struggle it was for students to buy his karaage, he decided that instead of making students come to him, he would go to them. Since that first day in 2012, he has been coming here twice a week, every week. Mr. Fujiwara loves serving the students, and if his truck's popularity is any indication, it's clear the feeling is mutual.
As for the top three most-sold items on his menu, Mr. Fujiwara informed me the cheese-stuffed chicken, affectionately known here as "Cheese Chicken," is number one.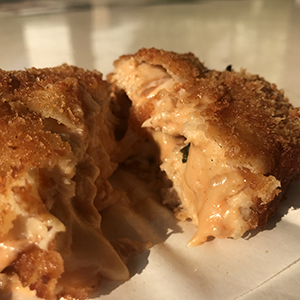 Well, this wasn't a surprise to me because most APU students I know actually call his truck "Cheese Chicken" rather than its real name (which is Kaarage Miyabi, for the record). I mean, not much tops a big piece of deep-fried chicken cutlet with melted cheese inside. So when you get to campus, trying this should definitely be at the top of your to-do list.
Second place belongs to shio (salt-flavored) karaage and third goes to very spicy karaage. If you are craving fried chicken with a kick, this unique taste will hit the spot as Japanese cuisine is not normally spicy.
The prices on his menu are around 300 to 400 yen (about three to four US dollars). I would say any option is big enough to fill your stomach in between classes.
I couldn't interview Mr. Fujiwara for very long because, of course, students started lining up again. So before leaving, I asked him if he had a message for the students of APU. He simply smiled and said,
"Enjoy your student life, and please have fun eating my kaarage! And thanks for all the love!"
With that, I bought my order of very spicy chicken and let the other students line up for their chance to enjoy the best karaage on campus—in my opinion of course.
It felt great doing this interview. It's people like him that make me love Japan even more than I already do.
On behalf of all karaage-loving APU students, thank you Mr. Fujiwara!
---
■Recent Entries by Rasheeq
---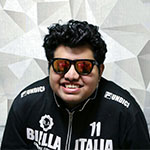 Rasheeq
Rasheeq Islam is an APM graduate from Bangladesh. During his time at APU, he was a member of the APU Social Media Unit and a regular contributor to this blog. He loves to eat and play FIFA online. When he is not eating, he is probably thinking about the next idea that might change the world.