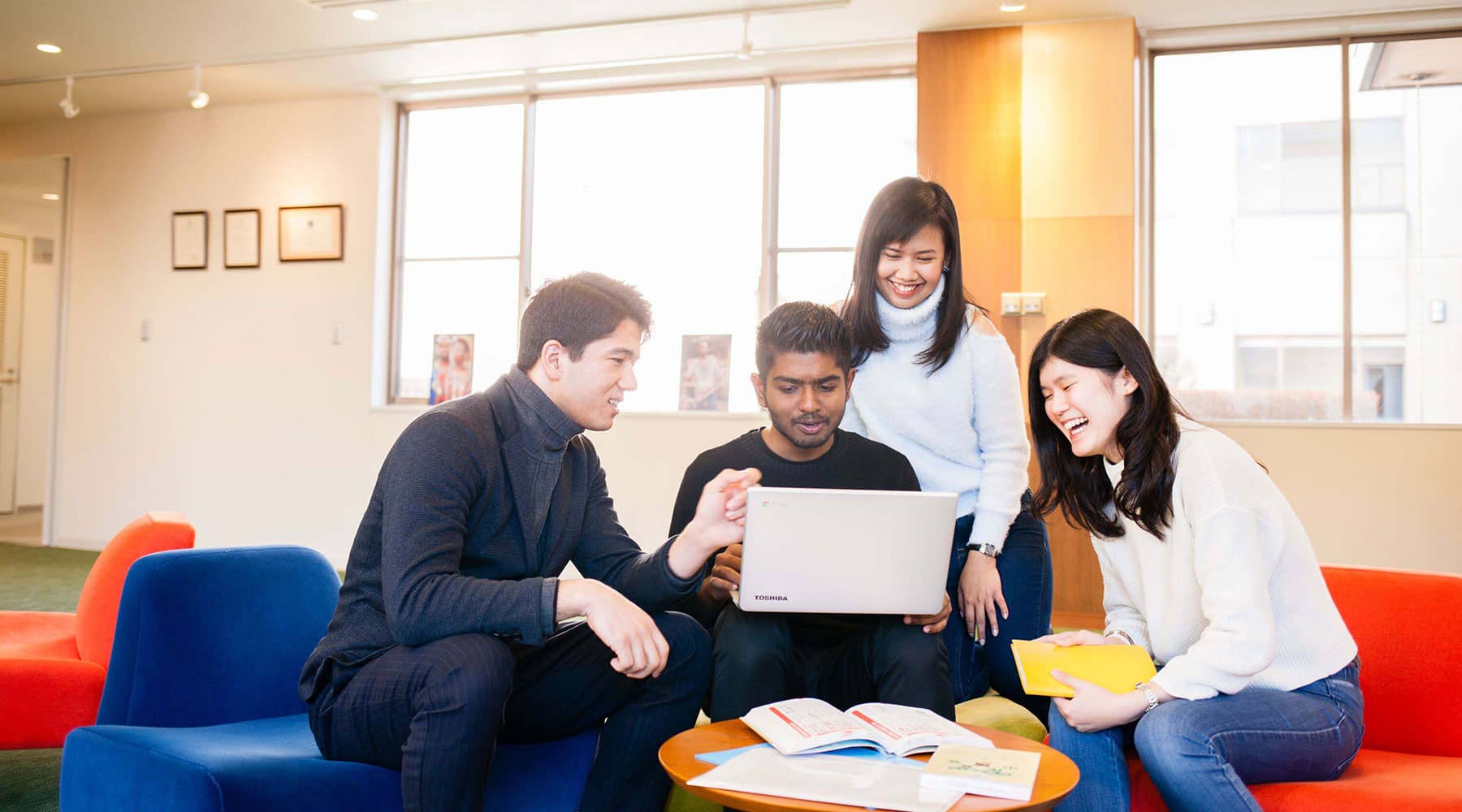 APU Virtual Mini University Program (VMUP)
Overview
If you watch the news, it might feel as if not a day goes by without an incident occurring somewhere in the world. You might then be wondering, "Why is this happening?", "Does this affect me in any way?", "Is there anything that I can do?". The ongoing COVID-19 pandemic has taught us that societies have become more connected than ever, and that events happening on one side of the globe inevitably affect our lives in some way, shape, or form. What roles can you play as you navigate through this rapidly changing world? This program will give you the opportunity to reflect on this question.
The program will consist of lectures on eight different topics by professors from both the College of Asia Pacific Studies and the College of International Management. In these lectures, you can obtain knowledge and learn more about issues that have social, cultural, political and economic implications. You will also be able to experience APU's interactive style of education by having lively discussions with other curious and inquisitive students from all parts of the world.
Take advantage of this rare opportunity to gain a deeper understanding of the world around you and to improve your intercultural communications skills, as you learn how to collaborate and cooperate with people from various countries and regions. Please join us and take your first step in your journey to shape the world.
Basic Information
DATES:
December 4, 5, 11, and 12, 2021
TIME:
The times are in Japan Standard Time
9:00–10:30, 11:00–12:30, 18:00–19:30, and 20:00–21:30
LECTURES:
You may register for as many as 8 sessions during the above period, but participation may be limited based on availability. All the lectures will be conducted in English.
PROGRAM FEE:
Free of charge
LOCATION:
Zoom (further details will be sent to successful applicants)
LECTURE DETAILS
More information about the professors for each session can be found here.
Themes
A. Diversity and Inclusion: Making Teamwork Work - Professor ALCANTARA Lailani Laynesa (APM)
This session will delve into the concepts of what diversity and inclusion are and how they contribute to successful teamwork. Participants will be encouraged to explore the advantages of working with a diverse group of people and being in a diverse environment.
B. Lessons learnt from the COVID-19 pandemic from the perspective of Finance - Professor FAN Pengda (APM)
This session will introduce exchange traded funds (ETF), purchases of ETFs by Bank of Japan, and the stewardship role of investors, aiming to promote students' financial literacy, as well as to provide students the big picture of finance.
C. World development, environment and human security - Professor GOMEZ Oscar A. (APS)
This session discusses some of the basic topics underlying international development today, exploring progress and challenges. Students will be encouraged to think critically about how societies around the world is changing and the priorities for action.
D. International law and its impact on our everyday life - Professor HIRANO Miharu (APS)
International law is no longer exclusively used by diplomats and professionals at international organizations; it has become an essential tool for local administrative officials, business people, journalists, and activists, not to mention citizens whose political decisions may have global implications. Let's spend a few moments to examine our increasingly complicated world through a legal lens.
E. What is management and how can you start your own business? - Professor LEE Geunhee (APM)
Designed for those who wish to learn the meaning of management and start their own businesses, this session will cover fundamental knowledge and explore what it really means to run a business.
F. AI and Society – Professor MANTELLO Peter A. (APS)
AI will radically change how we live and work. But those changes are happening already. This talk explores the rewards and risks of intelligent machines and the role they will play as surrogates to many human activities. It asks critical questions - such as how can citizens live well and ethically in a future world where AI will be making decisions such as the jobs we get, how our cars operate, the people we date, the media we watch, the loans we get, the insurance and homes we buy, and much more. This talk is geared to a general but better understanding of the social, cultural, political, economic and ethical impacts of AI in society. Students will learn about the transformative impact that AI is having now and in our future on our increasingly data-driven world. As an interdisciplinary talk, AI and society draws upon four major fields in the humanities - New Media and Cultural Studies, AI Ethics, Science and Technology Studies (STS), and Surveillance Studies.
G. Macroeconomic policies for inclusive recovery – Professor OTSUKA Kozo (APM)
The pandemic of COVID-19 has made serious negative impacts on the global economy. This session will be an overview of the mechanism of macroeconomic policies, and consider potential policy options for economic recovery from a global economic downturn. We will look at several issues such as education and gender that need to be addressed for making recovery more inclusive.
H. Globally important Agriculture Heritages of Oita - Professor VAFADARI M. Kazem (APS)
Would you like to know about the agricultural heritage of Japan? We discuss it through a case study of the Kunisaki Peninsula, which was recognized as a Globally Important Agricultural Heritage System (GIAHS) in May, 2013. The "tameike" in this area are small scale ponds storing spring water or water flowing through the short and rapid rivers of Kunisaki. Do you want to know how important Tameike is for people's life and culture in Kunisaki? In this lecture, we are going to discuss about Tameike as a social and cultural study field and learn more about Kunisaki culture by taking a look at Tameike tourism.
Lecture Schedule (All times are in Japan Standard Time)
Each lecture will be held twice (the contents will be the same). You can choose whichever time slot is more convenient for you. Please note that you cannot take the same lecture twice.
In the chart below, the numbers refer to the following times: ① 9:00–10:30, ② 11:00–12:30, ③ 18:00–19:30, ④ 20:00–21:30.
Saturday, Dec 4
Sunday, Dec 5
Saturday, Dec 11
Sunday, Dec 12
①
②
③
④
①
②
③
④
①
②
③
④
①
②
③
④
A
B
C
D
E
F
G
H
CERTIFICATION
If you attend two or more sessions of your liking, you will receive a certificate of completion. You may use the issued certificate as additional proof of extracurricular activity should you choose to apply to APU. Please note that your participation will only be valid if you attend the entire sessions for the full 90 minutes. Exemptions will not be made for participants who need to attend to urgent issues on the day or for technical issues such as internet connectivity, etc.
NOTE:
- You cannot take the same lecture twice.
- Your participation will only be valid if you attend the entire session for the full 90 minutes.
HOW TO APPLY
APPLICATION LINK:
Apply Here!
Before you start your application, please make sure to read through the instructions below.
APPLICATION DEADLINE:
November 8, 2021 at 23:59 Japan Standard Time
RESULT ANNOUNCEMENT:
November 17, 2021
Results will show if you have been accepted into the program and the sessions you have been admitted to attend.
ELIGIBILITY:
In order to apply for this program, you must be a high school student in grade 10 or above at the time of the program. You may also apply if you recently graduated from high school (within the past 3 years) and are NOT currently enrolled at a university.
REQUIREMENTS:

2021 APU VMUP Terms and Conditions
Please read the above document and if you agree, indicate in the online application form.
50 minute EF SET test score, click here to take the test
- All applicants including English native speakers are required to take this free online test and submit a test score.
- Exam duration is 50 minutes: reading 25 mins and listening 25 mins
- There is no minimum score required to apply for the program.
- After completing the test, enter your test score (1-100) and certificate URL (efset.org/cert/XXXXXX/) in the online application form.
- Please make sure that you use the same name for your EF SET test and your VMUP application so that we can verify your score.
- English native speakers and non-native speakers will be evaluated separately. Slots will be allocated based on the number of applications per category.
You are required to record and submit a self-introduction as part of the application. When you click on the link to record, a camera access notification will appear, so make sure to click "Allow" in order to complete your recording. This recording must be completed on a desktop/laptop computer.
INQUIRIES
If you have any questions regarding the program, feel free to get in touch with the APU Office of International Admissions at [email protected]