Download APU's Free Japanese Language App!
TOBIRA Survival Edition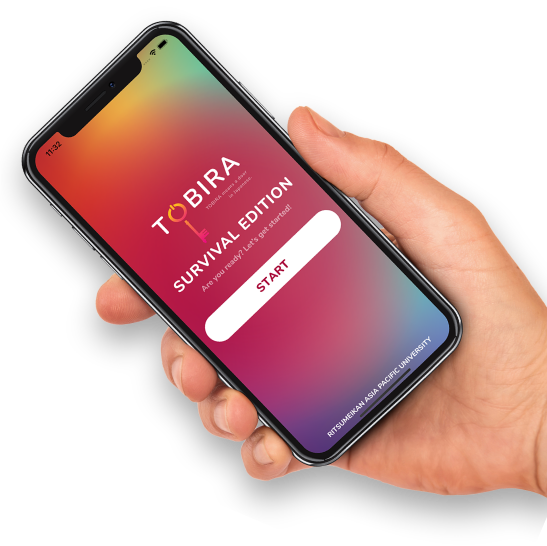 Learning Japanese is essential to live and study in Japan, and APU encourages all international students to familiarize themselves with introductory Japanese before enrolling. The "TOBIRA Survival Edition" app was developed to be an interactive, fun way to learn Japanese for incoming students with no prior Japanese knowledge to smoothly transition into Japanese language learning at APU! The app utilizes quizzes, handwriting practice, and voiced examples to learn Japanese in a game-like way, making the process of learning more interesting and engaging.
This app is now available for all incoming English-basis students, who will be required to learn Japanese once they start studying at APU. APU strongly recommends using this app to practice and gain as much insight into the Japanese language as possible before enrolling.
However, this app is not limited to only APU students and can be downloaded and used by anyone looking to start studying Japanese!

App Overview
This app is based on the Tobira (Survival Edition) textbook developed by APU' s Center for Language Education instructors. There are sections on writing, reading, and listening comprehension, which include the following topics: Japanese alphabets (hiragana, katakana, kanji), numbers, telling time, Japanese currency (bills and coins), dates (days of the week, months), basic self-introduction, etc.
Release date:
July 29, 2020
Update:
Updated on March 27, 2021.We have added Part 2 "Dialogues for Different Situations".
Now containing more practical Japanese phrases for different situations! We have also included explanations of key phrases and exercises allowing you to simulate the role of the speaker.
Price:
Free
Target audience:
Anyone (Strongly recommended for all English-basis students enrolling at APU)
Device compatibility:
iPhone/iPod Touch, Android smartphone

Not optimized for use on tablets

How to download:
Search for "TOBIRA" in the App Store or Google Play Store
System requirements:
iOS (iOS 11 or above), Android (Android 8.0 or above)

Operation is not guaranteed on all devices.
The app may not work due to factors related to OS updates, device storage, device setting, data network, data speed, etc. even if the device is running on the above-listed OS.