BLOG TUYỂN SINH
A Taste of Home Away From Home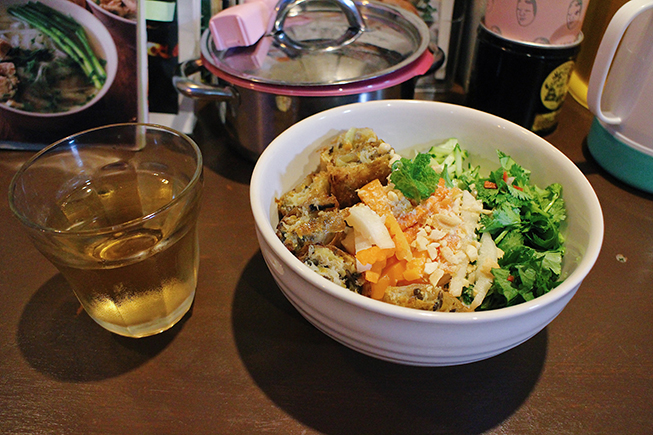 Away from the bustle of Beppu Station, and through a maze of small alleys lined with local establishments is Com Dia—a Vietnamese haven where anyone can drop by for a bowl of traditional flavor.
Com Dia began as a pop-up Vietnamese restaurant for aspiring chef Thuy, in a small rental space not too far from its current location.
Thuy first visited Japan as a university student while majoring in Japanese language studies at a university in Ho Chi Minh City, Vietnam. After graduating, she moved to Japan for a short-term internship in Kunisaki, Oita Prefecture, and then settled down in Hiji, a town neighboring Beppu. It was around that time that a friend introduced the rental space in Beppu to Thuy, who then decided it was the perfect opportunity to try her hand at running a restaurant.
At that time, Thuy was still experimenting with the idea of permanently setting up shop as she dished out her homemade selections on a part-time basis to the Beppu citizens that found their way to her secluded corner.
It was then that I first happened upon Com Dia, and although the shop was a little hard to find, it only took one bite to convince me that this was the first of many visits to come.
As it happens, my enthusiasm for Thuy's food was shared by Beppu's foodies and APU students alike, and when the trial period for the pop-up restaurant came to an end, Thuy made the decision to permanently set up shop in Beppu—meaning Com Dia was here to stay.
And although Thuy has to commute an hour each way from Hiji, she says that making and sharing Vietnamese food with the locals, especially APU students, makes it all worthwhile.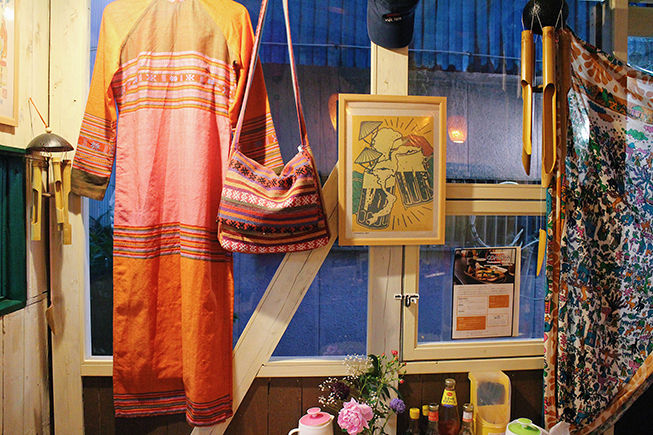 From the colorful lanterns and traditional ao dai (Vietnamese national costume) hanging from the ceiling, to the distinctive sounds and aroma of Vietnam wafting in the air—there is no shortage of sources to please the senses at Com Dia.
As a self-proclaimed foodie, I've come to recognize that a lot of the good restaurants are the ones that focus more on the quality of the food than the size of the building. Likewise, Com Dia's small capacity and tiny tables are no match for its big flavors.
With a variety of options—small appetizers, full-course meals, well-known favorites, and local delicacies alike—there is something for everyone who finds their way to this small corner of Beppu.
Besides the seasonal menu, which changes according to the availability of local produce, there are generally three powerhouses that are always available at Com Dia. A bowl of Pho—Vietnamese rice noodle soup, Banh Mi—a sandwich-style French baguette with luscious fillings, or Goi Cuon—Vietnam spring rolls with a savory peanut sauce. As a frequent visitor, I have definitely been through the phase of wanting to order everything available.
But now having eaten my way through the menu more times than I can count, I discovered the best way to enjoy the food here is to go with omakase (chef's selection, or as I like to say, leaving it up to fate).
In Japan, omakase, is an interesting way to try something new and, some would argue, the best way to taste and experience the essence of a restaurant. When ordering this, Thuy always asks for my preference as courtesy, but I take joy in not knowing what will be served.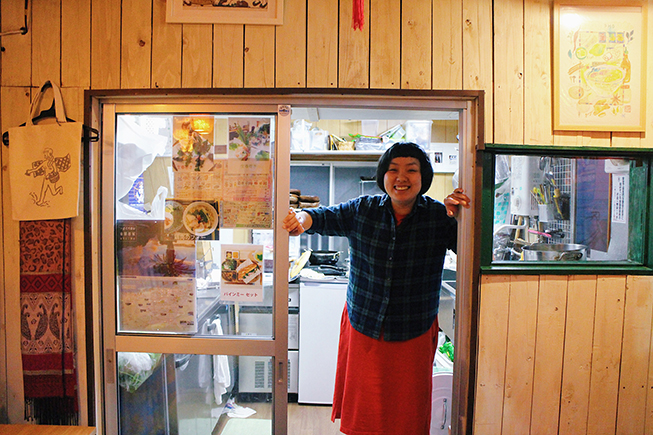 If you are a "newbie" to Com Dia, you will surely stay longer than the length of the meal to discover more than what is just written on the menu. I have seen customers who only come for a quick bite or two but stay until the very last hour, preoccupied with Thuy and her stories. Thuy never tries to dismiss them and maintains a constant dialogue as she cooks.
Even the Vietnamese students who frequent the restaurant call her chi Thuy, with chi meaning "sister" in the Vietnamese language. Thuy, as I like to always say, is a master in the art of small talk.
We often talk the night away, from what happened at a local festival last week, to where she managed to buy a box of vegetable for only 100 Japanese yen. More than just a restaurant, Thuy's kitchen is a place where people come for the food, stay for the captivating conversation, and come back for more of both.
And regardless of my unconscious, high standards for Vietnamese food, Thuy's kitchen has never failed to hit the spot with its surprisingly familiar flavors and nostalgic atmosphere. Who would have thought that you could enjoy a little taste of authentic Vietnam here in Beppu?
---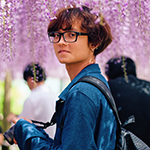 Boro
Nguyen Huu Phu Gia (Boro) is an APS graduate from Viet Nam and a guest contributor to this blog. Ostensibly, his goal after graduating is to become a researcher... but secretly he hopes to be able to live off of cheese and grape soda every day.