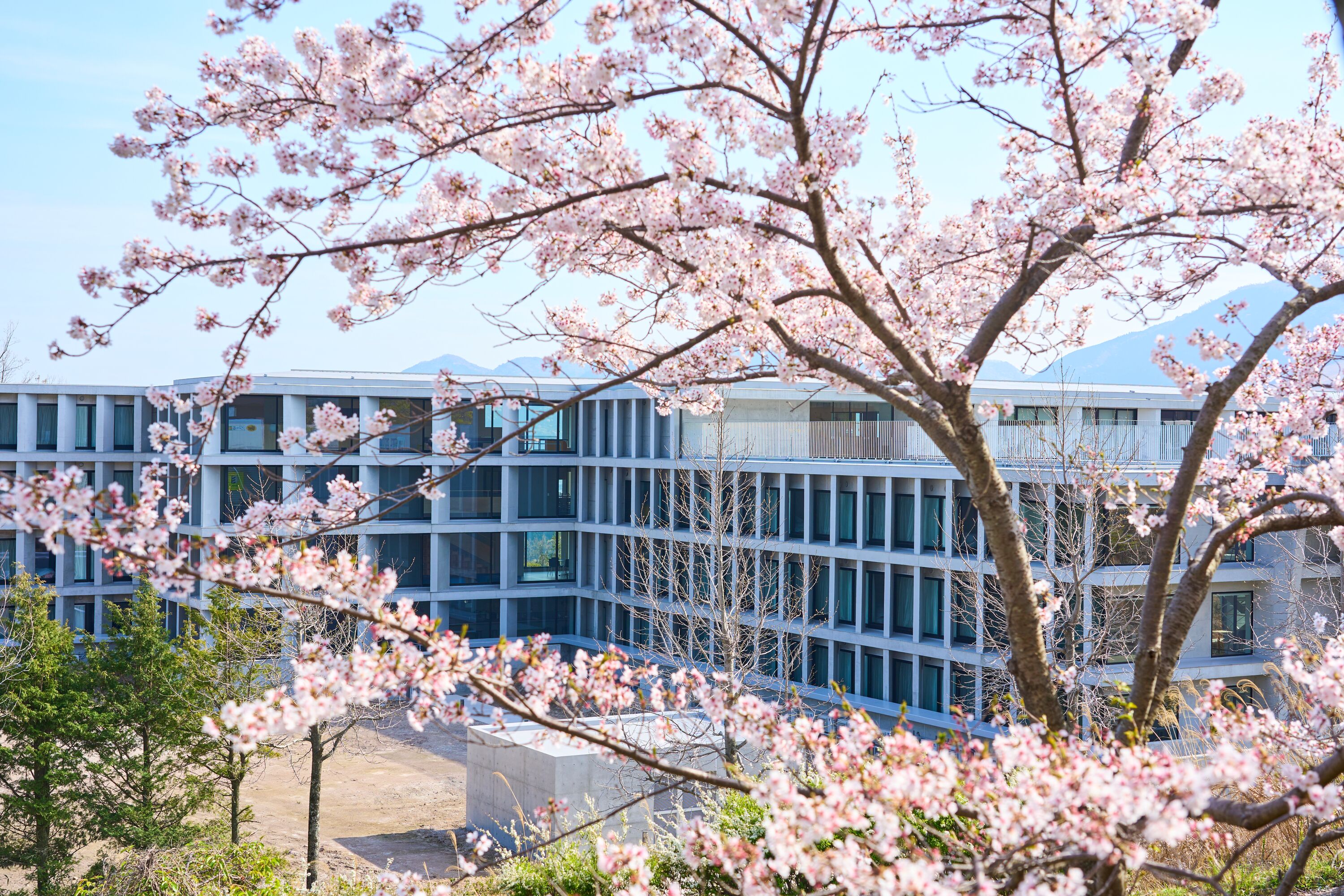 Housing
YOUR HOME AWAY FROM HOME
APU guarantees on-campus housing for all international students in their first year. From your second year, you will move off campus into downtown Beppu and choose between living in a private apartment and sharing a residence with other students. Rent in Beppu is almost half of what similarly-sized properties cost in major cities such as Tokyo or Osaka.
AP House 1 & 2
AP HOUSE (ON-CAMPUS HOUSING)
Only a ten-minute walk from the center of APU's dynamic campus, on-campus housing offers a peaceful haven for your studies and private life while giving you the opportunity to experience world cultures and make lifelong friendships. With students from more than fifty countries living together under one roof, the time you spend here will be unforgettable.
Shared rooms are separated by a lockable sliding door for privacy when needed and can only be opened if both sides are unlocked. International students are paired with a Japanese-basis roommate to have an even greater opportunity for intercultural exchange. There are second to fourth year students selected as Resident Assistants (RAs), to help you adapt to your new environment, provide support during your time at AP House, and arrange fun activities.
AP HOUSE 1 & 2 STATS
50,000JPY

monthly rent (including utilities)

Fully furnished

fridge, bed, AC/heating, free internet access

Services

24-hour security, bedding rental, wi-fi in the lobby

Available facilities

laundry, private shower rooms, Japanese-style baths, computer & study rooms, convenience store

Entertainment

billiards, outdoor basketball courts, table tennis, and more
Off Campus Housing
Living off campus gives you the chance to practice your Japanese language skills, learn to be independent, and experience local culture through interactions with your neighbors and other people in the local community. By living downtown, it is also easy to join local events and activities, do part-time jobs, and explore Beppu City at your own pace.
Locally Owned Properties
A large number of APU students live in locally-owned apartments on their own or with roommates. Rent typically ranges from 30,000 JPY to 50,000 JPY for a one-bedroom apartment and between 40,000 JPY and 80,000 JPY for a two- or three-bedroom apartment, which you can share with friends. In Japan, apartments are not usually furnished so you will need to buy furniture and electrical appliances when moving in.
Off Campus Housing Support
APU provides support to help you make the transition from on-campus to off-campus accommodation through Creotech, an outsourcing company funded by the Ritsumeikan Trust, who offers housing consultation services. Creotech's office is located on the first floor of the Administration Building. Find out more about these housing services here.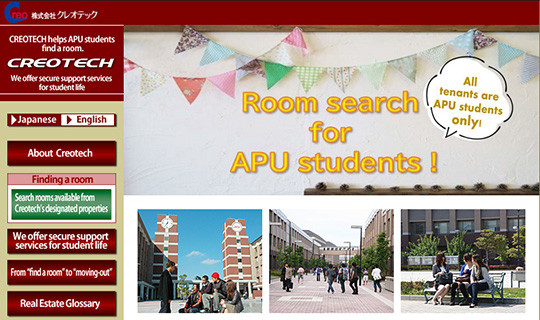 AP House 5
APU started accepting students for the New AP House 5 (International Education On-Campus Housing) from 2023. As students from various backgrounds and nationalities gather here, the AP House 5 environment helps develop students' skills in international understanding & relations, in turn producing proactive members of society.
Evolving into a space suitable
for a Global Learning Community
Residential Education & Wellbeing
On-campus housing as a place for education and for maintaining physical and mental health, progressing on-campus housing in international education.
Education
Central area where students, including non-AP House residents, can interact and collaborate in diverse ways.
Exchange Lounge, a space that enables interactions with the local community, companies, and other stakeholders.
Global Citizenship Program, a program made possible by the multicultural housing where a majority of first year students can reside.
Wellbeing
Ensuring privacy and security in the living spaces (individual room areas).
Programs to promote physical and mental health.
New AP House Statistics
52,000JPY

monthly rent (including utilities)

Fully furnished

bed, desk, shelves, mirror

Services

electrical power, Wi-Fi, lights/air conditioning (motion sensor controlled)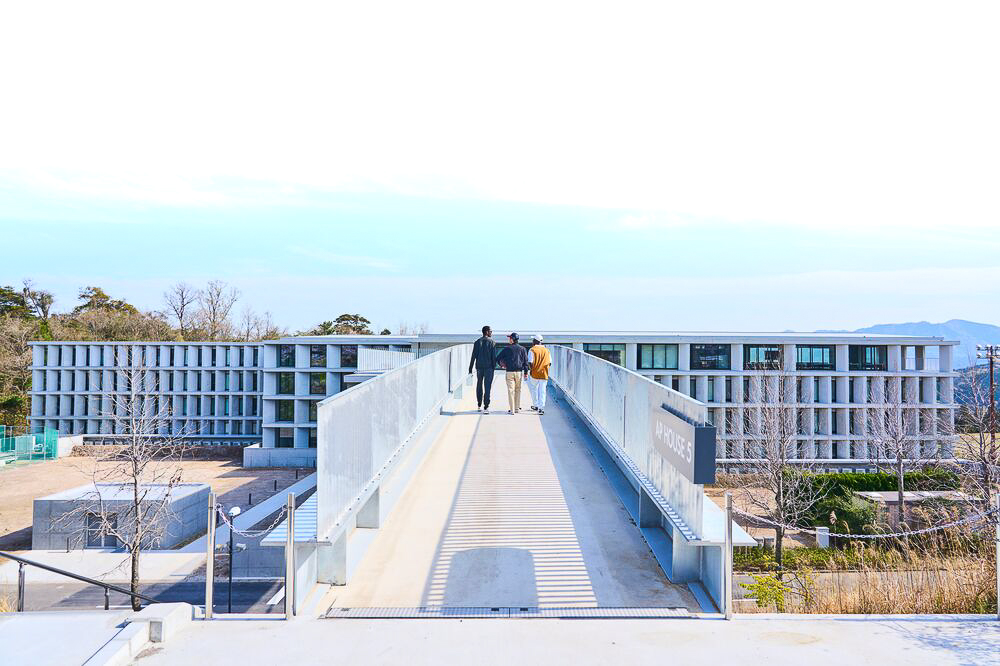 Rent
1. Breakdown of AP House Entrance Fee (Payment before moving in)
Entrance Fee Breakdown
Amount
Moving in Fee
32,000 JPY
Security Deposit
98,000 JPY
Rent*
(2 months)
104,000 JPY
Total
234,000 JPY
2. Fees Due After Moving In (Monthly Rent)
| | AP House 1 & 2 | AP House 5 |
| --- | --- | --- |
| Monthly Rent* | 50,000 JPY | 52,000 JPY |
*Rent includes common service fees, utilities, internet connection, bedding rental, etc.
On-Campus Housing Selection
Due to the limited number of rooms in AP House 5, only applicants who applied within the Housing Selection Deadline of each application period will be considered.
All other applicants will automatically be assigned to AP House 1 or 2.
The student housing notification results will be announced at the same time as the final application notification results.
1. Important Note
Due to the limited number of rooms in AP House 5 (there are only 120 rooms available for the total possible enrollment of 735 international students when combining spring and fall enrollment), you may not be able to live in the student housing facility of your choice even if you select it at the time of application. APU will organize which floors and room types the residents stay in. However, if there are unavoidable circumstances, such as health reasons, that require individual attention regarding room type, please consult with the AP House Office or a member of our Support Services for Students With Disabilities.
2. Student Housing Notification Results
If there are too many applicants for AP House 5, the selection process will be based on each applicant's submitted application documents and the results of the online assessment.
The student housing notification results will be announced at the same time as the final application notification results.
Declining Residence at AP House
If you meet certain conditions, you can decline residence at AP House. Refer to the Enrollment Procedures Handbook for detailed information.