ADMISSIONS BLOG
Nelson Mandela Memorial Lecture at APU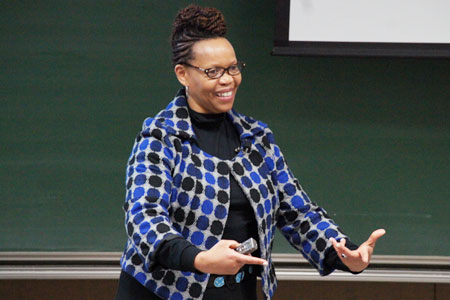 On Thursday, January 22nd, 2015 the Ambassador of the Republic of South Africa, H.E. Mohau Pheko visited APU and gave a talk entitled"The Role of Government towards its Citizens—What Constitutes Citizenship?" The talk was part of the Nelson Mandela Memorial Lecture Series, a project initiated by the embassy to commemorate 20 years of democracy. The APU lecture was scheduled to align with African Week for the 2014 academic year.

In her talk, Ambassador Pheko highlighted the various challenges and victories her nation has encountered over the two decades and the lessons learned. She spoke about the struggle faced by Nelson Mandela to bring equal rights to all the citizens of South Africa and how that has influenced policy making in the rainbow nation. Her Excellency then posed some challenging questions drawn from modern-world scenarios faced by most nations and challenged those present to think about their role in influencing positive change. The session concluded with a lively question and answer session with many students staying behind to ask additional questions and share their observations.

This talk was an eye-opener for all those who attended. If you are in Japan and would like to attend special lectures and other events or activities in APU, keep an eye on this blog for updates and announcements.