ADMISSIONS BLOG
CONGRATULATIONS TO ALL 2015 SPRING GRADUATES!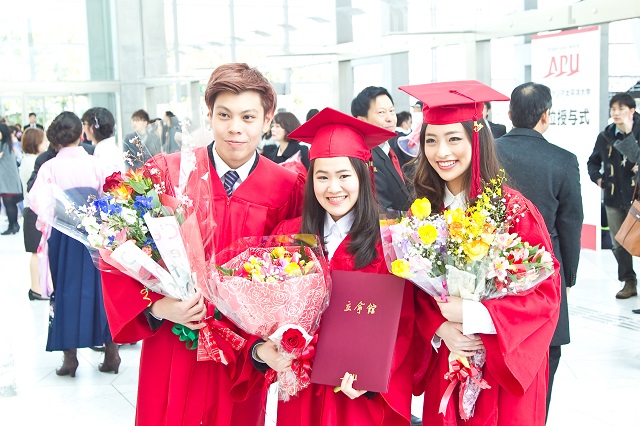 On Friday, March 13, 2015, we bid a fond farewell to the graduating Class of Spring 2015, a group consisting of 688 students representing 27 countries and regions, as they were awarded degrees from APU at the graduation ceremony.

APU President Shun Korenaga offered words of congratulations, and delivered an important call to action to the graduates.
"The world is becoming increasingly uncertain, violent and destructive. We must learn from human history. We must realize that APU's mission of 'Freedom, Peace and Humanity' is one of the universal truths that humans have come to understand, and we must rely on this universal truth as we face up to violence and destruction. It is foolish to think that the values held by any one religion or one political ideology are absolute. Why do we have trouble accepting and respecting others for who they are? What transcends ethnic and religious differences is respect for human dignity and mutual understanding. The diversity of APU, where people can accept each other, creates new value. Respecting diversity and human dignity is the spirit of APU, and this spirit can save the world from chaos. I hope that you will lead long and fulfilling lives with the spirit of APU in your hearts."
To the graduating Class of Spring 2015 - we look forward to seeing you grow and fulfill your dreams, taking what you have learned at APU to accomplish your goals in the next stage of your life. Congratulations!
Video of the 2015 Spring Graduation Ceremony is available to view here.
Number of Degrees Conferred
|   | Domestic Students | International Students | Total |
| --- | --- | --- | --- |
| College of Asia Pacific Studies (APS) | 345 | 52 | 397 |
| College of International Management (APM) | 176 | 100 | 276 |
| Graduate School of Asia Pacific Studies (Master's) | 1 | 4 | 5 |
| Graduate School of Management (MBA) | 0 | 5 | 5 |
| Graduate School of Asia Pacific Studies (Doctoral) | 1 | 4 | 5 |