ADMISSIONS BLOG
Top Spots on Campus to Relax, Refresh, and Enjoy Nature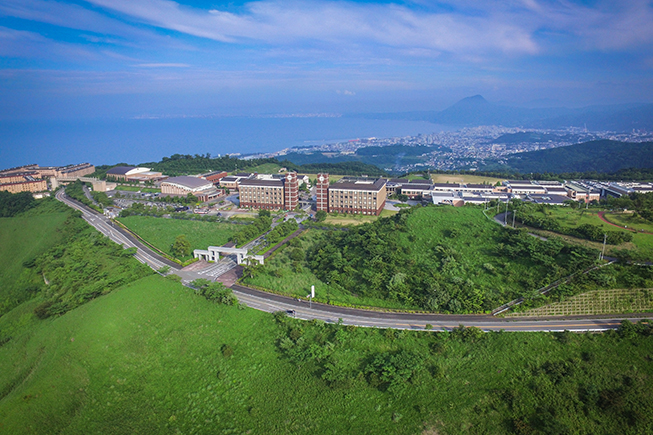 My friends call me a never-out-of-energy sunflower, and all that energy I get from nature.
I love nature—bright sunshine, blue skies, green trees—and I always feel reenergized when I'm surrounded by it. Schools in my home country of Viet Nam are not usually open to nature or only have a few trees in the school yard, and universities are commonly centered in big cities with modern architecture and little room for greenery. But experiencing life here at APU, with its top-of-the-mountain location, has been amazing thanks to the way campus is intertwined with nature.
It has been almost two years since I first came to APU, and since the start of my second year, I spend almost all of my time from sunrise to sunset on campus with classes, studying, club activities, and on-campus part time jobs. The short breaks scattered throughout my schedule are the moments I enjoy the most as I look at the blue sky, and ease myself away from the bustle of daily life.
Let me take you on a tour to visit my all-time favorite relaxation places on campus, where you can share quiet moments with friends, immerse yourself in nature, and take a well-deserved breather.
The large lawn next to the library: an instant recharging spot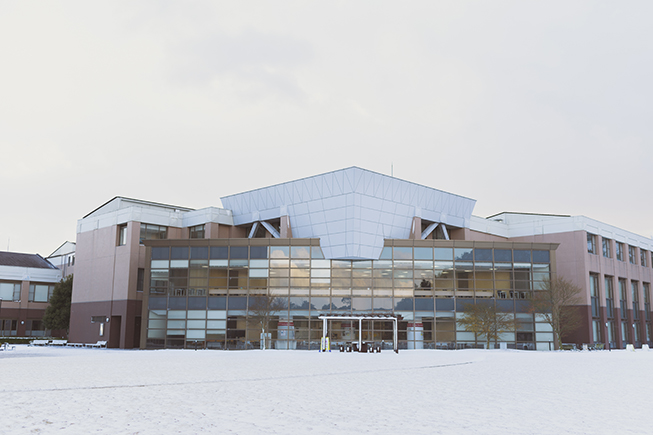 This spot is conveniently located between the library and a tree-covered hill on the edge of APU's campus. I am near this spot almost every day, spending time reading and doing assignments in the library. But after long hours with screens and books, I like to step outside to lie down in this spot and look at the blue sky and the full-of-trees hill, healing my eyes and my mind.
I have actually named this area APU's "season forecaster". If it is fall, the whole hill turns into a photogenic picture of red and yellow, with all the leaves dropping when winter comes. And sometimes the lawn is replaced with a blanket of white snow. But when all the refreshing colors of green leaves and pink cherry blossoms appear, you know spring is back. Finally, when you can enjoy sunshine all day in the lawn, summer is here.
The Wave: the best view of Beppu City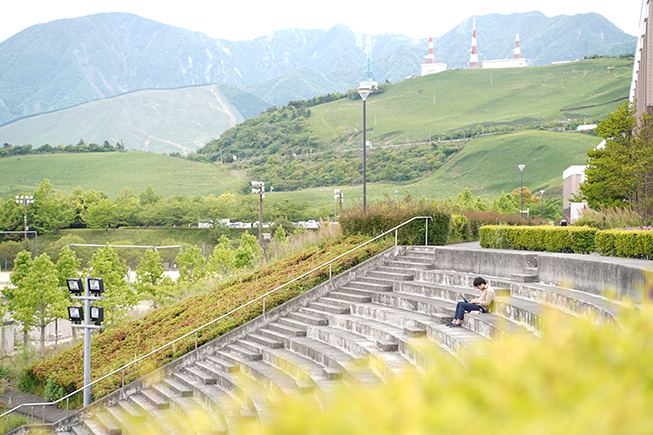 This large outdoor stage is referred to as the Wave by APU students. Close to all the food trucks on campus, it is one of the popular places for students to hang out at while eating during their off-period.
The Wave opens to a wide view of the whole of Beppu City, Beppu's port, and Beppu Bay down below. The atmosphere here is always quiet and peaceful. My favorite time is when dusk comes, watching people heading home and the city starting to light up—I know the day is coming to a rest and so should I. Every time I see the city lights, the sense of belonging to this lovely city moves me.
But the usually peaceful Wave can sometimes become very dynamic with performances from Multicultural Weeks and student circles.
I particularly enjoyed K-wave, a K-pop dancing and Korean martial arts performance organized by Korean Week in the evening. The quiet vibe was transformed into one of burning enthusiasm from the performers and audience alike. The stunning performances made me feel like I was at a concert of Korean idols.
The maple tree street: must-have-photo spot
This street is a secret place in APU because it is not within view from the main part of campus. You have to go to the Wave, walk down the stairs, pass the stage area, and then you can see a path which is full of maple trees.
Autumn in APU means the campus is full of fall foliage, and it is the best chance for photographers and others who want great photos. This street in particular will be full of red maple leaves, a very typical image of autumn in Japan each November.
I often ask a friend to take a short walk with me here, under the maple trees to have a chat and clear our heads.
--
Since my first semester, these places have been my healing spots where I enjoy nature, boost my motivation, and keep moving forward towards my goals. Amongst the studying and hectic rhythm of everyday life, it's always nice to wander off the beaten path to a place of relaxation. And while I only listed three spots, there's so many more on campus! I hope you too can find your own spot in nature here at APU.
Photos featured are courtesy of APU student Alex Phuong Thao and alumni DongUk Shin, Atichat Chuthai, and Do Bao Anh Thu.
---
Alex
Alex Phuong Thao is an APS student from Viet Nam. She loves all types of art—especially photography, choreography, classical music, and literature. Alex aspires to become a university professor while also continuing to pursue her passion in writing.