ADMISSIONS BLOG
Coffee and Class, My Life at APU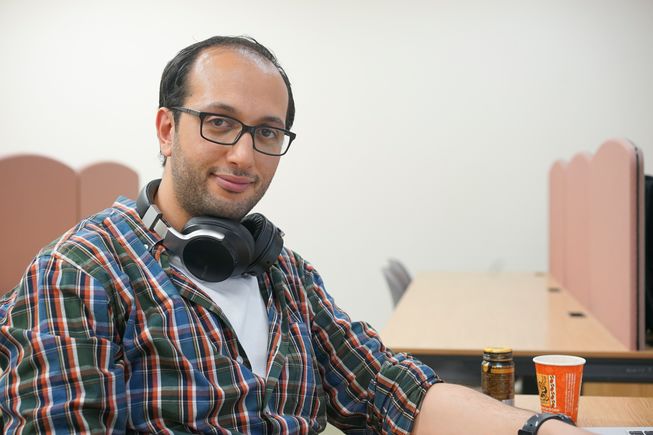 I wake up to the dreaded sound of my alarm beeping mercilessly at 7 AM. I try to roll out of my bed, my eyes still refusing to open. My body is telling me "Nooooo," but my mind knows I need to get up! I am finally able to get out of bed but I am still in a sleep-deprived state. After a quick shower, I start to look more like someone from the land of the living. I cannot start my day without coffee, so I make a quick cup on my Italian percolator. Een kop koffie in de morgen is een dag zonder zorgen – a cup of coffee in the morning is a day without any worries – is a Dutch mantra that pops into my head while taking my first sip.

Time to head to school. APU's first period starts from 8:45, which is why I wake up early enough to have time to get ready. It takes about 30 minutes by bus to get from AP House 4 to campus. The bus stop is across the street from AP House 4 and right in front of an AU cellphone shop. A lot of students line up for certain bus times, so I try to get there a little earlier to beat the main crowd. There are several buses that go to APU. I prefer #55, which makes an additional stop at Mochigahama, and from thereon it goes to APU without stopping. Bus #50 stops almost everywhere and takes a bit longer to get to school. Personally, I keep a photo of the schedule at the bus stop in my phone for easy reference.

After arriving on campus, I still have time for breakfast! Yes, the APU cafeteria is open for breakfast on school days. There is an assortment of breads and pastries, or rice if that's your preference. There are also various foods such as fish, chicken, fried eggs, vegetables, miso soup, and more. Unfortunately the cafeteria doesn't serve fresh coffee, hence why I grab a cup before leaving my place. In Japan, cold coffee in a can is quite popular, but it just doesn't beat hot Italian coffee. However, fresh, hot coffee is available at the Pacific Café from 10 AM. The coffee there is great! I try to never skip breakfast, because a master's student needs energy for a full day of classes and activities at APU.

After filling my stomach, it's time to head to class. From 8:45, the professor will start their lecture, usually by taking attendance. Some courses' attendance counts for 10% of your grade, but others are as high as 30%. But even if it's a mere 10%, I must not underestimate the professor's ability to remember my face. I can't make a good impression if I'm known as the student that doesn't attend. I am are here at APU to study, so I take being punctual seriously.

Additionally, by attending all my classes, I don't miss any opportunities to listen to the ideas of other classmates when they make presentations in class. After each presentation, there is time for Q&A and the professor gives feedback. I make sure to write their comments down for the sake of my own future presentations (which other graduate students have warned me there will be a lot of!).

At some point during the day, I escape to go get lunch. Lunch in the cafeteria is fairly cheap, and I go there with my classmates quite often. The cafeteria offers a wide array of dishes, from Japanese dishes such as ramen, to international dishes like Thai curry. After finishing lunch, I sometimes still have some free time so I go to the graduate room to study. I try to take advantage of the spare time I have throughout the day to work on my assignments, as being a graduate student can be extremely busy. Other students might go to the library or one of the computer labs, but I prefer the graduate room, as there is more space, and it is a lot quieter. Having a laptop prior to your arrival in Japan is wise. You can work on your laptop without needing to rely on APU's facilities. However, the facilities available are quite good. APU just recently replaced a majority of the computers with faster models.

My last class of the day is a Japanese language course. Most graduate students choose to take these courses to learn Japanese necessary to survive everyday life in Japan. The master's program has a different language course from that of the undergraduate program. A master's student's Japanese language course starts from Survival I and Survival II, whereas undergraduates start from a course called Foundation. Those who already know a bit of Japanese before coming to Japan might start on one of the Communication courses: Communication I, II, III, and IV. Communication IV is the last level. Japanese courses are held during 6th period, from 17:55 till 19:30. I myself have already completed up to Japanese Communication II.

I highly recommend that graduate students take Japanese language courses. As a GSA student, I do not receive credits for the course, and my grade in the course will not affect my GPA. However, I take the course to satisfy my own goals. I do not want to become a ghost in Beppu, wandering around for two years without being able to converse with the locals. Yes, while it is true graduate students' time in Japan is short, being able to speak Japanese can make your time here much more enjoyable.

After finishing up a long day on campus, I can finally head back downtown. Sometimes I eat dinner at the cafeteria, but as the lunch and dinner menus are the same I prefer to go downtown. There are many restaurants to choose from in the Mochigahama area where AP House 4 is located. If I don't feel like going out to eat, I can also just go to the Hirose supermarket and buy a discounted bento box. After 7 PM or so, Hirose will put the premade/cooked food on sale for a 50% discount. Arriving home, I am beat and tired. Good! That means I had a productive day! Now I can spend some time with my friends in the kitchen, or I can stay in my room and study (or more realistically browse YouTube and Facebook. Let's be serious, we all do this. :p). Finally I brush my teeth, take a shower, and I go to bed around 11 PM. Tomorrow will be another long and exciting day!
---
■Recent Entries by Zack
---

Zack
Zakaria Ennahachi (Zack) is a graduated Master's student from the Netherlands who studied Sociology within the Society & Culture division. Zack, our flying Dutchman, has always dreamed of studying in Japan and was able to fulfill his dream at APU. In his free time you will find him reading about all the developments in cryptocurrency and writing about student life in Japan on his personal blog. When he does this, his mouth is usually stuffed with sushi, takoyaki, okonomiyaki, ramen, chicken curry, and did we mention sushi?