ADMISSIONS BLOG
Food, Fun, and Finding Your Way Outside AP House 4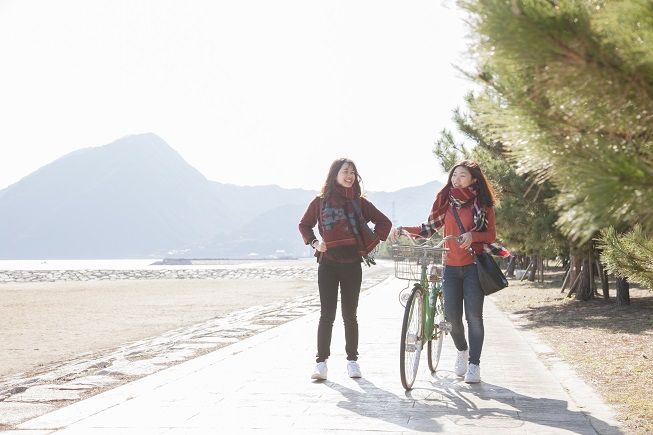 Settling into a new place to live can be a bit overwhelming, and if it is Japan, there are a lot of things you might find striking (culture, the language barrier, and quietness all around) but you can adjust to it sooner than you would think. It happened to me. AP4 happens to be located in a very great place. In this blog, I'll to describe the area around AP4 to give you an idea about what to expect when you step out of your new home.

Before I do that however, I would like to frankly state that Beppu is not Tokyo! I feel the need to preface this way as some of my friends felt a little disappointed in this beautiful town thinking there was nothing exciting to do; that it wasn't a happening place like Tokyo. Well, that's true that Beppu isn't Tokyo. It might not be as bustling as the streets of Shinjuku but it has bountiful nature and picturesque locations where you can enjoy and experience internal bliss!
Behold the Beautiful View

I was amazed the first time I saw the vast expanse of the beach right outside of AP4. Not only is the view soothing to look at, but I feel revitalized by being so close to nature. The best part is I can go out and experience it every day just by exiting AP4 from the backdoor. For those lucky students who get the sea-facing rooms, you can enjoy some of the enchanting sunrise and sunset views right from your balcony! On the other side, AP4 has an equally enchanting view of the city. With half the rooms facing the mountain and the sprawling city at its foot, this view looks particularly stunning at night when the city comes alive with glittering lights. Furthermore, located in the prime location of Kyomachi in Beppu city, AP4 is within walking distance from the iconic Beppu Tower, which can be spotted from all the AP4 lounges.

As a bonus, graduate students usually get to stay on the 8th and 9th floors of this 9 floored building (which means we get the best view!).
Strategic Location

I was a little concerned about the travel time between AP4 and APU when I learned that AP4 is about thirty minutes away from the university, which is on top of a mountain… but my worry vanished as quickly as it came. There are express buses that run to APU via the Kyomachi bus stop (where AP4 is). That meant two things—one, I can get to the university much faster, and two, since Kyomachi is the second of three stops, I can get a seat for sure during my (shortened) journey! Also, for those who wish to travel to Oita or elsewhere by train, AP4 is also located very close to Beppu Station (10 minutes on foot, or faster if you have a bike!)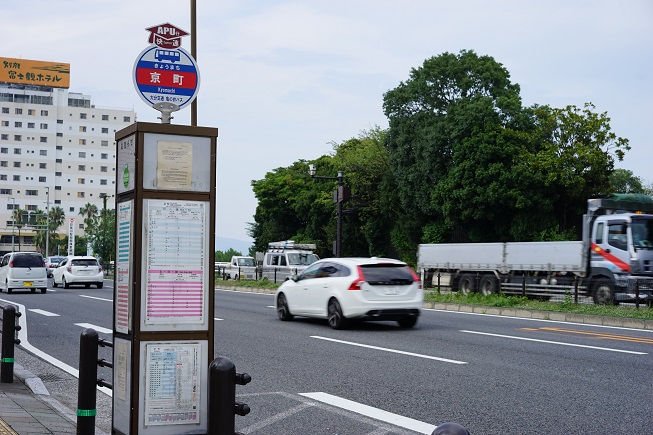 Shop Till You Drop

One thing I absolutely love about the Kyomachi area is that it has a wide range of supermarkets, shopping malls, and of course, convenience stores too, spread across in all directions. If I take a right from the AP4 I will come across some of the best supermarkets—Hirose, Marushoku, Max Valu, and Daiso (a 100 yen store). If I take a left, there are the shopping centers Tokiwa and Youme Town. Both sell a wide selection of goods, from various brands of shoes and clothes to everyday household items. Almost anything you could wish to buy. When I go straight from AP4 and a little uphill, I arrive at Direx, a great store for cost-effective shopping. Finally, if I walk a bit more to Beppu Station, I reach the sprawling Beppu Station market where I can find good priced vegetables and meat, along with another supermarket, Marumiya, and Life!, a 95 yen shop.
Food, Food, Food

This is probably the most crucial part for most of us, and for my friends and me it was in fact the first thing we set out to discover—eateries around AP4. Let me tell you, you are in the right spot if you are a foodie. Apart from a lot of udon and soba shops (both are types of Japanese noodles), the area around AP4 has some of what I believe personally to be the best restaurants you can find in Beppu, all minutes away on foot! They have affordable family restaurants like Joyfull and Café Gusto, Jolly Pasta (Italian), Royal Host (American), Ringer Hut, McDonald's, Yusha (Halal restaurant) and a host of other places for sushi enthusiasts and yakiniku fans.

Another place I love, is right opposite AP4—an Internet Café with karaoke, which neighbors Pizza California. Not to forget, there are a lot of other places if you go a bit further such as Veggie Joint (all vegetarian) and many nice restaurants inside Tokiwa and Youme Town. Believe me, it's an absolute blast to go explore around!

All in all, AP4 is truly a great location to start your life at APU. Even if you decide to move out of AP4 and live in another area, chances are that you would still go to places around AP4 to relish a bite at one of the many restaurants, go shopping for clothes and shoes at one of the shopping centers, and also to drop in to say hi to your friends who are still at AP4!
---
■Recent Entries by Astha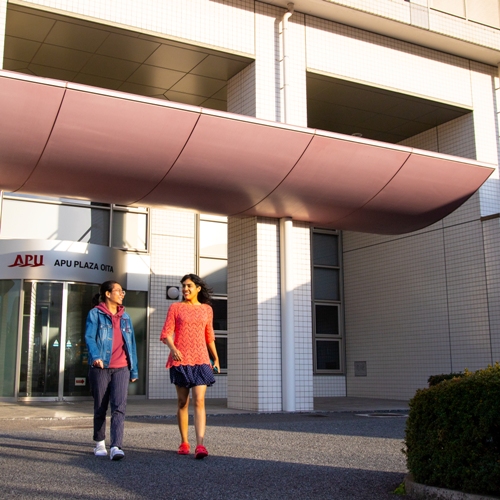 ---

Astha
Astha Chadha is a doctoral student from India, and also a master's graduate from the division of International Relations in the Graduate School of Asia Pacific Studies. Our witty Indian, Astha is very fond of getting into debates and discussions, and APU's environment has given wings to her dream of experiencing university life in Japan while also interacting with people from all over the world! She can usually be seen hanging around with friends in the library (for the thirst of knowledge) or the cafeteria (for the hunger never dies...). She loves talking about anything related to food, travel, dance, and her personal favorite—Bollywood!