ADMISSIONS BLOG
Best-selling Food in APU's Cafeteria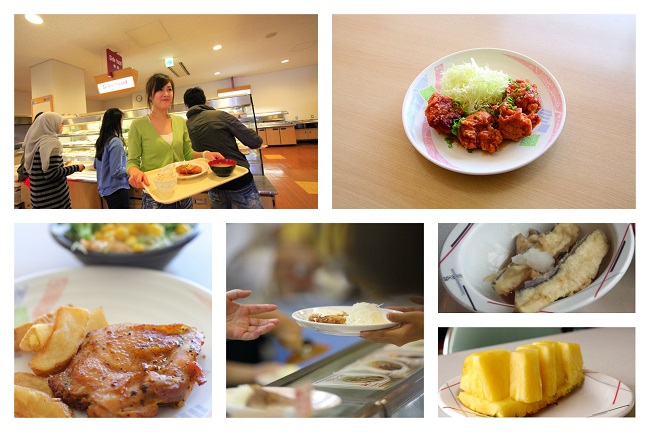 If a plate of food in a school cafeteria was meant to be a special treat, then fancy restaurants in town would go bankrupt. Okay, well we are not quite there yet, but our cafeteria provides tasty food that will help kick-start your day. APU's cafeteria is open from 8:15am until 7:30pm during the semester and for a shorter period of time during vacation. The menu has 172 items and the busiest time is lunch. So what are we eating? Here are the top five dishes.
5th Place: Pineapple
Price: 103JPY (tax included)
Average weekly servings: 455

Surprised that you are able to have pineapple – a tropical fruit - in Japan? You can enjoy all kinds of fruit here, both locally grown and imported. In APU's cafeteria, pineapples are always available in the dessert corner. The pineapple here is very sweet and juicy. If you walk around our cafeteria, it is impossible to find an occupied table without a plate of pineapple. Pineapples are an excellent source of vitamin C for immune system support, which is especially important for those who have been up studying all night before an exam!
4th Place: Chicken Katsu
Price: 247JPY (tax included)
Average weekly servings: 546

Katsu is a prominent Japanese cooking method in which a meat cutlet (pork, chicken or beef) is coated with flour, egg and bread crumbs and then deep-fried. It seems easy to make but the trick is how to keep the meat juicy and tender while having a crispy coating. In APU's cafeteria, chicken katsu is served with shredded cabbage salad. The x factor that makes this dish extra special is the katsu sauce, a thick coffee-color sauce which includes more than ten kinds of spices. Just having chicken katsu with rice and a bowl of miso soup is enough to fill you up.
3rd Place: Karaage Chicken
Price: 247JPY (tax included)
Average weekly servings: 900

Karaage is boneless fried chicken pieces that are first marinated in soy sauce, ginger, garlic and lemon. Oita Prefecture, where APU is located, is home to some of the most famous karaage in Japan. Although it is fried, I personally feel APU karaage chicken is not heavy. Maybe the ginger and lemon juice contribute to its light taste that I love. Our cafeteria also gives you many sauce options to choose from! Feel like eating Chinese? Get the orange or yurin sauce. Feel like eating French? Get the mayonnaise. Whichever sauce you choose, the dish tastes great.
2nd Place: Chicken Steak
Price: 278JPY (tax included)
Average weekly servings: 961

Chicken again? Yes! We never get bored of chicken at APU, as it is a popular choice for students who come from different cultural and religious backgrounds. If you are looking for a post-gym, simple but satisfying meal, our chicken steak is a great option to go for. The secret recipe of our chicken steak? It is marinated in a special sauce to make it juicy and tender before being broiled in the oven. It often comes with a side of French fries or broccoli. Add a bowl of miso soup, rice and kimchi, and you will have a well-balanced lunch.
And the winner is …
Eggplant Tempura
Price: 83JPY (tax included)
Average weekly servings: 1162

This is the legendary eggplant dish that everyone, literally everyone, lines up for in our cafeteria. How to describe it? Simple and delicious. It can be a side dish or a main dish for vegetarian students. The secret to its popularity is the light sauce and the grated radish topping – cold and fresh with slightly peppery flavor. A survey with APU alumni showed that this is the dish they miss most after graduation.
So how much will you spend for a meal here? If you have chicken steak, rice, a side salad, a bowl of miso soup and fresh pineapple, you will pay around 581JPY. Such a meal may cost you at least 900JPY off campus and maybe around 1500JPY in places like Tokyo. Very reasonable, isn't it? That's why the APU Cafeteria is also well-known among the locals as an inexpensive lunch spot with great view of the Beppu Bay.
Apart from dishes that go with rice, the APU cafeteria serves a wide range of noodles as well as bread and pasta. There are three to four halal dishes daily and also special options during multicultural weeks. I am pretty sure you will always be able to find something that will make you happy!