ADMISSIONS BLOG
Living like the Locals—Soaking in the Hot Springs of Beppu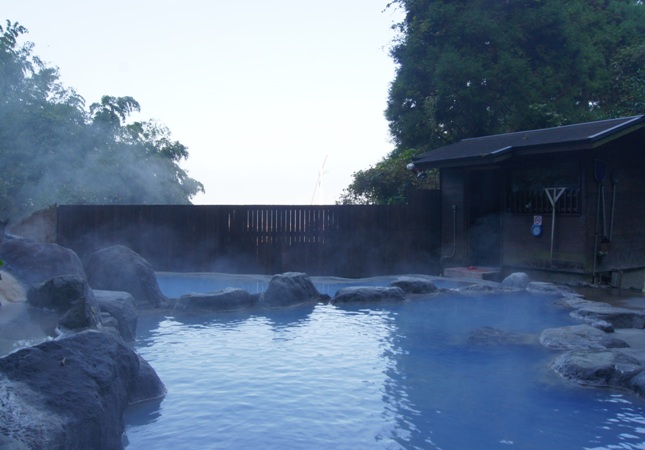 Imagine a cool, crisp evening in a tranquil Japanese garden, enjoying a soothing dip in a stone bath full of warm, therapeutic water while gazing out toward the starry night sky. This is the Japanese custom of going to onsen (hot spring baths), which is a time not only to refresh your body from the tensions of a hectic day but also to treat your mind to a relaxing escape.
In Beppu City where APU is located, onsen is not just a tourist attraction but a way of life. The city produces more hot spring water than any other onsen area in Japan. Beppu is lucky to have 10 different types of springs and more than 2217 extractable sources.
The abundance of thermal water allows some local residents to even have hot spring water in their own homes, so they use less electricity and gas to heat bath water. Hot springs are also said to contain minerals that enhance your health.
Being an APU student, you will have the chance to enjoy many famous hot springs such as Takegawara, Myoban, Beppu Beach sand baths, Hoyoland mud baths, Suginoi Aqua Garden onsen pools among others. You can also be adventurous and look for them in the most unlikely places.
POP QUIZ: Guess which of the following venues has an onsen bath!
a. A flower shop
b. A Buddhist temple
c. A bicycle racing stadium
d. A restaurant/catering shop
e. A theater
The answer is… all of them! You are bound to find an amazing onsen where you least expect it so make sure to carry a bath towel with you as you explore the city.
Here is a link for more information on hot springs in Beppu: http://english.beppu-navi.jp/onsen/
If you have a taste for rare experiences, here are some unique bath houses that you can try
Young Center: Enjoy a Japanese play before your onsen bath.
Netsu-no-yu: This onsen contains natural sodium and entry is free of charge.
Mugen-no-sato: They have a private onsen bath right next to a waterfall!
Ichinoide-Kaikan: is a restaurant and lunch box catering service. Their onsen baths are hidden on a mountain slope, commanding a gorgeous view of Beppu's Global Tower. If you buy a lunch set, you can enjoy the onsen for free.