ADMISSIONS BLOG
Oita Day Trips: Yufuin
What is Yufuin?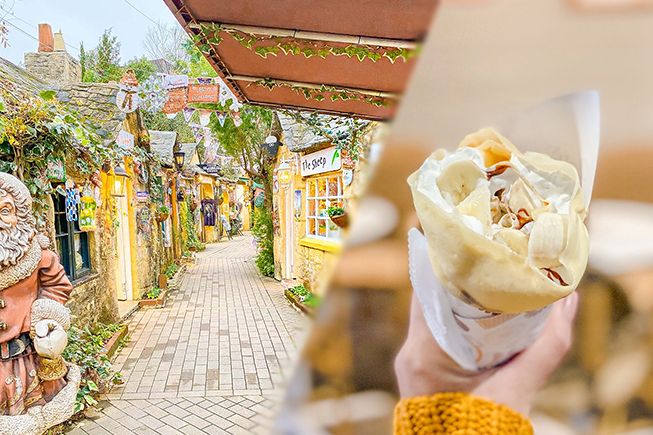 Yufuin (由布院, ゆふいん) is small town located at the foot of Mt. Yufu, filled with cute cafés, homey boutique shops, and the best views of nature- perfect for a weekend getaway with your friends or with that special someone you've been dying to ask out. Have your picture-perfect outfit, camera, and wallet ready because after reading this, you might as well take the next Yufuin-bound bus (or train) and be on your way.
If you're coming from Fukuoka or Oita, you can take a train to Yufuin station. If you're coming from Beppu like me, you can take the bus, which takes less than an hour. I usually just head on over to the information desk at Beppu station to buy my ticket and they'll give you directions as to which bus to take and where to get off. The one-way trip costs around 940 yen (although this could change).
I know a lot of people are staying home, but that's alright! Just get ready because I'm about to take you on a virtual (as most things are these days) trip to… YUFUIN!
Where to go and what to see!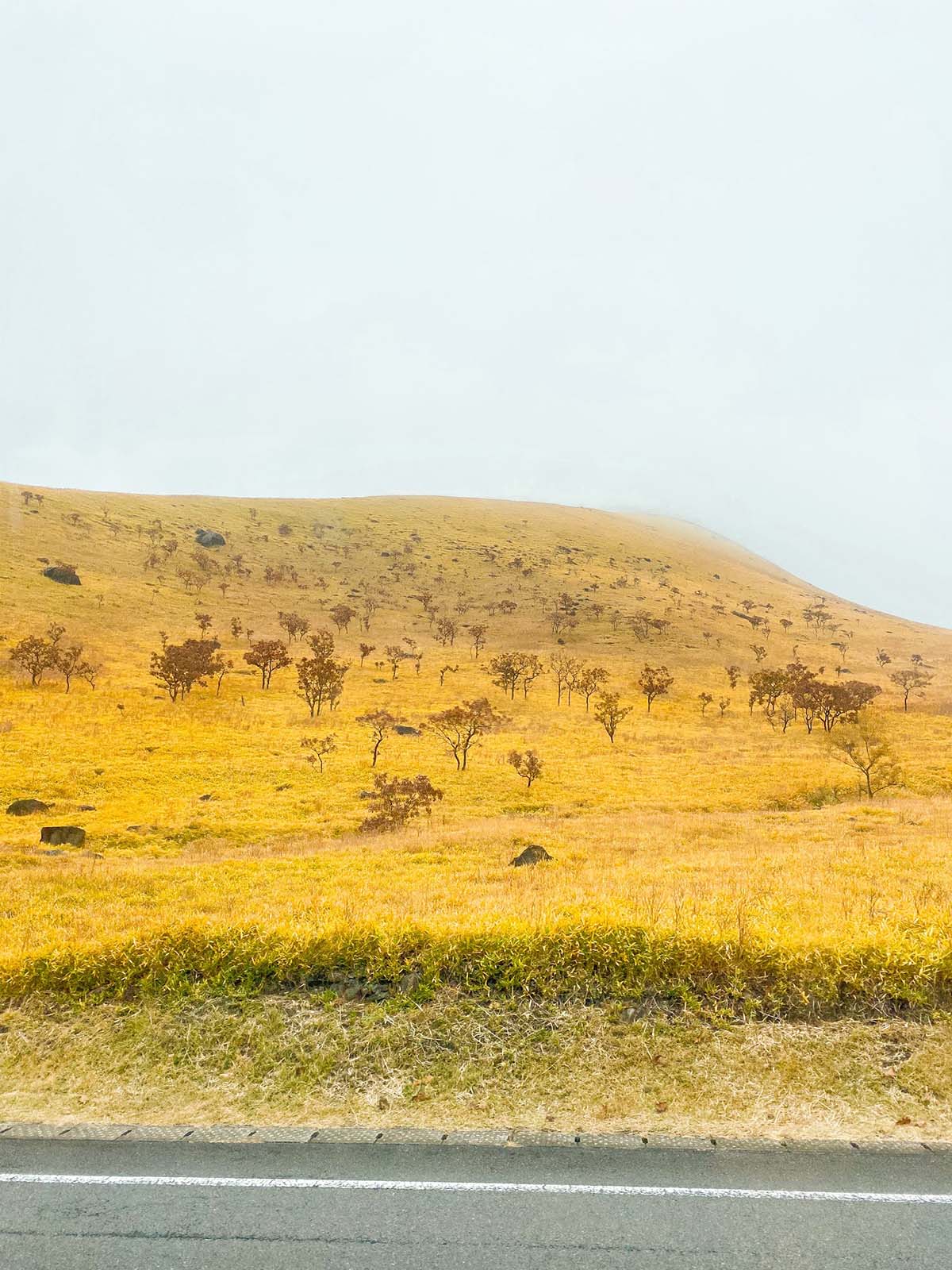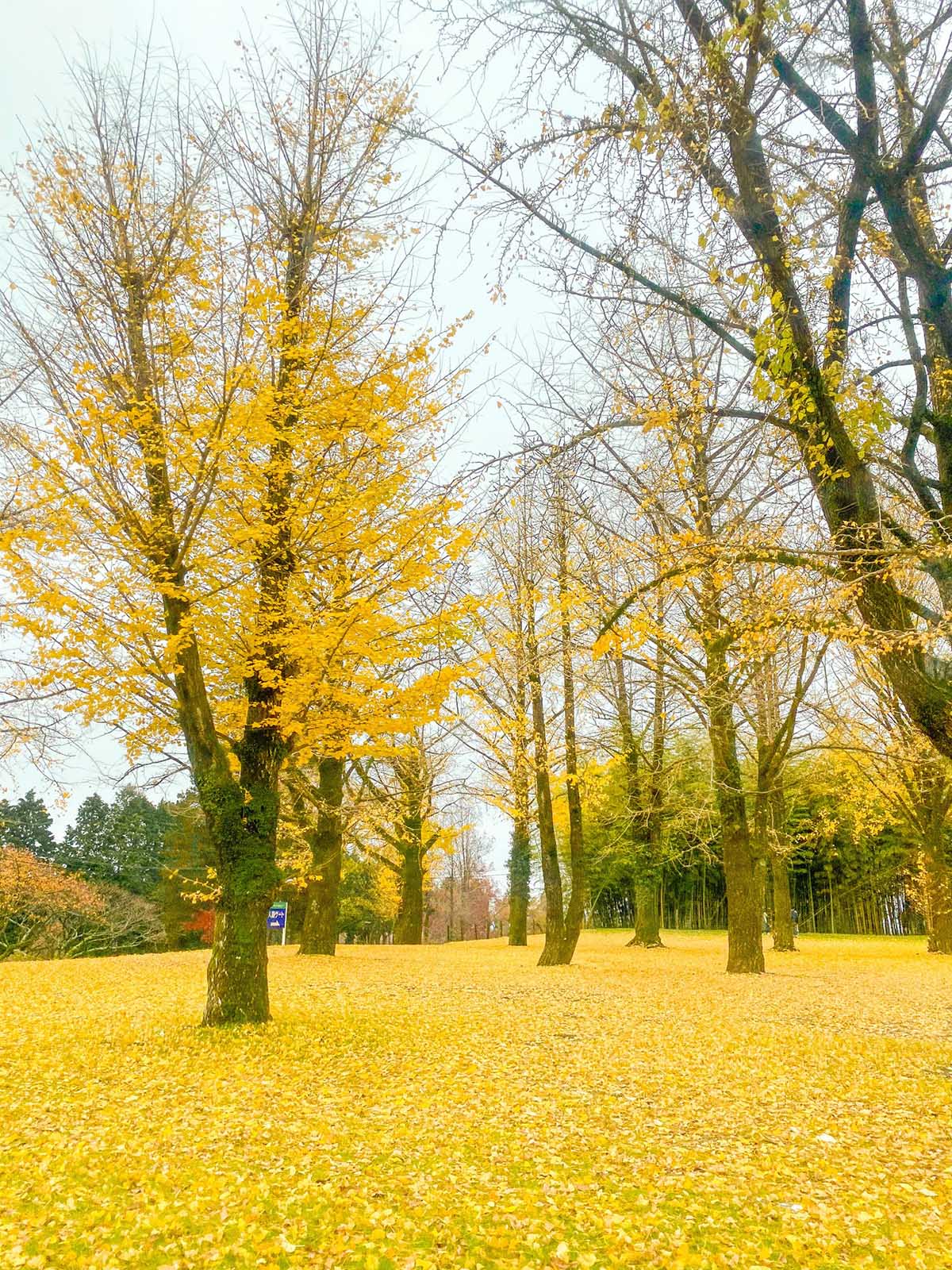 On the way there, you might want to have your devices already set up as you will be witnessing one of the most beautiful scenic views of the mountain that changes color based on the season. It's all bright, vivid colors and blazing landscapes in the summer and spring, gleaming yellows and oranges in the fall, and twilight vibes of pure tranquility in the winter. Once you get off the bus, it'll be like you're in an entirely different world.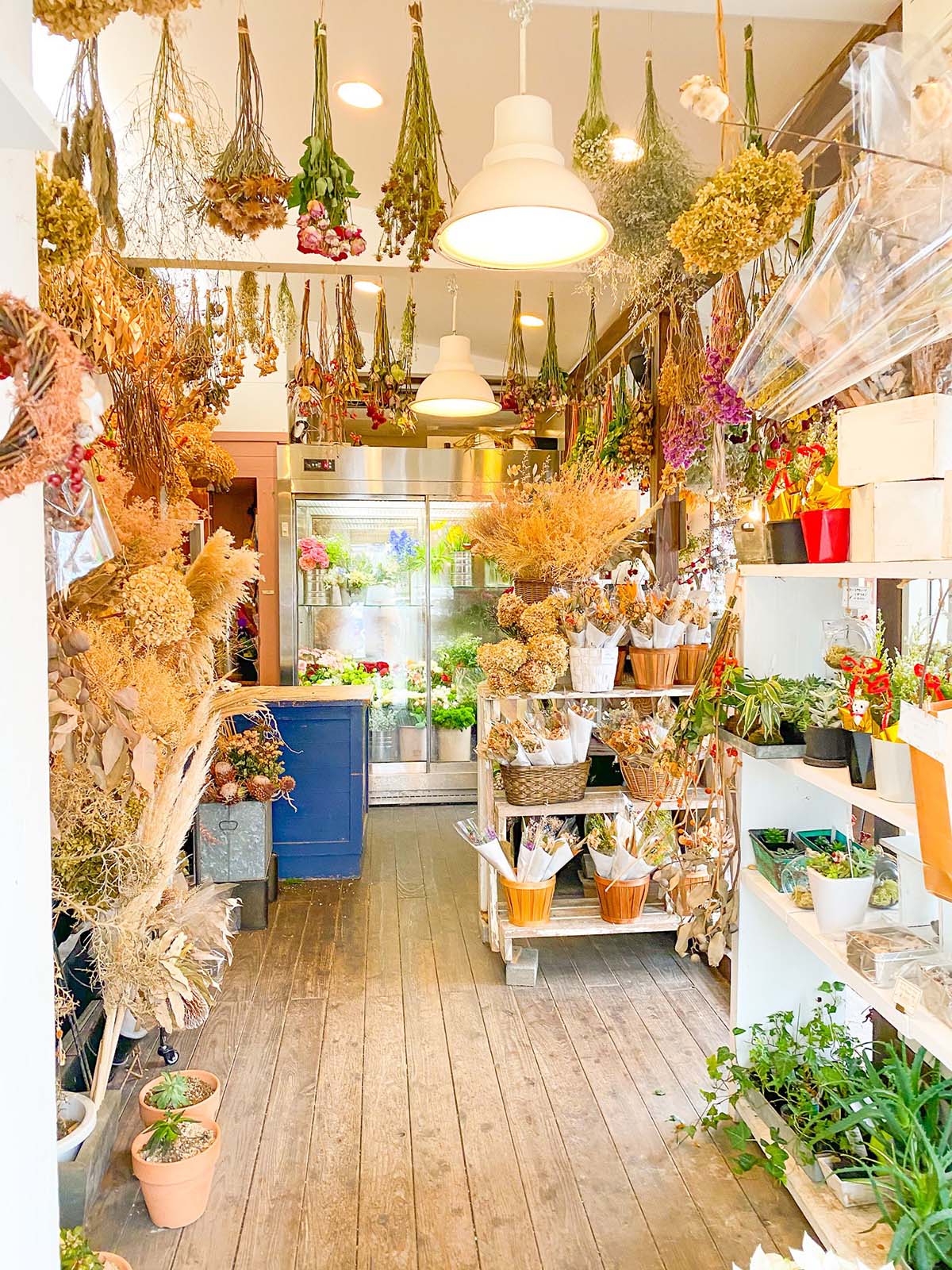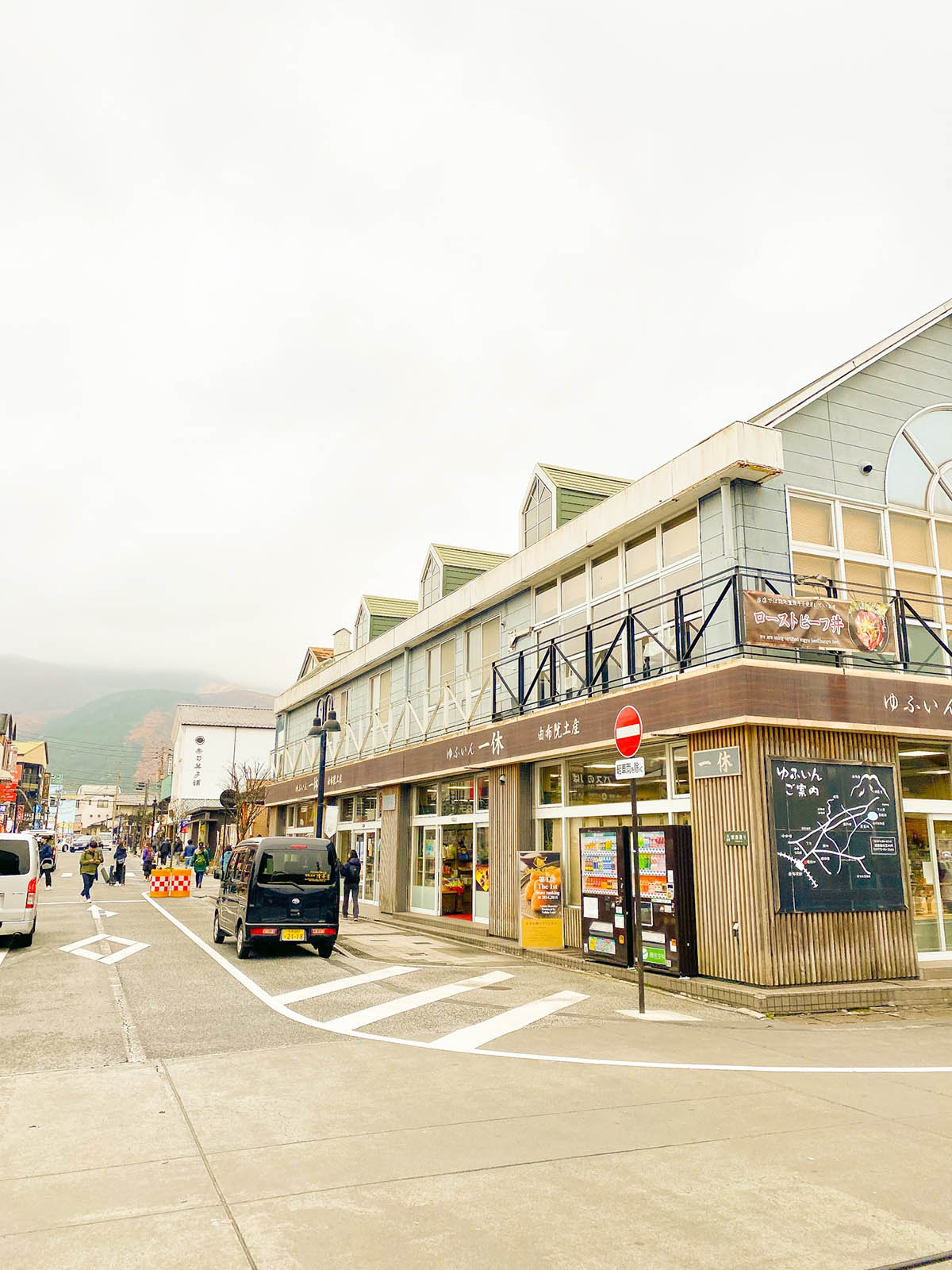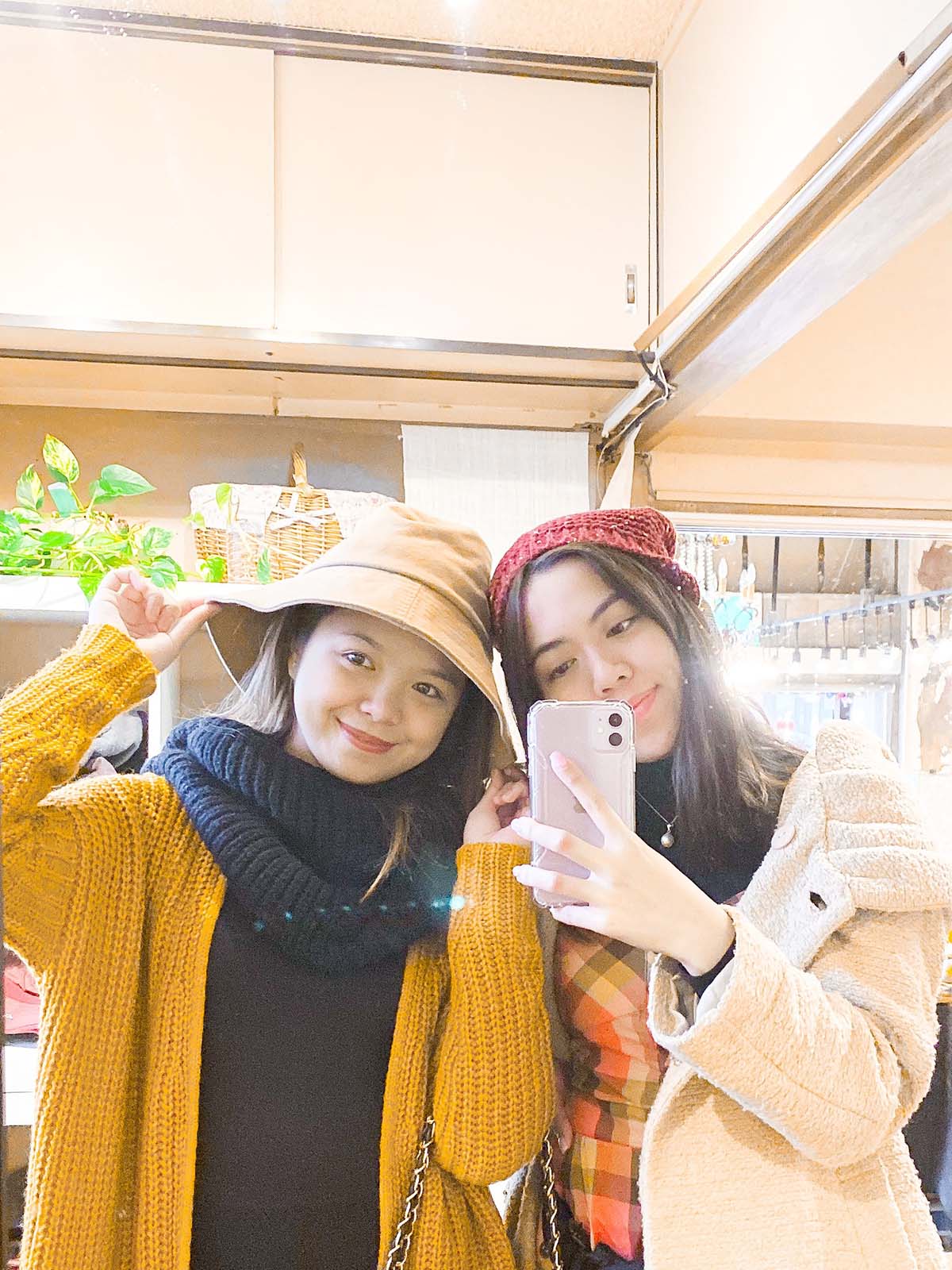 In Yufuin, there are traditional Japanese styled shops left and right, each one unique from the other. Some selling things such as jewelry, dried flowers, clothes, wood works, and even Studio Ghibli souvenirs. There are also these cute cafes and tiny restaurants where you can grab yourself a slice of cake or have a photo of you taken as you take a sip from a cup of coffee or tea. The town is filled with trees, flowers, and views of surrounding mountains so you'll be one with nature the entire time.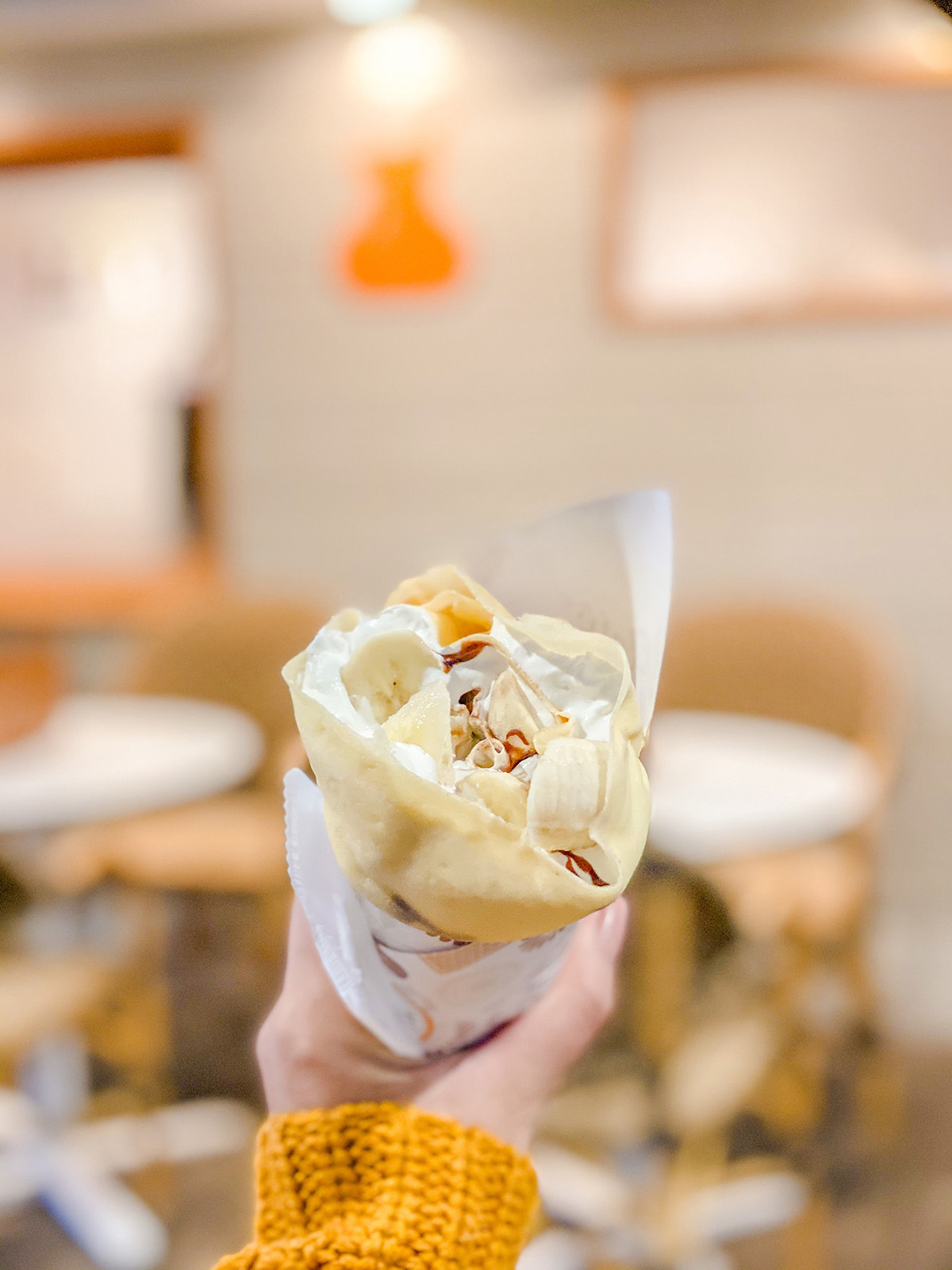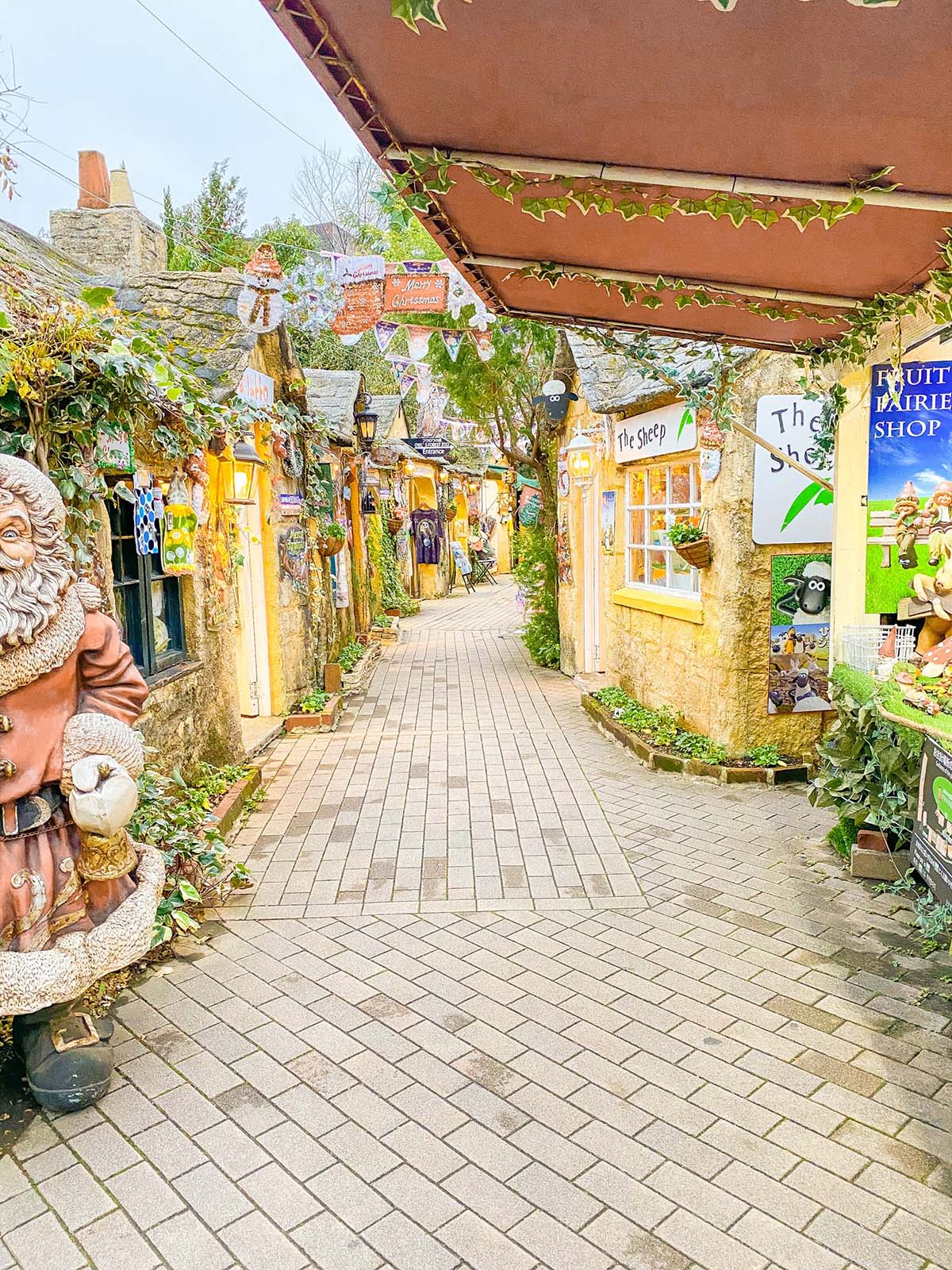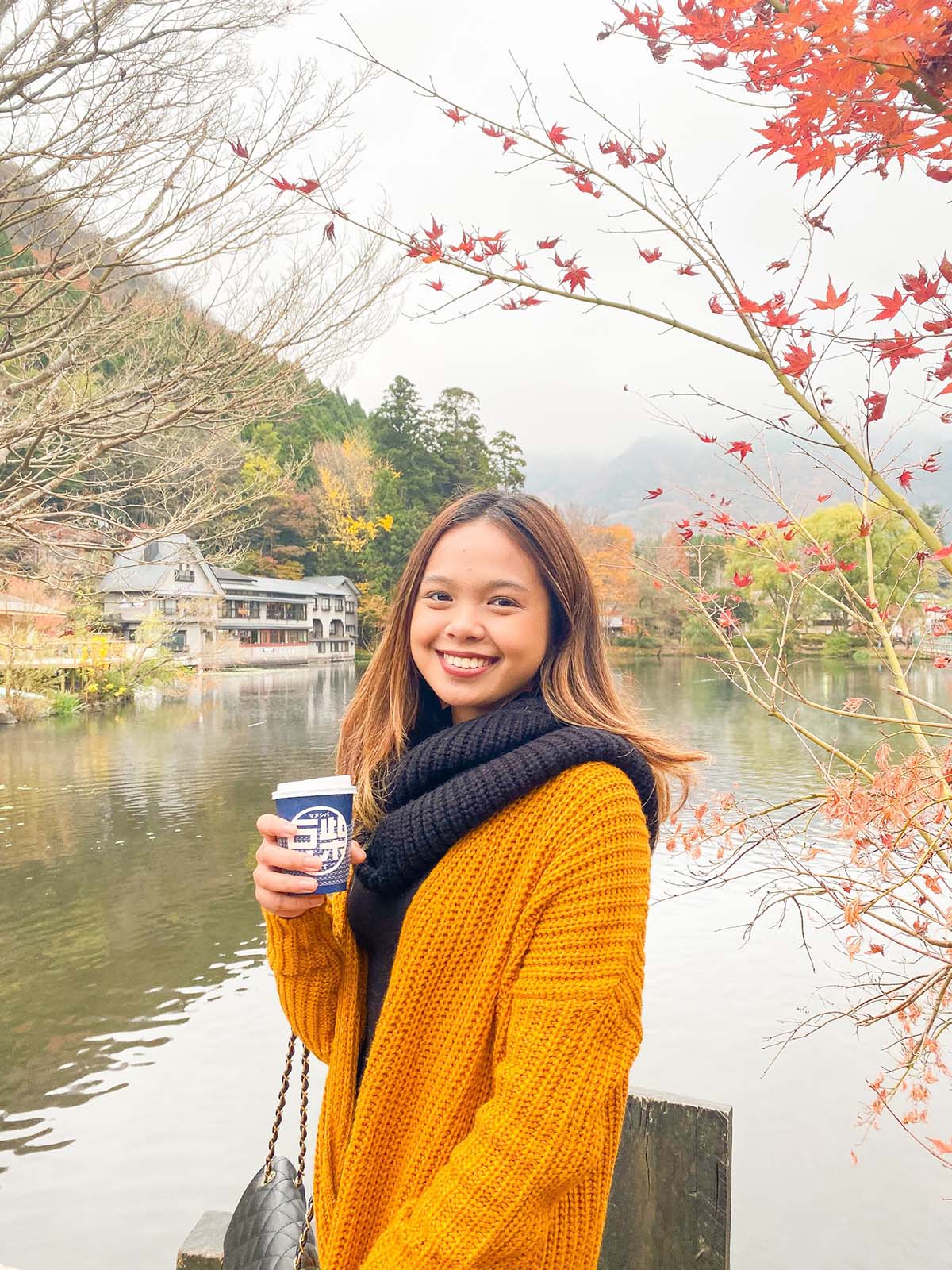 The Cutest Shop!
Aside from Yufuin's breathtaking views and charming shops, there are also so many various activities in store for you such as shopping and hunting for cute little trinkets, chilling at a café and having some dessert, playing with Shiba Inu dogs at the Yufuin Mameshiba Café, taking a stroll down the Yufuin Floral Village strip, and even having a mini photoshoot by Lake Kinrinko. With all these things to do, a day trip might not be enough, and you'll definitely be back for more!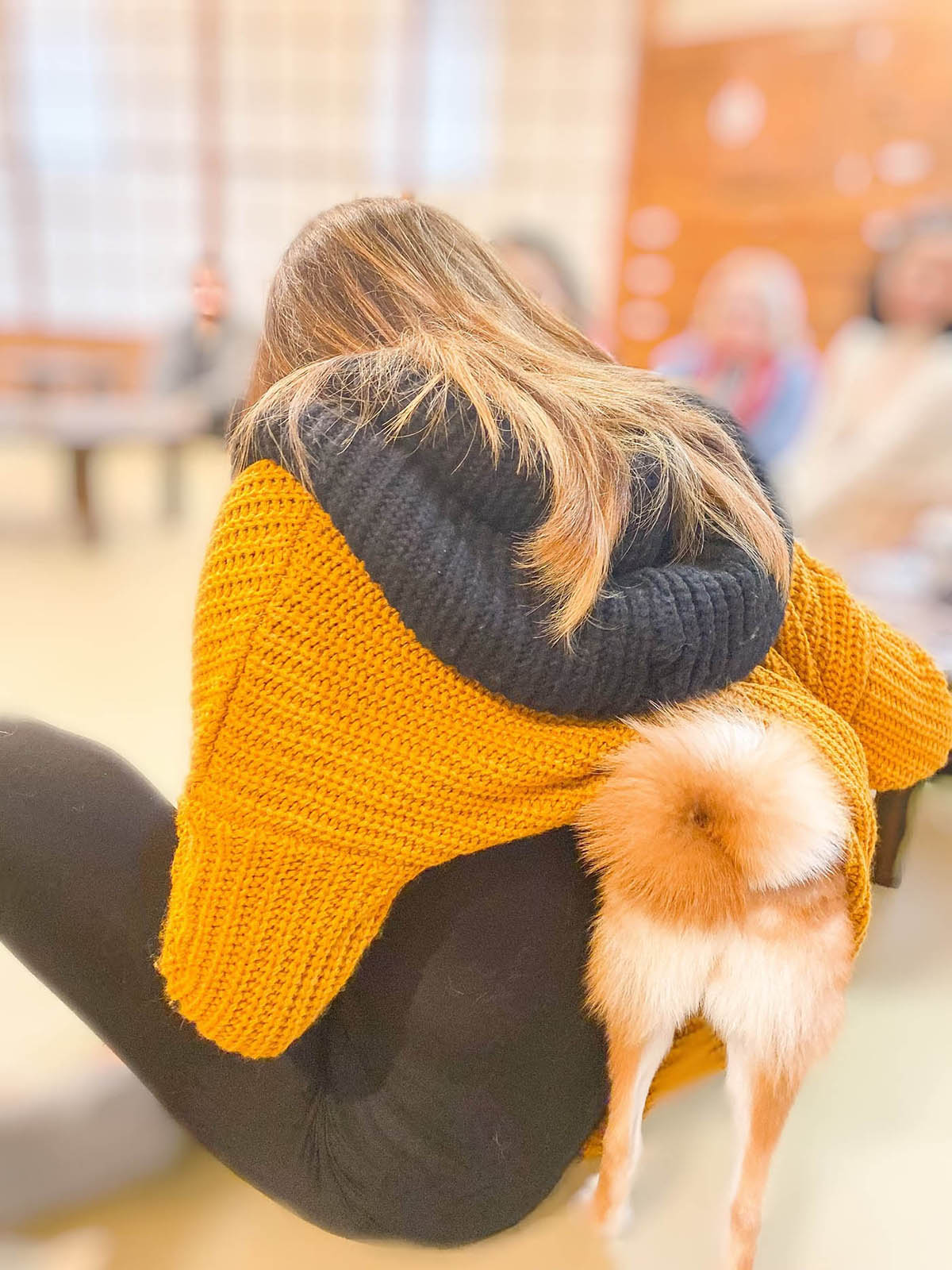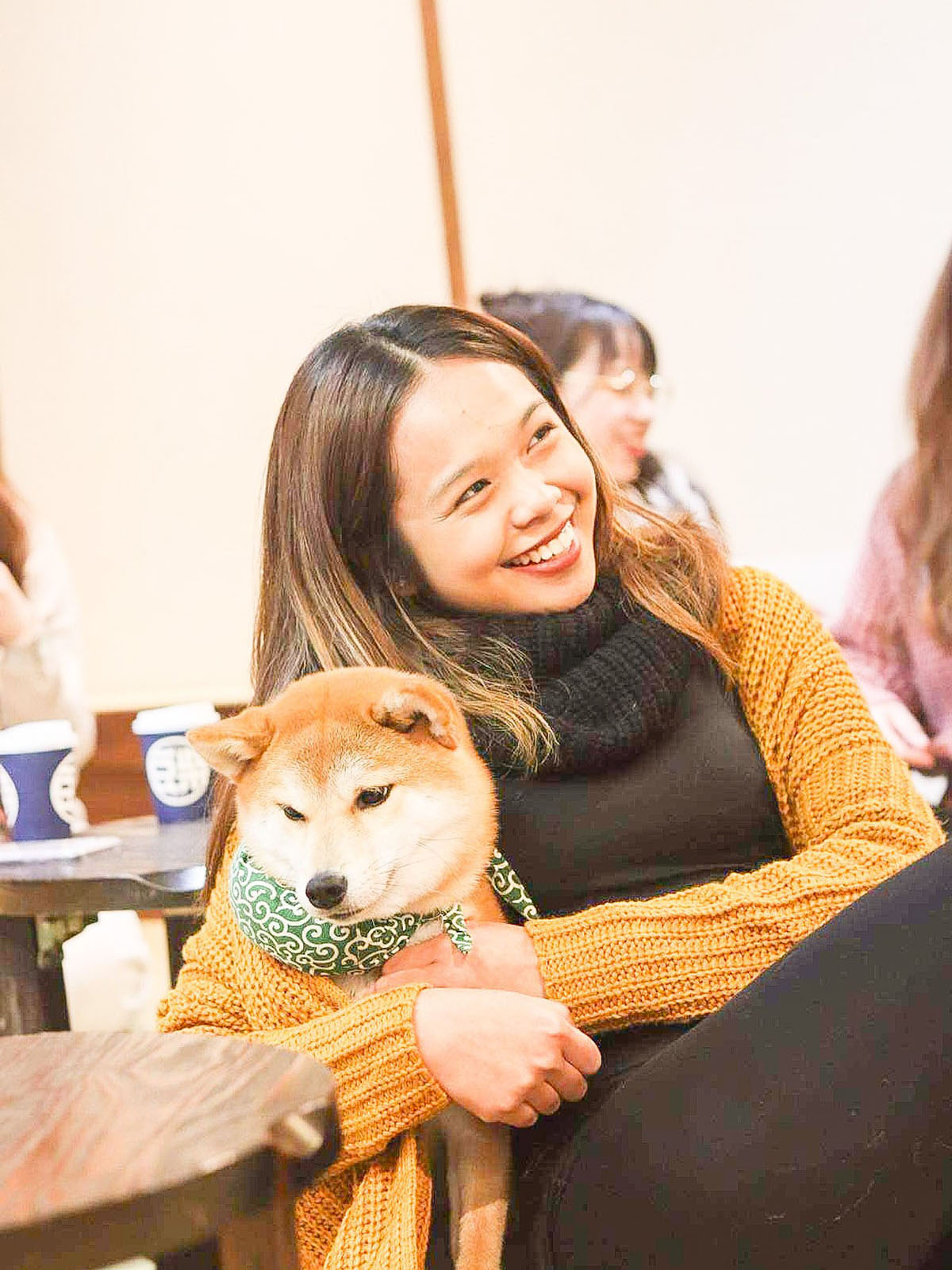 As a dog-lover, I have always wanted to visit the Mameshiba Café and play with the adorable, fuzzy, energetic balls of pure joy and happiness, also known as Shiba Inus. Playing with them was definitely a dream come true and another tick off my bucket list!
In the café, there's a shelf for you to place all your things so you can freely roam around and play with the dogs. They also provide some toys such as bones, balls, and ropes. Also, not only do you get to play with them, but you get to enjoy your play time with a free drink from the vending machine as well! How cool is that?
As you can see in the left photo, there is a Shiba Inu trying his best to stay hidden under my knitted sweater. He stayed there for what felt like ages, keeping me from moving around, but I guess all he wanted was some warmth from the cold winter breeze. On the other hand, in the right photo, you'll see where the other half of his body was actually peaking at people walking by, all cozied up and ready to take a nap (and probably didn't want me to leave yet). Unfortunately, there is a time limit and eventually I had to say goodbye to my furry friend. This was definitely the highlight of my trip and one I will never forget!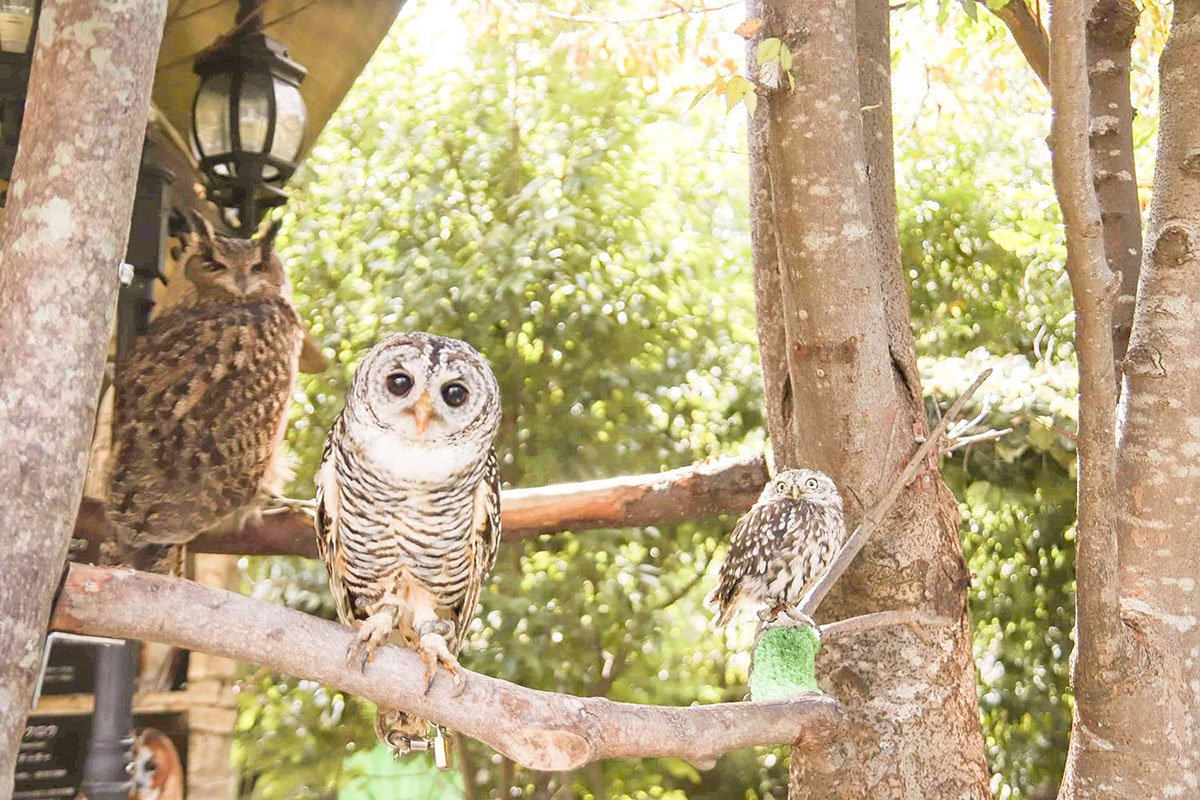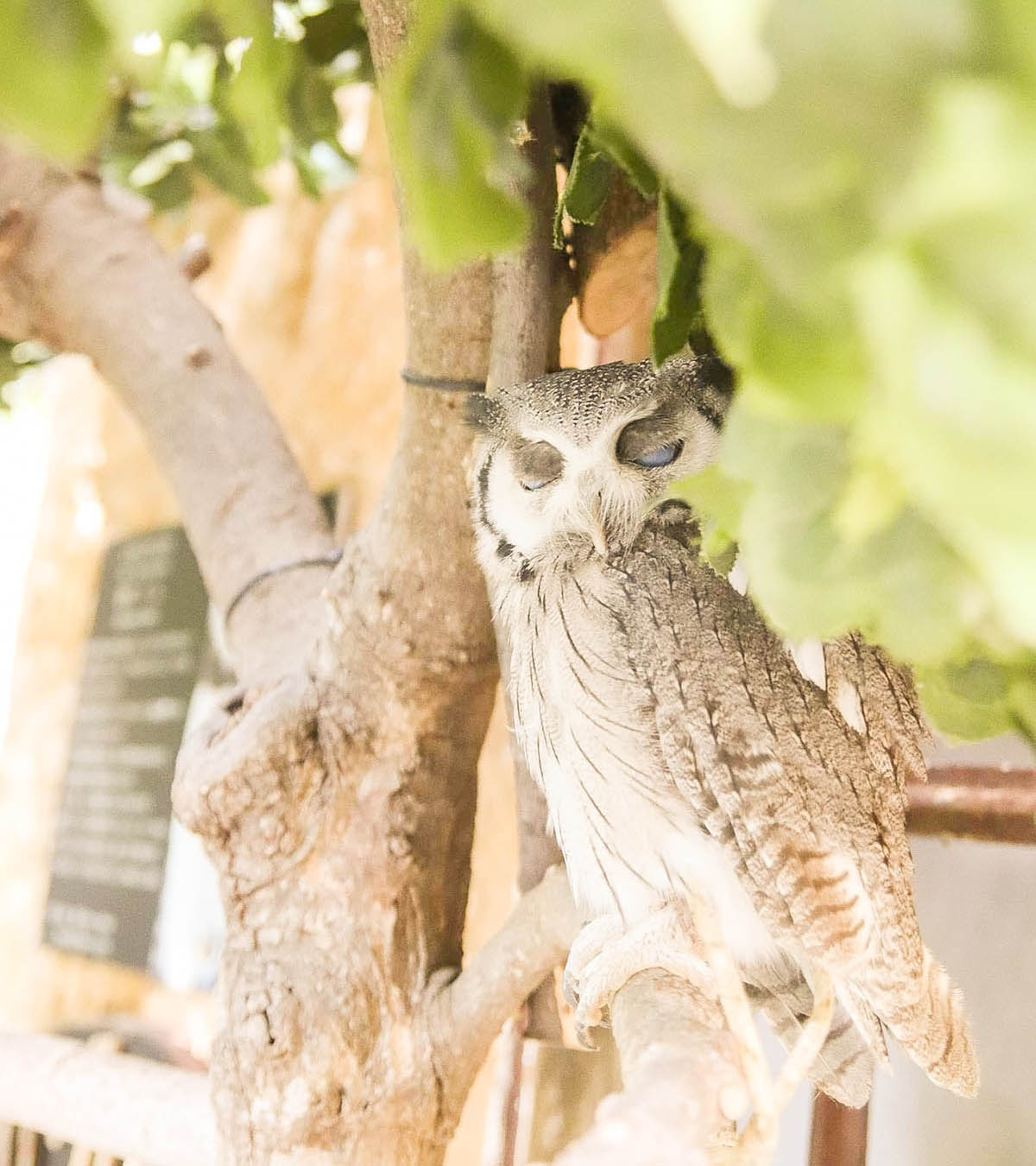 Not only is there a dog café, but an Owl Forrest as well! These cute creatures are completely harmless, or are they… Even though you are allowed to pet these owls, they have a label near them stating their "difficulty level." Most owls are friendly and cordial, but don't let their puppy eyes, or should I say, "owl eyes", deceive you. There are some that might not be as welcoming to human touch such as the older, more mature owls that tend to be grumpy and might just snap at you when you reach out. I've never tried to do that, so I'll leave it to you to see for yourself! Good luck!
Last but definitely not the least, you don't go to the onsen capital of Japan without visiting an onsen! Like the rest of Oita, Yufuin too, is filled with boiling natural hot springs, also known as onsen (温泉, おんせん, hot springs). It's best to visit when the weather is a bit colder and taking a nice, hot bath can undeniably melt all your problems away and give you the relaxation you deserve. While some onsens might be for bathing in, others are only for viewing, or some can even be for drinking. You have onsens like Tsuka no Ma, Baien, and Musuoen which are ryokans (旅館, りょかん, traditional Japanese inns) that offer onsens for bathing. There's also Yunohira Hot Spring that is said to have healing water for drinking.
Conclusion
I don't know if all of that was convincing enough to get you to visit Yufuin, but reliving those memories made me want visit. Overall, the visits I've made to Yufuin were certainly not enough and I'll definitely be back another time. And I hope to see you there too!
---
■Recent Entries by Gil
---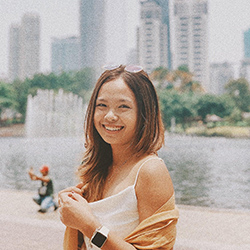 Gil
Gillian Montero Encarnacion (Gil) is an APS student from the Philippines, majoring in International Relations and Peace Studies and is also a member of the APU Social Media Unit. She spends her time taking photos, vlogging, and learning new languages such as Japanese, Spanish, French, and Chinese.