ADMISSIONS BLOG
Languages of APU
In a university that encompasses students from around ninety countries, and even more languages, the word "diversity" feels like a vague understatement that cannot fully define what it means to be at APU.
For me, I initially applied to APU specifically because I was searching for an English-taught university, but not necessarily in an English-speaking country. APU fit these parameters in that I could take my courses in English while also experiencing the Japanese culture. But what I didn't know was just how much more of the world I would also get to experience once I got here.
From the first moment I stepped off the bus at AP House, I was caught off guard when I was met by one Spanish-speaking student and one Japanese-speaking student working as Resident Assistants (RAs). This immediately sparked in me both a sense of ease and wonder because as a Portuguese speaker, Spanish is the closest language to my own, but also I definitely did not expect to hear it on my first day at APU.
I soon realized that hearing other languages is not a rare occurrence, and with more time, I began to understand nuances, patterns in speech, and characteristics of specific languages. As is shown in the video at the top of this blog, there are countless world languages to be found here at APU. On any given day, I can walk through the cafeteria at lunchtime and pick out conversations in of course English and Japanese, but also Thai, Spanish, Samoan, Dutch, Korean, and more!
And although I am currently the only undergraduate student from Angola, I find myself not only linguistically identifying with fellow classmates who speak a Western Romance language but also identifying with all the other international students learning Japanese just as I am.
For me, learning the language is an important part of learning about a culture, and in doing so, better understanding the people who speak it. In fact, I have found that the way each language is structured has a lot to do with the way each person thinks. The many languages spoken here at APU allowed me to get closer to people of other nationalities, being able to know their way of thinking and gain insight into the context of their respective countries.
By being part of this diverse linguistic environment, it's an almost a guarantee that besides your native language, English, and Japanese, you will learn or get interested in another language, further tightening the bonds of this multicultural campus.
Video filmed and edited by former APU Student Social Media Unit member Lorna Probasco.
---
■Recent Entries by Drusila
---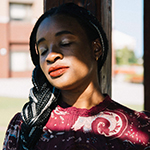 Drusila
Drusila Gomes is an APS student from Angola. She has lived in three different countries, which gave her the opportunity to explore her interests in reading, traveling, and poetic writing. She describes herself as being a voyager with ethereal soul.