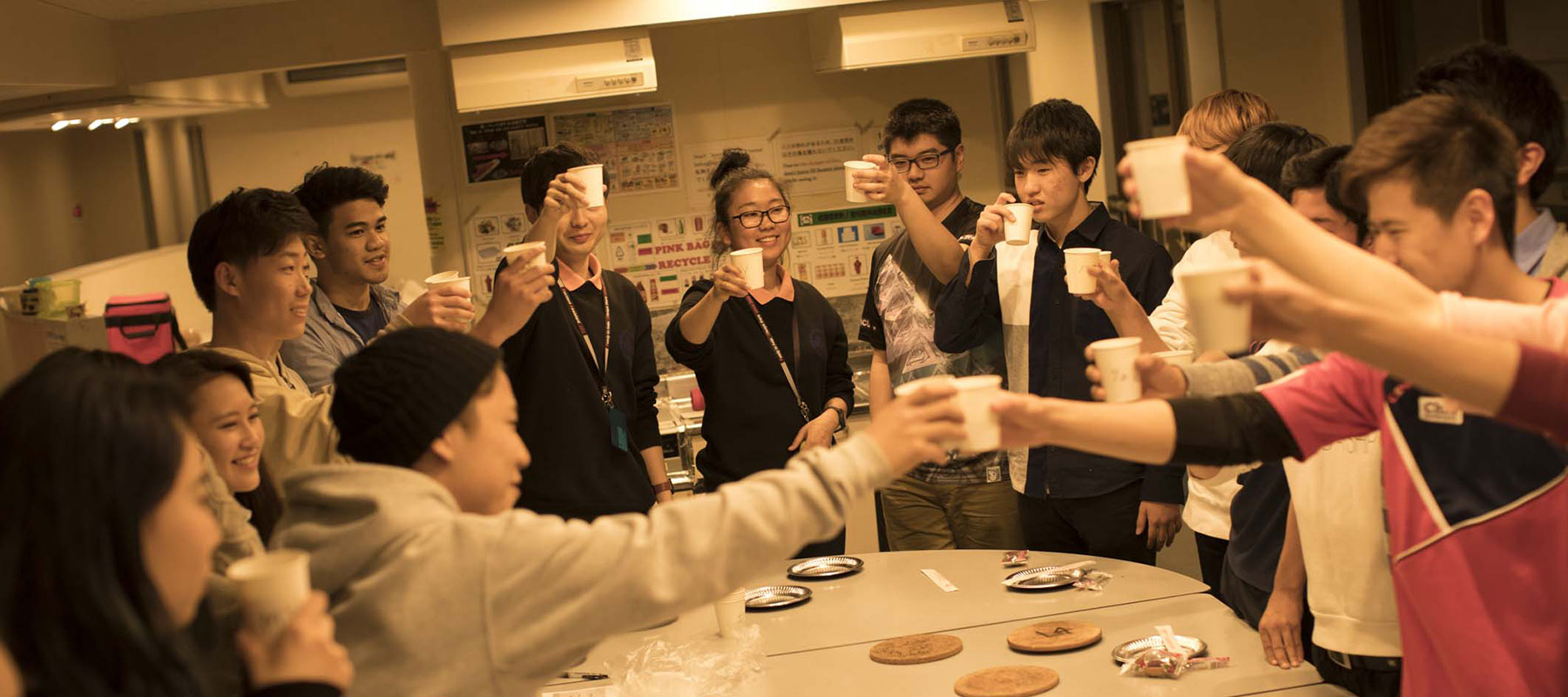 Entertainment
As an APU student, there are many ways you can take a break from studying, such as eating out with your friends, going shopping, soaking in one of Beppu's many different hot springs, singing karaoke, and bowling. While these places can be found in many areas throughout the city, many locations especially popular with APU students are concentrated around Beppu Station.
SHOPPING
There are two large shopping malls in Beppu—the Tokiwa Department Store and Youme Town—and both are conveniently located within walking distance of Beppu Station. From clothing and household goods to local souvenirs, toys, accessories, cosmetics, CDs, and books, you will be able to find almost anything you need here. There are also 100 yen shops, supermarkets, food courts, restaurants, and game centers within these shopping plazas for your convenience.
Youme Town

Tokiwa Department Store
HOT SPRINGS
Beppu has 2,217 hot springs, known as onsen in Japanese, and people from all over Japan and other countries travel to Beppu just for the chance to soak in them to relax. During your time in Beppu, you can buy a coupon book specifically for Beppu's hot springs, which features more than 150 affiliated locations that offer discounted deals. You can also get the Beppu Hatto Spaport, which is a hot spring passport that you have stamped any time you go to a new location. After you have gathered 88 different stamps, you will be recognized as an onsen meijin or a hot spring celebrity. Visiting different hot springs in Beppu is a great way to learn about the local culture and make acquaintances in the community. You can also try the 'hell tour,' a popular tourist attraction that offers sightseeing around the eight major types of hot springs that exist in the area. These hot springs are known as "hells" because the water is too hot to soak in.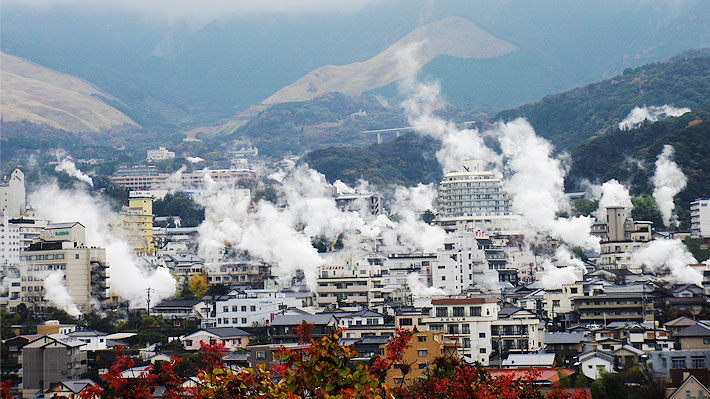 Beppu's Hot Spring Steam
Kannawa Onsen is renowned for the many columns of hot spring steam that waft into the air. In 2001, Beppu's hot spring steam was selected second, behind Mount Fuji, in an NHK survey of the top hundred scenic landscapes that the Japanese people want to preserve into the 21st century.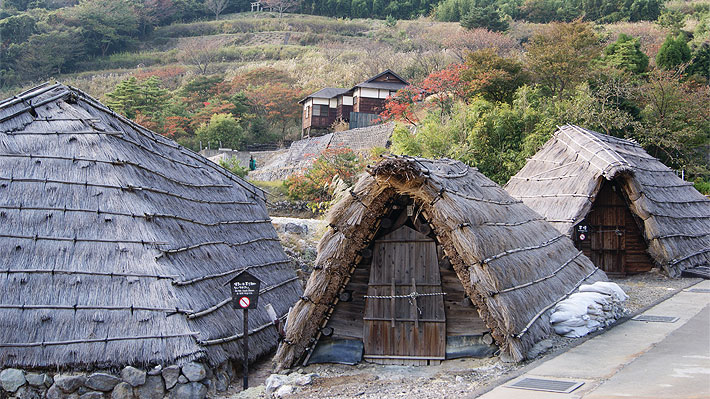 Myoban Onsen
Myoban Onsen is one of the eight hot spring areas of Beppu. Myoban is the Japanese word for alum, a mineral that has been collected here since the Edo Era as a bath salt. These alum salts, called "yunohana," are collected in thatched roof huts, and the smell of sulfur is a vivid reminder that you are in onsen country.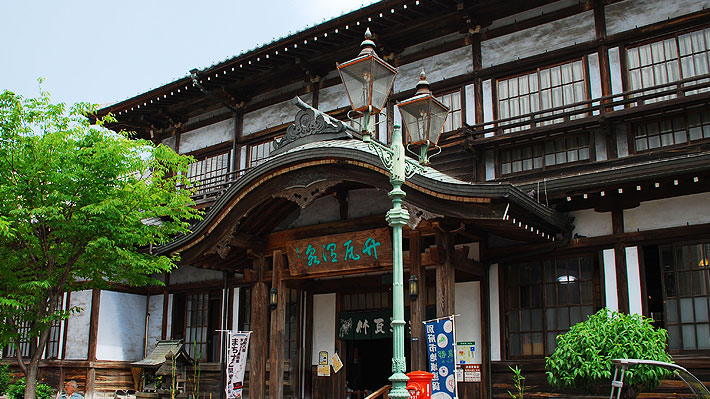 Takegawara Onsen
With over 130 years of history, Takegawara Onsen is one of the symbols of Beppu. The current two-story wood building was built in 1938. Open from morning until night, Takegawara Onsen is not only a famous tourist attraction, it serves as a public bath for many local residents.
Sand Baths
There are also several sand baths in Beppu. Relax as you let an attendant bury your body in steaming hot sand. The photo is of the Beppu Beach Sand Bath.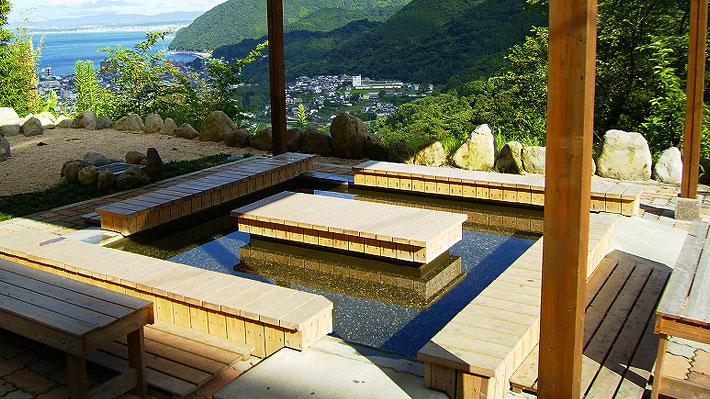 Foot Baths
There are many foot baths around the city. Stop by for a soak and pleasant conversation with the locals.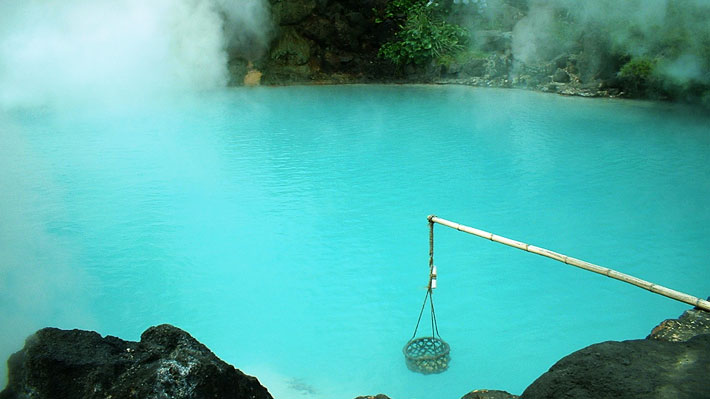 Jigoku Meguri: Beppu Hell Tour
Beppu's hot springs come in all shapes, sizes, and colors depending on the minerals they contain. Some of the most famous hot springs are the eight Hells ("jigoku") which are designated as a National Place of Scenic Beauty: Umi Jigoku, Chinoike Jigoku, Tatsumaki Jigoku, Shiraike Jigoku, Kamado Jigoku, Oniishibozu Jigoku, Yama Jigoku, and Oniyama Jigoku. One Hell is actually a steaming hot geyser. At another, you can try a delicious boiled egg. And some Hells use the hot water to raise animals and cultivate plants.
FESTIVALS
As a local community with rich traditions and a long history of welcoming tourists, Beppu has a major festival almost every month and a event nearly every week. Traditional festivals include the Hot Spring Festival in April, the Summer Festival in July, and the Thousand Lights Festival of Beppu Park in November. Other local events include the Beppu-Oita Marathon in January, Tsurumi Mountain Hiking Event in April, the Beppu Community Walk in October, and the very popular Beppu Christmas Fireworks Show in December. You can enjoy these events either as an attendee or a performer, joining a local dance group or representing APU in a student group.
Beppu Christmas Fireworks Show

Mt. Tsurumi: Aso Kuju National Park
TOURIST ATTRACTIONS
Being one of Japan's most visited cities, Beppu has several tourist attractions that you can enjoy. Top attractions include Kijima Highlands Amusement Park, Harmonyland Hello Kitty Theme Park, Umi-tamago Aquarium, and the Takasaki Wild Monkey Reserve. In areas around Beppu, you can find the African Safari Zoo and the popular mountain valley town of Yufuin. Oita City, which is only 15 minutes away by train, has several shopping centers, museums, cinemas, and a professional soccer stadium. If you would like to see another part of Japan, you can take a two-hour bus ride to Fukuoka or an overnight ferry ride to Osaka directly from Beppu.