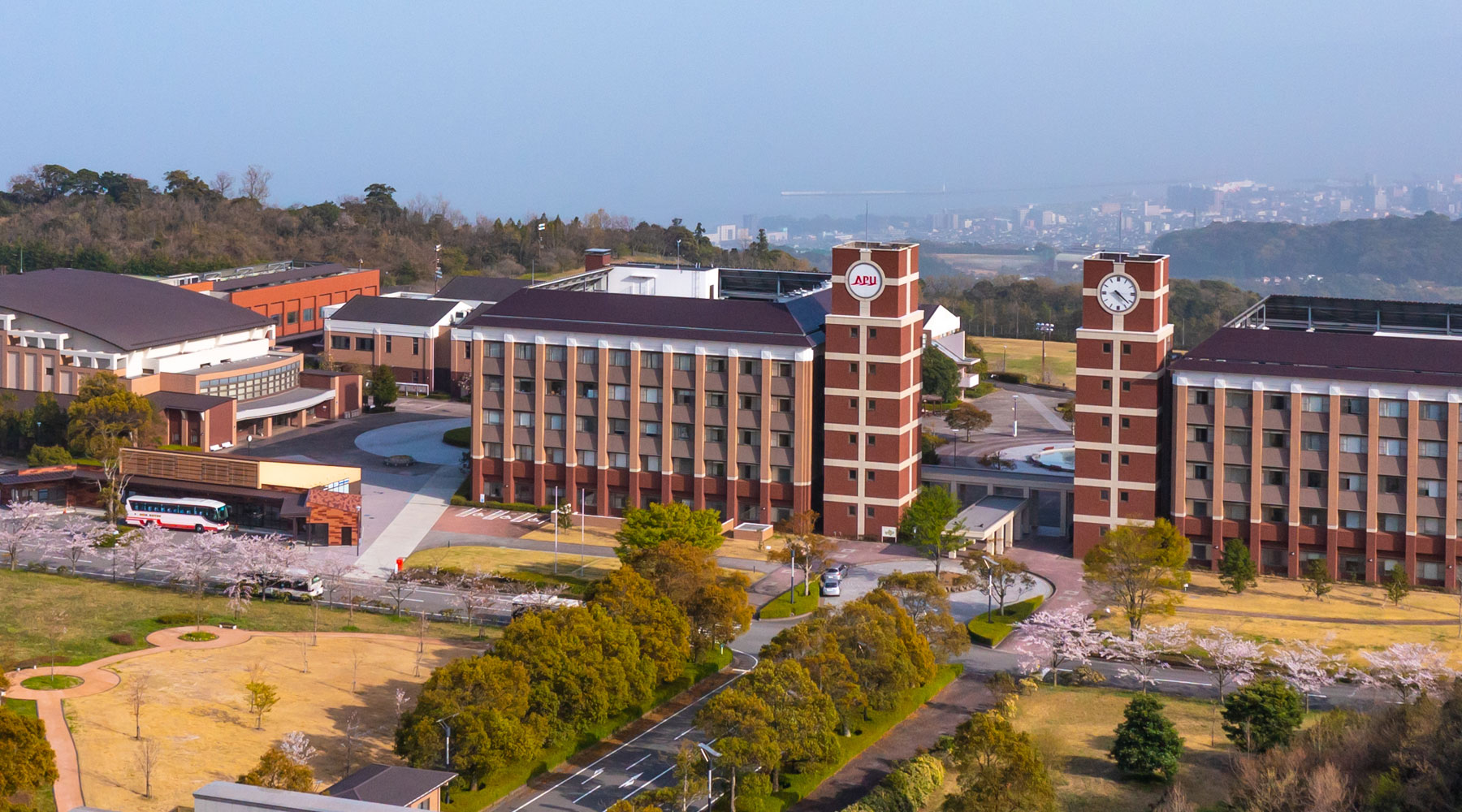 APU Graduate School Facts
APU'S HISTORY
Ritsumeikan Asia Pacific University (APU) first opened its doors in 2000 thanks to a collaboration between the Ritsumeikan Trust, Oita Prefecture, and Beppu City. With an entirely new multicultural learning environment consisting of half international students and half Japanese/domestic students, APU's aim was to provide an international education that lead to the development of global leaders, working in a diverse range of fields and industries. In these past twenty years, this goal has been reached with results exceeding expectations! APU now has over 10,000 alumni from more than one hundred thirty countries and regions, and this alumni network of global individuals continues to grow every year.
Leading the Way in Internationalization
Ritsumeikan Asia Pacific University (APU) was Japan's first genuinely international university. Our graduate schools welcome students into a fully English-based curriculum within a uniquely multicultural environment. APU's graduate schools are accredited by the Japanese Ministry of Education, Culture, Sports, Science and Technology (MEXT). The Graduate School of Management has been accredited by AACSB International from 2016, and in 2020 it also received accreditation from the Association of MBAs (AMBA).
Since the opening of APU's Graduate Schools, efforts have been made to further its education and research initiatives and expand its contributions to the Asia Pacific region. The Graduate Schools at APU focus on Asia Pacific studies, with study options geared towards tackling the complex issues facing the societies and environments of the Asia Pacific region, as well as management, with a focus on the Japanese business style and the dynamic world of international business.
A Truly International Environment
APU's campus is a unique doorway to the world, attracting students and faculty from all over the globe. Our Japanese faculty members also bring invaluable experiences to the classroom with their diverse international career and academic backgrounds. This extremely rich mixture of language and culture has earned APU the reputation of being Japan's 'global village'. Our aim is to bring together talented individuals to study and live within this unique environment. APU encourages all students to bring and share their own unique thoughts and ideas. In this one of a kind environment, students naturally acquire intercultural communication skills.
As APU's graduate programs are offered entirely in English, students are not required to know any Japanese to gain admission. English speaking students come to APU and study their degree in English, are taught by international professors and lecturers, and study alongside English speaking classmates from around the world. Our system has made it possible for outstanding scholars to study in Japan in an unprecedented international learning environment.
World Class Education
APU's graduate programs have been selected for several prestigious scholarship schemes in recent years. These include scholarships such as the Asian Development Bank-Japan Scholarship Program, which provides support to students from member countries to undertake graduate studies at renowned institutions of higher education around the world. APU is also among the very few institutions to be selected by the Japanese government for scholarships such as the Student Priority Placement Program. Some of the other organizations that have sponsored students to study in our graduate programs include the Indonesian Ministry of Finance, Japanese corporations, local government bodies and the Japan International Cooperation Agency (JICA). This is a testimony to the value placed on APU's graduate programs by both public and private sectors in Japan and throughout the world.
The Japanese Experience
Japan has a long and rich history and is a diverse cultural mix of East and West, old and new, and natural and highly engineered. Having gone through various stages of development, the nation's rich and unique culture is what led it to emerge as a world leader in terms of economy and technology. Its strong economy, combined with a culture that places a great deal of importance on respect for others, also make it one of the safest countries in the world. For international students, it is an ideal environment in which to live and study.
APU GRADUATE SCHOOLS FACTS AND FIGURES
RANKED 5th among private universities in the Times Higher Education
2021 Japan University Rankings

Selected by the
Government of Japan in 2014
as one of the country's "TOP GLOBAL
UNIVERSITIES"

Graduate School of Management
ranked as one of the TOP 25 MBA
PROGRAMS IN ASIA by Quacquarelli Symonds (QS) in 2020
71 Countries and Regions
Represented by Students

161 Countries and Regions
Represented by APU Alumni

99%

International Students

94%

Scholarship Recipients
16 Countries and Regions
Represented by Faculty

85% Faculty Holding a Degree
from an Overseas University

50%

International Faculty
Current as of the 2022 academic year.