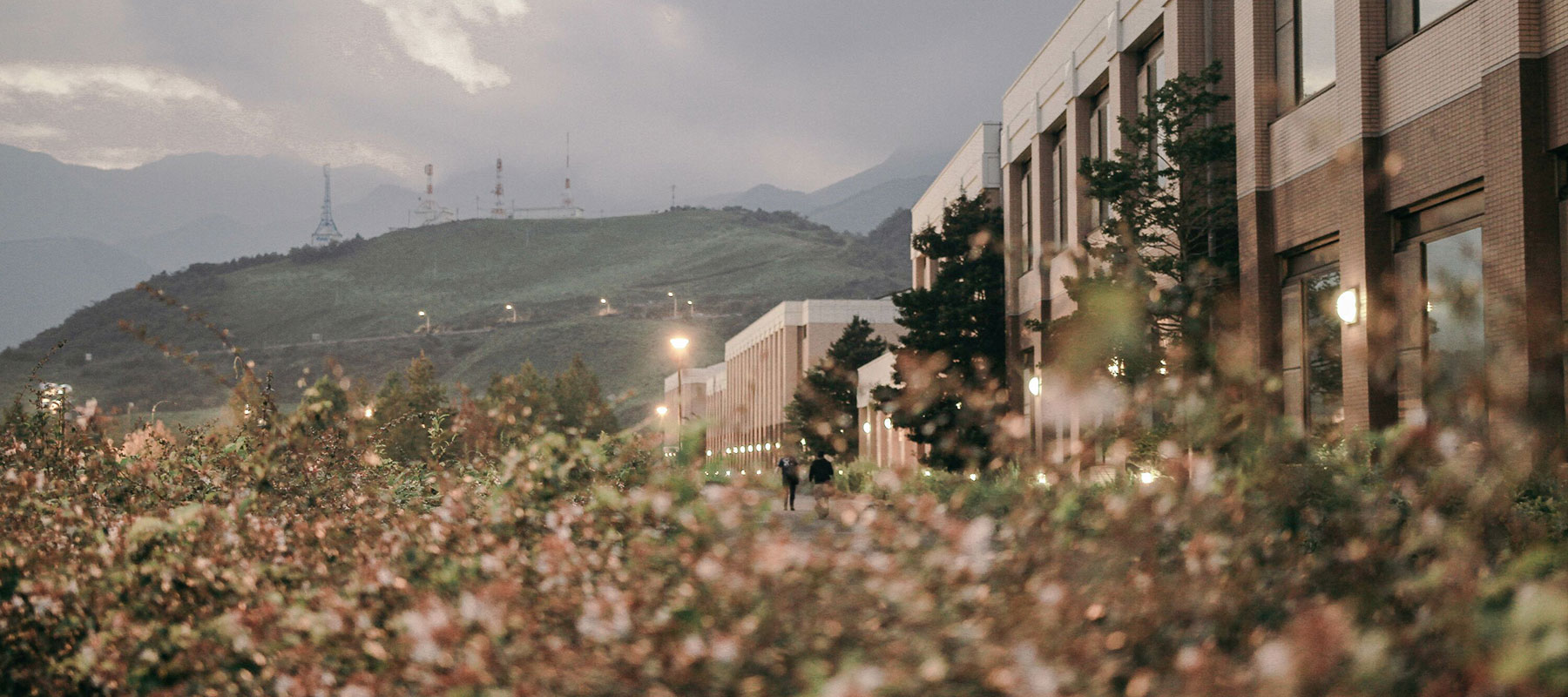 Health and Fitness
Taking care of your health while you are away from home in a new country is very important. Beppu has an abundance of clean drinking water, fresh air, greenery, parks, sports facilities, gyms, and swimming pools, as well as hot springs, health clinics, and medical centers. In addition, as an APU student you will also have several healthcare services available to you on campus.
ON CAMPUS GYMNASIUM AND SPORTS FACILITIES
Our facilities allow you to lead a healthy lifestyle and maintain your physical fitness while pursuing your studies. In our gymnasium, you can enjoy various indoor sports, such as basketball, volleyball, badminton, table tennis, and indoor football. Inside the fitness center, there are over ten different types of training machines, including treadmills, bikes, and free weights. Outdoor facilities include five tennis courts, two multipurpose sports fields, and a basketball court. These are available to students upon reservation.
APU HEALTH CLINIC AND COUNSELING ROOM
The APU Health Clinic is located on the first floor of the Administration Building (Building A), with medical staff who provide first aid treatment for minor illnesses and injuries. When necessary, students are referred to local medical facilities. APU's counseling room is available to support students should they feel any stress or anxiety. If you would like to talk with someone, our counselors are available for consultation regarding any topic. Consultation is available in English and Japanese, and all matters discussed will be kept in the strictest confidence.
HEALTH CHECK-UPS
All APU students are entitled to and required to attend a health check-up once a year. These annual health check-ups are paid for by the university and are a good way to monitor your health.
NATIONAL HEALTH INSURANCE
All international students are automatically registered for the National Health Insurance program. Through this system, you will be responsible for paying 30% of most medical and dental costs when going to hospitals and clinics. In general, the insurance premium for students who reside in Beppu and who did not receive any income during the previous year is about 20,000 JPY per year. In addition, if your out-of-pocket medical expenses per month rise above a certain amount, you can apply for a refund of the excess at city hall.
MEDICATION
Many drug stores in Japan sell not only non-prescription/over-the-counter medicine, but also groceries, heath food, and nutritional supplements in addition to other products such as cosmetics, toiletries, cleaning supplies, and snacks. Each store has certified pharmacists and trained staff who can give you advice on choosing the right medicine. Make sure you understand what type of medicine you are buying before you take any.
Pharmacies handle prescription medications and are usually located close to clinics or hospitals. To get your medication at a pharmacy, a physician's prescription is required. Please do not bring medicine from your home country to Japan without confirming with your local Japanese Embassy or Consulate that it is legal to bring into Japan beforehand. Japan has very strict laws regarding medicine, and some medicine available in your country may be illegal in Japan or require certain documentation to bring into Japan.