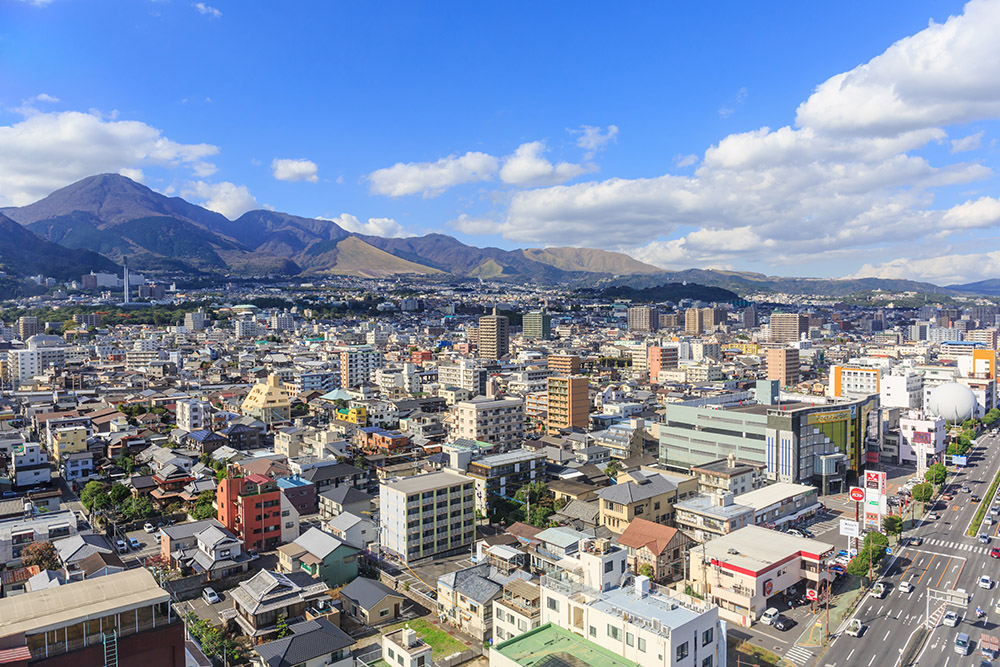 International Studies in Rural Japan
The Beppu Experience
Japan is not only the world's third largest economic center but it is one of the most popular travel destinations thanks to its rich, tradition-infused yet ultra-modern culture combined with its beautiful landscapes. The country also prides itself on its cutting-edge technology and maintaining one of the highest safety records found anywhere in the world. For the ideal location to earn your university degree, look no further.
Studying at APU means you will be residing in Beppu, a mid-sized city in southwest Japan and one of the country's most visited locations. Your life here will have both excitement, living in a major tourist destination, and tranquility, with beautiful natural surroundings and relaxing hot springs. This area is also very affordable, with lower living costs compared to larger cities such as Tokyo or Osaka. The campus of APU itself will add another unique dimension to your life here thanks to the vibrant global community, convenient on-campus facilities and popular student-led events.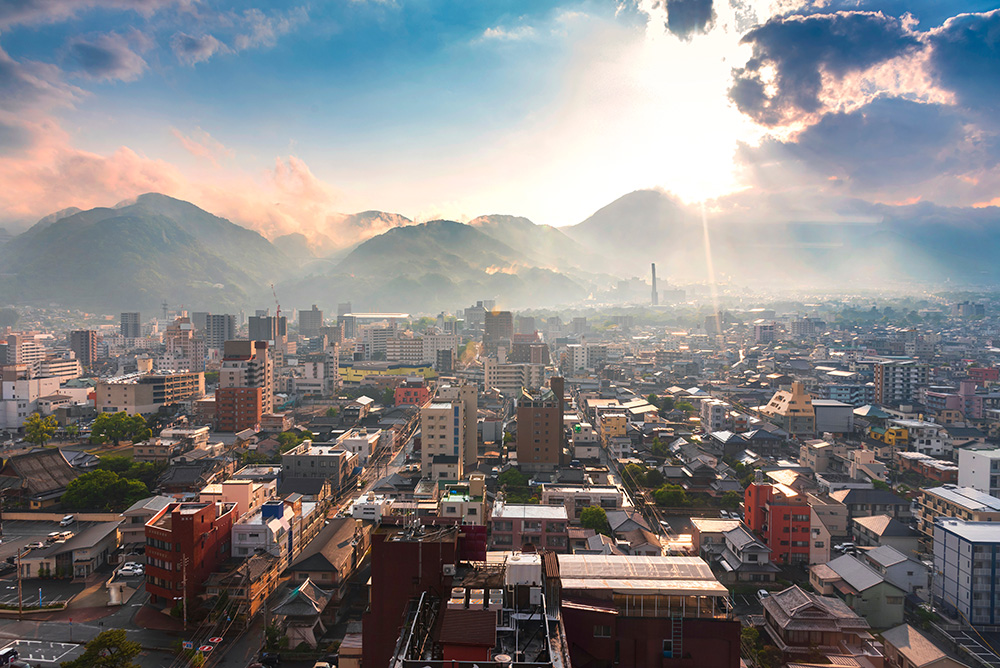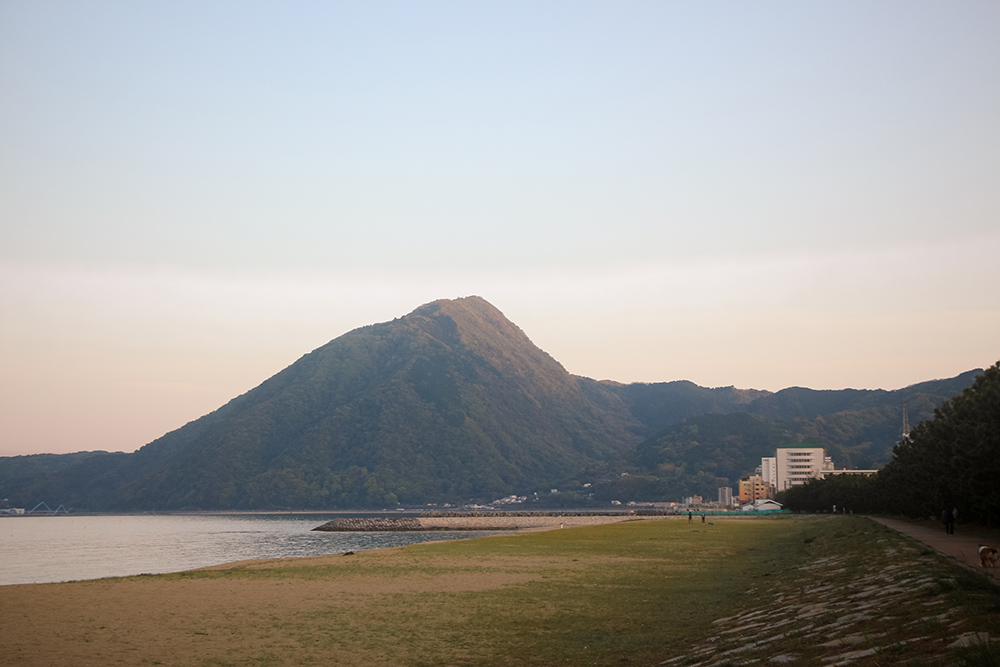 Living in Japan
Tradition and Culture
Although you won't find samurai and ninja around today, many aspects of traditional Japanese culture are still relevant in modern society. During your time here, you will be able to visit famous shrines like Usa Shrine in Usa City. Or temples like Futagoji in Kunisaki City on the edge of the peninsula. You'll see locals dressed in yukatas or kimonos for festivals. And you yourself can also try them in rental shops across famous castle towns, or jouka-machi (城下町・じょうかまち), like Kitsuki City.
There are many experiences not to be missed on campus with cultural exchange events. Participate in a Japanese tea ceremony and try traditional matcha green tea in a tatami room. Also, catch experiences in local cities with long histories dating back to the samurai era. Spring and summer are the prime seasons to see local Japanese festivals like Oita's various Gion and bamboo lanterns festivals. One famously known is Tanabata, or the Star Festival, which includes Oita's large scale Funai Pacchin festival. Other events such as cherry blossom viewing parties known as hanami (花見・はなみ) remain a custom on castle grounds or in local parks like Beppu Park!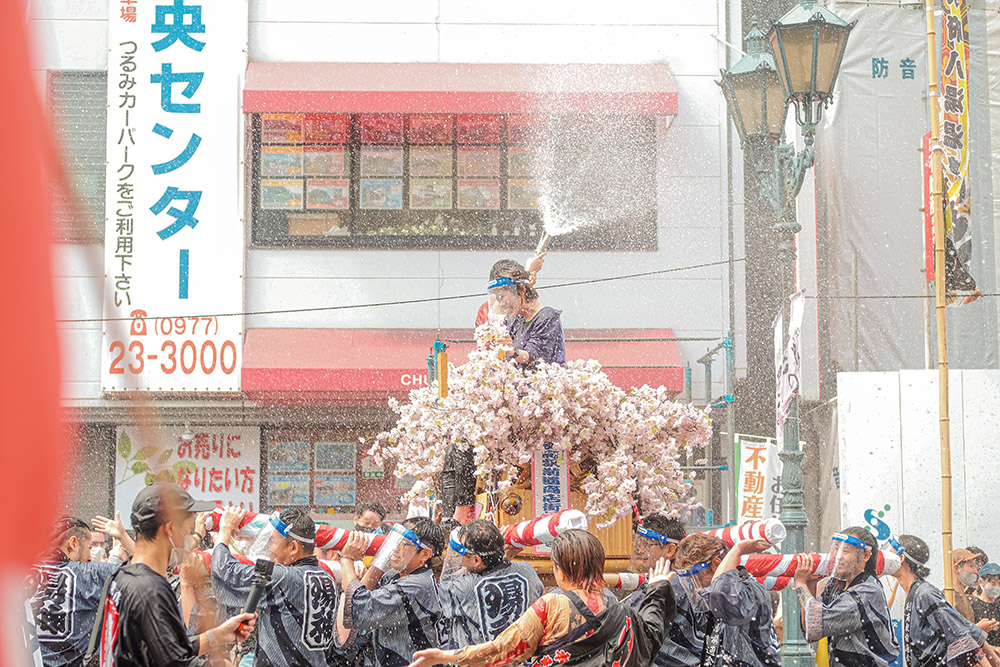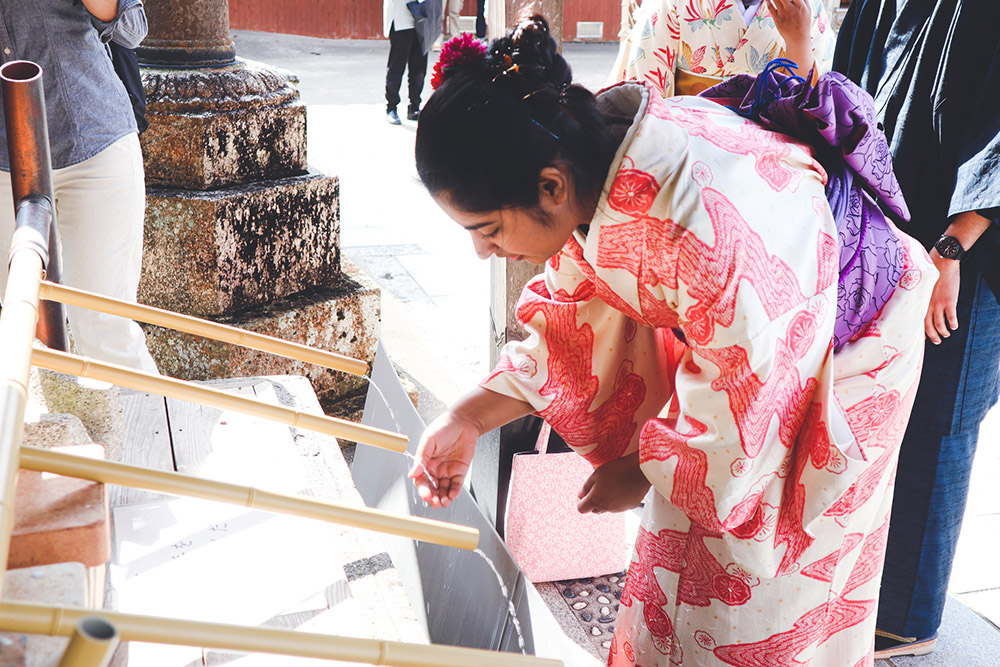 World-Class Cuisine
Sushi may be the most well-known Japanese food but others such as tofu, ramen, soba, and udon, are gaining popularity. Here, you will find some of the freshest and most delicious food anywhere in the world. Japan's healthy cuisine may be one of the secrets to why it has one of the longest average life expectancies in the world.
As for locals here in Beppu, we enjoy our own special cuisines like chicken tempura named toriten (とり天・とりてん) and fried chicken called karaage (唐揚げ・からあげ). Not to mention our famous fish seki-aji (関あじ・せきあじ) and seki-saba (関さば・せきさば) which are amazing both raw and cooked. Not to forget, we also have our lovely Bungo Beef! However, one locally found food that everyone in Beppu enjoys is jigoku-mushi (地獄蒸し・じごくむし) or hell steamed food. This comes from our famous hell hot springs tour with a total of 7 hot springs, including the blood hell! Hell steamed food is not only nutritious but delicious. You can even help steam the food yourself after choosing what you want to eat!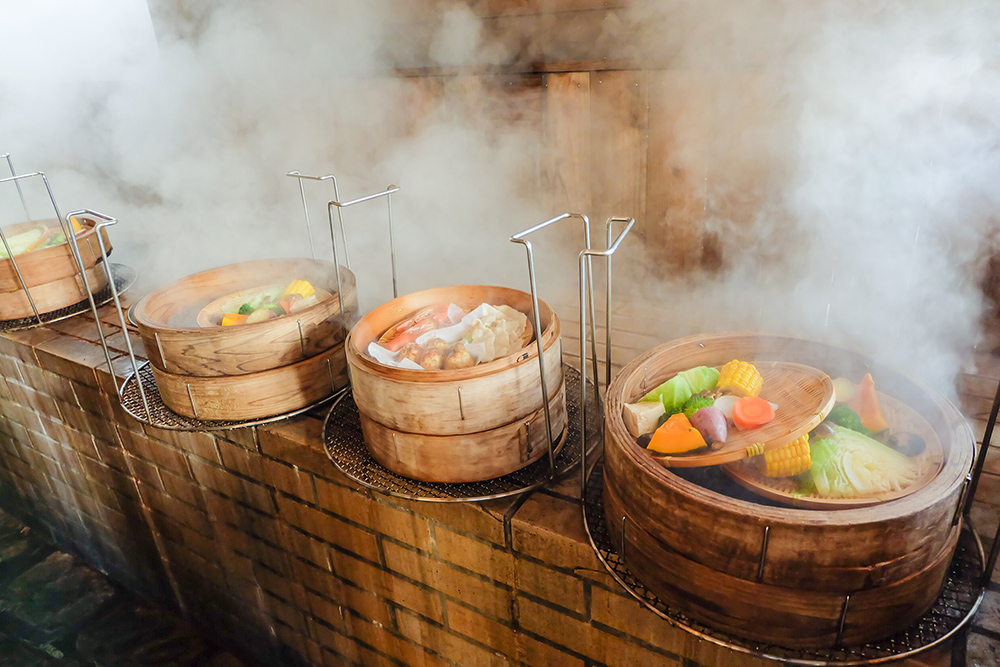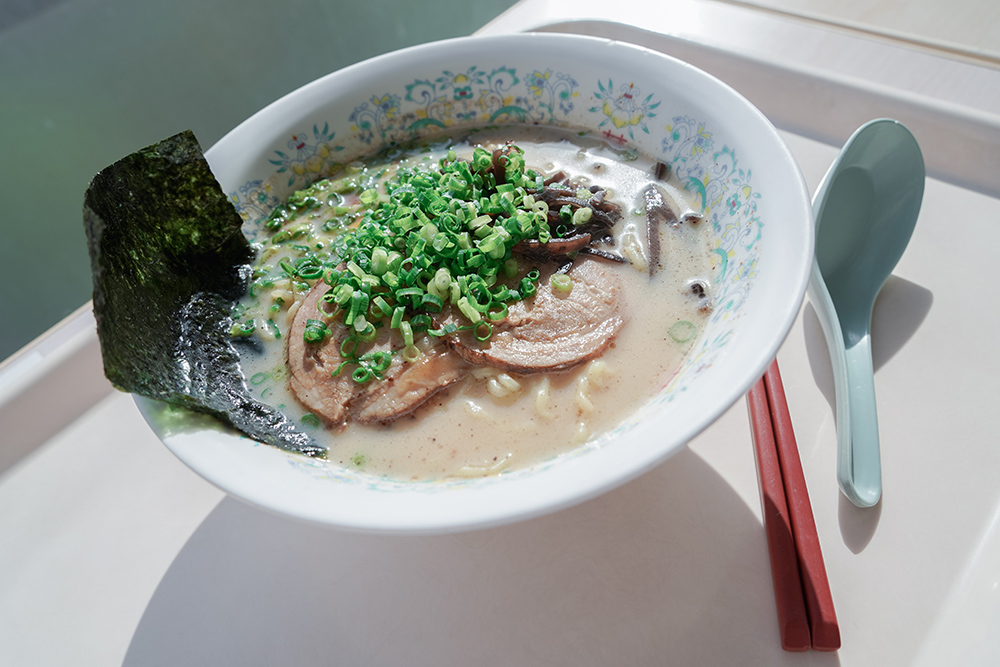 Technology
Japan has been a world leader in the latest technology for decades with innovations from shinkansen (新幹線・しんかんせん) or bullet trains. They carry thousands of travelers quickly and quietly across Japan every day. Japan has electric rice cookers and LED lights used in homes across the world. Major automobile manufacturers like Toyota and Honda were born in Japan and are now global household names. This is also true for Sony and Panasonic-multinational corporations making high-quality audio devices and other electronics.
Speaking of bullet trains, you have access to other parts of Kyushu such as neighboring prefecture Fukuoka, which is known for its shopping malls. And Kumamoto Prefecture, found just below Oita with the Kumamoto Castle and their One Piece character statues!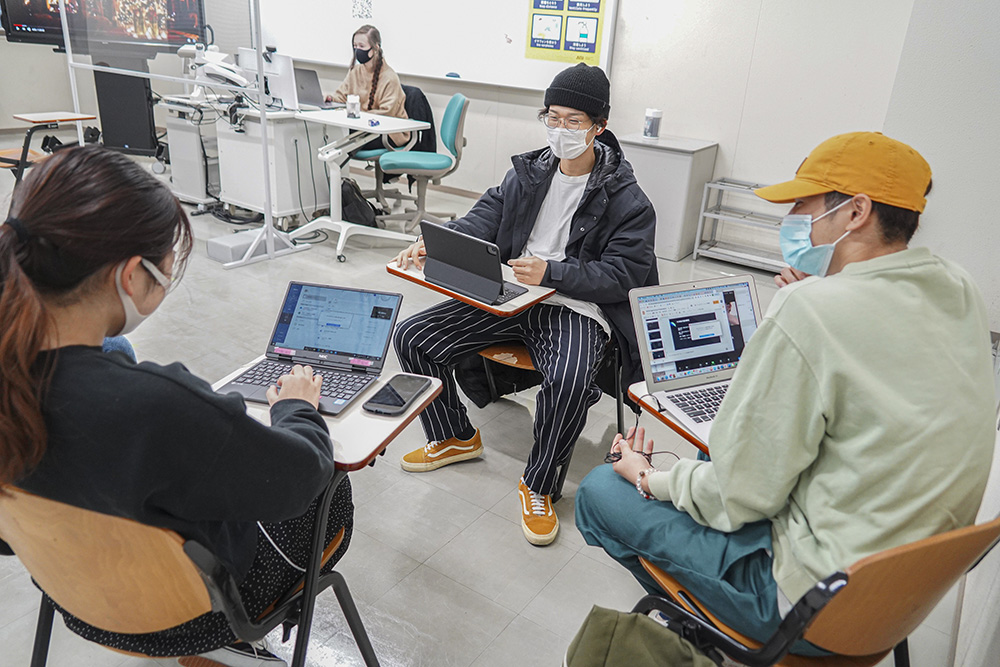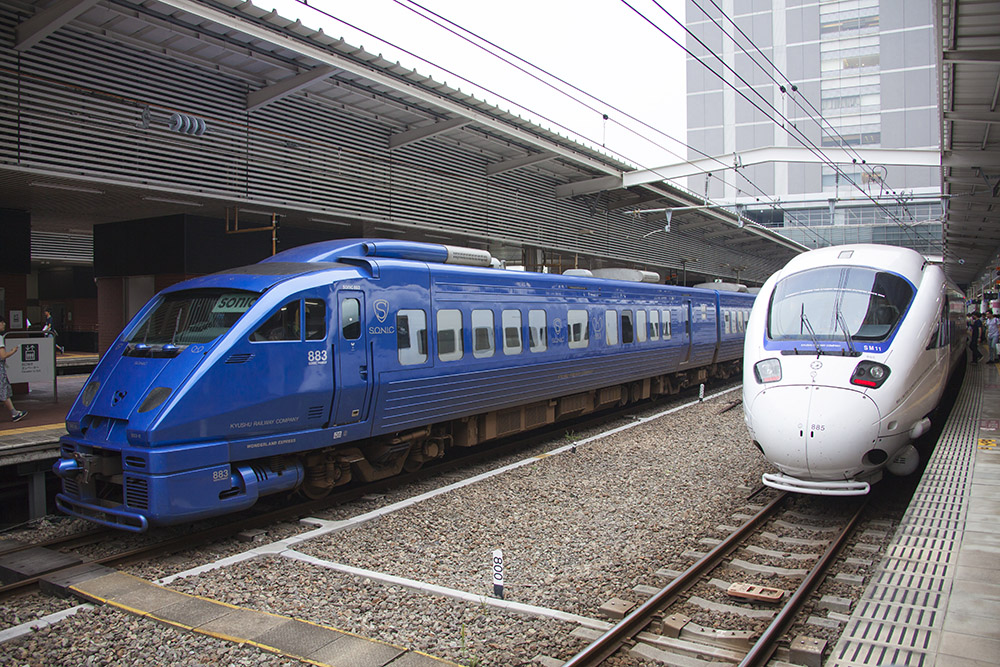 Pop Culture
One of Japan's most famous exports is pop culture, from anime and manga to video games, music, and movies. Japanese pop stars such as Perfume, AKB48, and Baby Metal are famous not only in Japan but have a broad international fan base. Under the vision of Hayao Miyazaki, Studio Ghibli has created wildly popular and internationally-acclaimed animated movies such as Spirited Away, Princess Mononoke, and Howl's Moving Castle. Anime television series such as Demon Slayer and Jujutsu Kaisen are widely popular. They have even been translated and broadcast across the world in many different languages. All the while, Japanese video game companies such as Nintendo have been providing hours of entertainment for decades.
From Oita, one famous star is Rino Sashihara who started out as a member of the popular girl group AKB48. As for famous manga and anime, Attack on Titan aka Shingeki no Kyojin's creator Hajime Isayama is from the area of Hita. Hita now has a permanent Attack on Titan Museum attached to one of the roadside stations.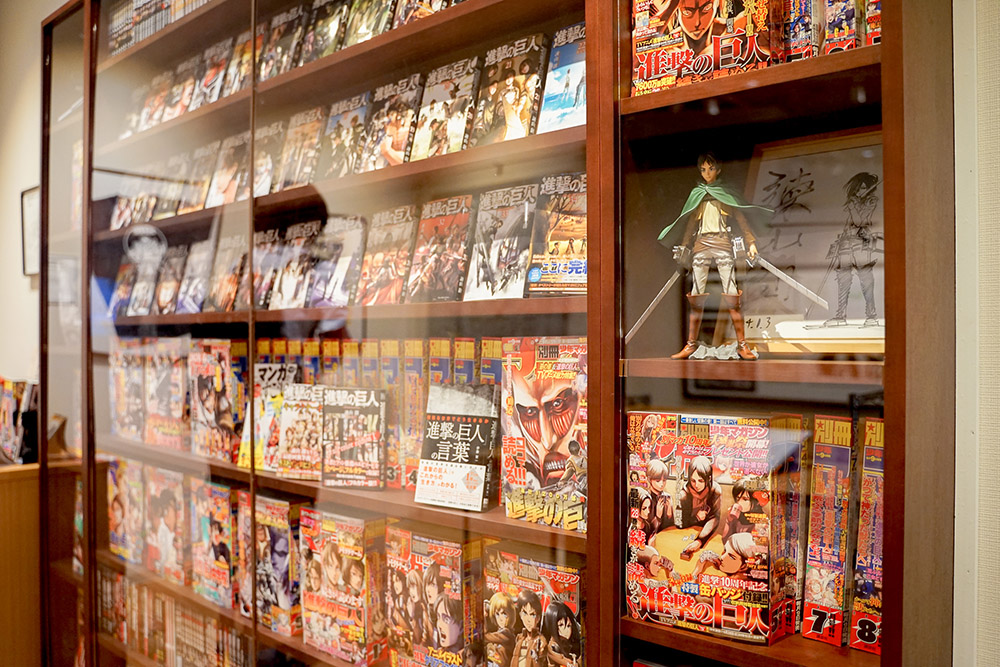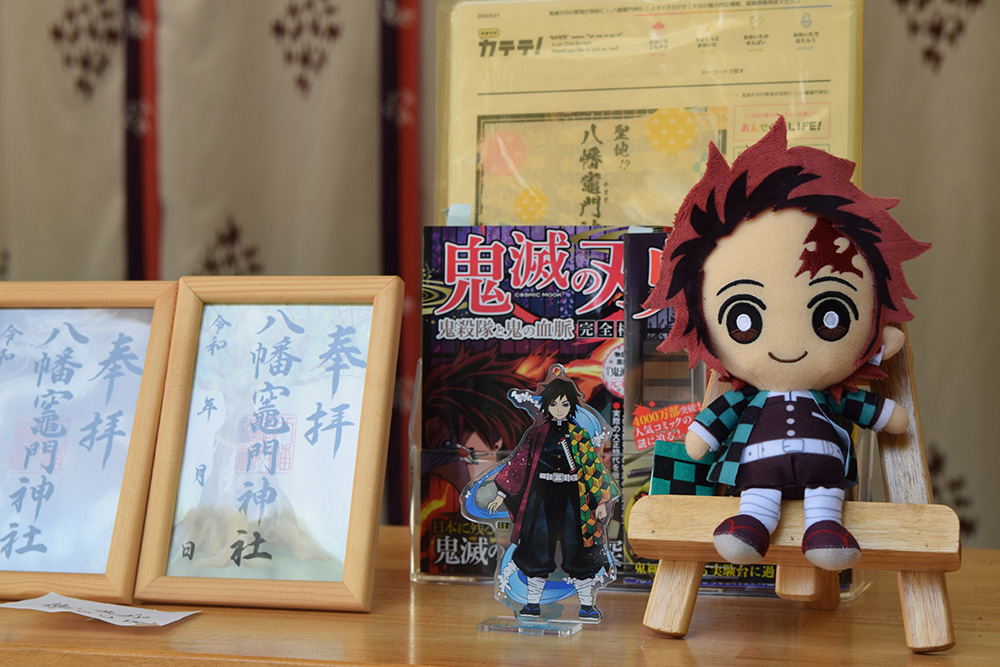 Nature
Mt. Fuji is the symbol of Japan and here in Beppu we are surrounded by mountains, sandwiched between a mountain range and the ocean. You can enjoy mountain climbing with ikki-touzan (一気登山・いっきとざん), meaning "in one go". Challengers start at the base of the city next to the ocean and climb all the way to the top in one day, in one go! For those who may be new to hiking, there are various starting points as well as a ropeway to take you back down.
Another great thing is that our campus is up in the sky. We are just on the edge of the Aso-Kuju National Park which is home to the Nakadake Central Crater. This is said to have been the point of creation for the island of Kyushu!
Japan also has four distinct seasons, meaning that you can enjoy the changing landscapes throughout the year. Beautiful red foliage during autumn, snowy mountaintops in winter, ever-famous cherry blossoms, and beautiful summer adventures in local parks for green scenery.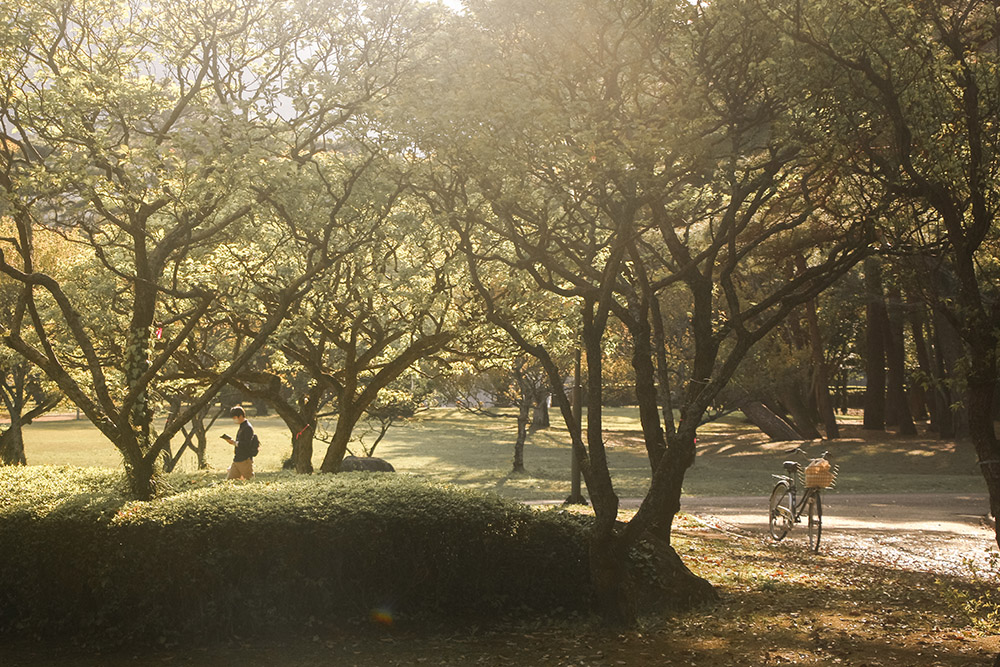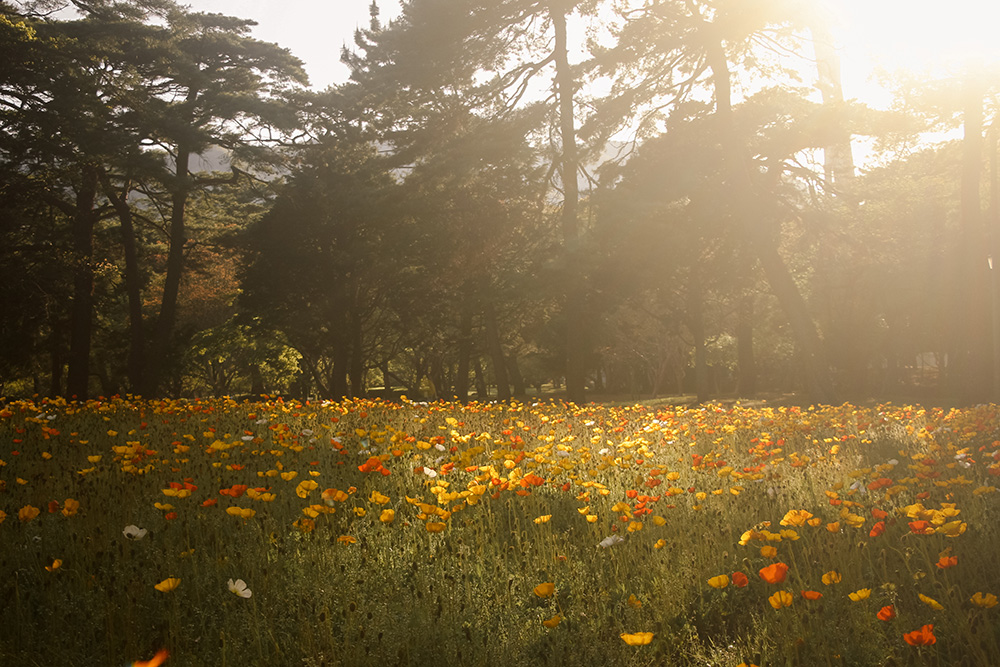 Health and Safety
Living in Japan means you are residing in one of the safest countries in the world. Highly advanced yet affordable healthcare is available to all residents along with national health insurance. Even in major cities, most streets are quite clean thanks to strict trash sorting and recycling rules, and tap water is safe to drink. The crime rate is extremely low, even in the large metropolis of Tokyo, which was recently ranked fifth in the world by The Economist's Safe Cities Index.
You may be worried about the number of earthquakes Japan experiences in a year. However, Japan is a country well-prepared and always thinking of preventative measures. One way they do so is that buildings must follow rigorous standards for tremor and earthquake-proof laws. Along with an amazing alert system built into phones and earthquake-ready trains, Japan puts safety first and foremost.