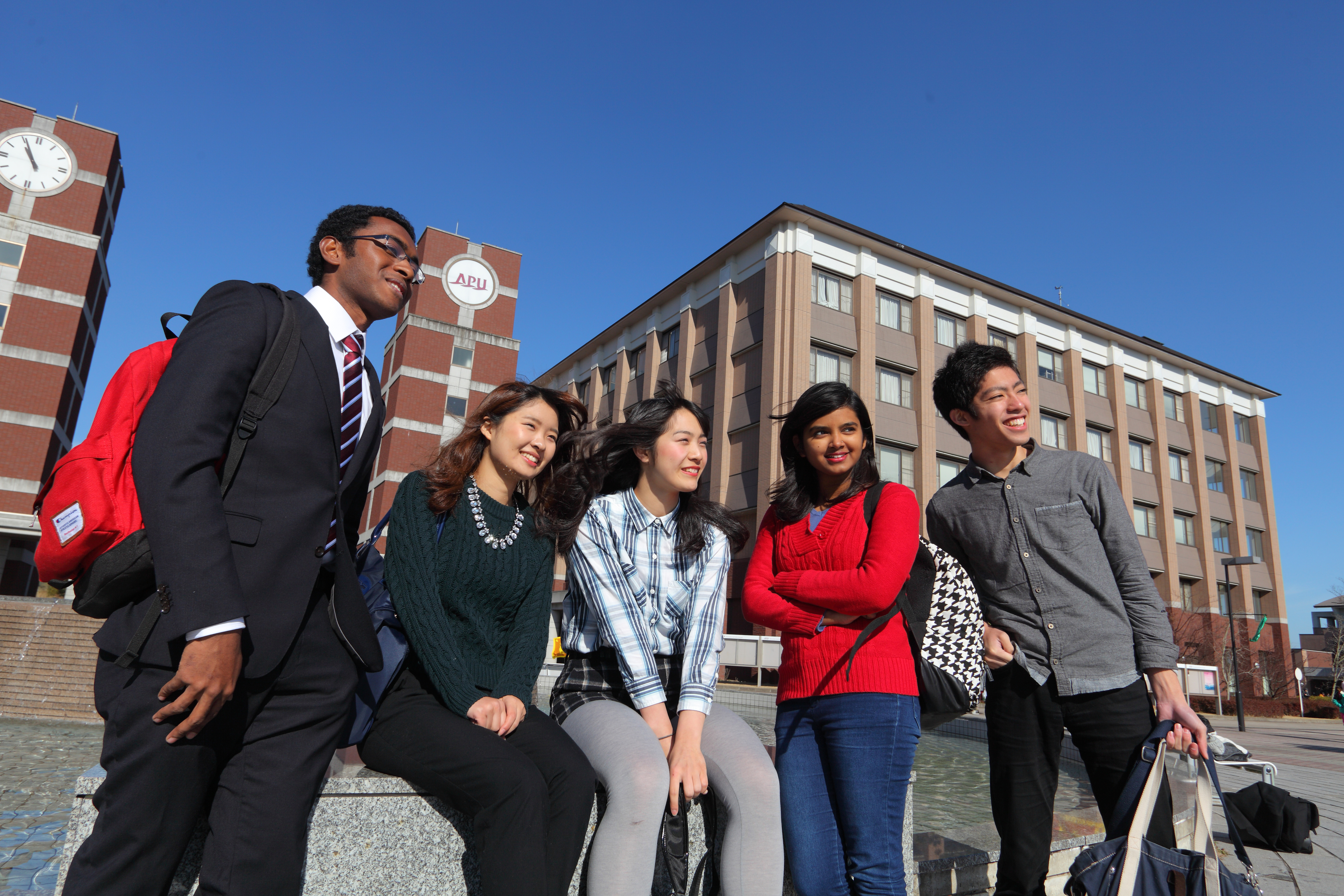 APU Virtual Mini University Program (VMUP)
Overview
If you watch the news, it might feel as if not a day goes by without an incident occurring somewhere in the world. You might then be wondering, "Why is this happening?", "Does this affect me in any way?", "Is there anything that I can do?". The COVID-19 pandemic has taught us that societies have become more connected than ever, and that events happening on one side of the globe inevitably affect our lives in some way, shape, or form. What roles can you play as you navigate through this rapidly changing world? This program will give you the opportunity to reflect on this question.
The program will consist of lectures on nine different topics by professors from both the College of Asia Pacific Studies, the College of International Management, and the new college, College of Sustainbility and Tourism. In these lectures, you can obtain knowledge and learn more about issues that have social, cultural, political and economic implications. You will also be able to experience APU's interactive style of education by having lively discussions with other curious and inquisitive students from all parts of the world.
Take advantage of this rare opportunity to gain a deeper understanding of the world around you and to improve your intercultural communications skills, as you learn how to collaborate and cooperate with people from various countries and regions. Please join us and take your first step in your journey to shape the world.
Basic Information
DATES:
December 2-4 and 10-11, 2022
TIME:
18:00-19:30 and 20:00-21:30
(Japan Standard Time)
LECTURES:
You may register for as many as 9 sessions during the above period, but participation may be limited based on availability. All the lectures will be conducted in English.
PROGRAM FEE:
Free of charge
LOCATION:
Zoom (further details will be sent to successful applicants)
LECTURE DETAILS
Study Areas
College of Sustainability and Tourism (ST): Click here
College of Asia Pacific Studies (APS): Click here
College of International Management (APM): Click here
Lecturers
More information about the professors for each session can be found here.
Themes
| | |
| --- | --- |
| DATE: | Friday, December 2 |
| TIME: | 18:00-19:30 |
| THEME: | Opening Session |
| | |
| --- | --- |
| DATE: | Friday, December 2 |
| TIME: | 20:00-21:30 |
| THEME: | Park Partners Comparing Sustainable Tourism Models in Japan & Britain |
| LECTURER: | Professor JONES Thomas E. (ST) |
| ABOUT THE SESSION: | This lecture focuses on the human dimensions of Protected Areas such as national parks, considering ways to mitigate environmental impacts from a social science perspective. We draw on British and Japanese examples of "Sustainable Tourism" to reflect on the positive impacts to a destination (e.g. job creation, interpretation and conservation) as well as negative ones (e.g. economic leakage and overcrowding). These issues coincide closely with the new college's aims of sustainability, nature-based tourism, and regional revitalization. |
| | |
| --- | --- |
| DATE: | Saturday, December 3 |
| TIME: | 18:00-19:30 |
| THEME: | Creative Advertising 101 |
| LECTURER: | Professor ACKARADEJRUANGSRI Pajaree (APM) |
| ABOUT THE SESSION: | In the digital era, advertising has quickly become one of the most important factors to determine the success or failure of a business. Many brands and organizations spend millions of dollars each year on advertisements, however, very few are able to capture customer attention that leads to action. It is very vital to understand how to turn the big idea into creative advertising that helps brands/organizations effectively communicate with the target audiences and lead to ROMI (return on marketing investment). In this session, you will learn how to choose the right ad contents to effectively target the audience at different stages. |
| | |
| --- | --- |
| DATE: | Saturday, December 3 |
| TIME: | 20:00-21:30 |
| THEME: | The Russian Invasion of Ukraine and International Law |
| LECTURER: | Professor HIRANO Miharu (APS) |
| ABOUT THE SESSION: | The Russian invasion of Ukraine represents the fundamental challenge to the rule-based international order. In this lecture, you will learn the basic structure of international law as well as the ongoing legal initiatives against Russia and their limitations, followed by a discussion with participants and APU students. |
| | |
| --- | --- |
| DATE: | Sunday, December 4 |
| TIME: | 18:00-19:30 |
| THEME: | Management of workforce diversity in global environment |
| LECTURER: | Professor SAITO Hiroaki (APM) |
| ABOUT THE SESSION: | This session provides insight into how managers today need to be aware of and understand both diversity and cultural differences to effectively manage a global workforce. As this session is highly interactive, participants will be required to proactively engage with the content and in-class activities. |
| | |
| --- | --- |
| DATE: | Sunday, December 4 |
| TIME: | 20:00-21:30 |
| THEME: | Globally important Agriculture Heritages of Oita |
| LECTURER: | Professor VAFADARI M. Kazem (ST) |
| ABOUT THE SESSION: | Would you like to know about the agricultural heritage of Japan? We discuss it through a case study of the Kunisaki Peninsula, which was recognized as a Globally Important Agricultural Heritage System (GIAHS) in May, 2013. The "tameike" in this area are small scale ponds storing spring water or water flowing through the short and rapid rivers of Kunisaki. Do you want to know how important Tameike is for people's life and culture in Kunisaki? In this lecture, we are going to discuss about Tameike as a social and cultural study field and learn more about Kunisaki culture by taking a look at Tameike tourism. |
| | |
| --- | --- |
| DATE: | Saturday, December 10 |
| TIME: | 18:00-19:30 |
| THEME: | Going Far Together: How Inclusive Collaboration Sustains Local Culture, Ecosystem and Builds Communities |
| LECTURER: | Professor MAHICHI Faezeh (APS) |
| ABOUT THE SESSION: | The lecture will discuss with the audience the cases in that APU students in collaboration with communities, governmental agencies, businesses, APU staff, and faculties have successfully bridged the cultural and intergenerational gaps. You are invited to join us and learn how APU students are playing their active roles in building "An Inclusive Sustainable Future". |
| | |
| --- | --- |
| DATE: | Saturday, December 10 |
| TIME: | 20:00-21:30 |
| THEME: | What is management and how can you start your own business? |
| LECTURER: | Professor LEE Geunhee (APM) |
| ABOUT THE SESSION: | Designed for those who wish to learn the meaning of management and start their own businesses in the future, this session will cover fundamental knowledge and explore what it really means to run a business for a better society. |
| | |
| --- | --- |
| DATE: | Sunday, December 11 |
| TIME: | 18:00-19:30 |
| THEME: | Evolution and prospects of the quadrilateral diplomatic meetings among US, Japan, Australia, and India |
| LECTURER: | Professor SATO Yoichiro (APS) |
| ABOUT THE SESSION: | TBA |
| | |
| --- | --- |
| DATE: | Sunday, December 11 |
| TIME: | 20:00-21:30 |
| THEME: | Tourism as a tool for Sustainable Development |
| LECTURER: | Professor KUBO Takayuki (ST) |
| ABOUT THE SESSION: | The world's population continues to grow, while some regions are shrinking due to the declining birthrate, aging, and depopulation. Can you imagine that such regions can be sustainably developed through the power of tourism? Even though there are no great tourism resources or industries, such regions can prosper by developing their unique styles of tourism. |
CERTIFICATION
If you attend two or more sessions of your liking, you will receive a certificate of completion. You may use the issued certificate as additional proof of extracurricular activity should you choose to apply to APU. Please note that your participation will only be valid if you attend the entire sessions for the full 90 minutes. Exemptions will not be made for participants who need to attend to urgent issues on the day or for technical issues such as internet connectivity, etc.
HOW TO APPLY
APPLICATION LINK:
Apply Here!
Before you start your application, please make sure to read through the instructions below.
APPLICATION DEADLINE:
November 7, 2022 at 23:59 Japan Standard Time
RESULT ANNOUNCEMENT:
November 18, 2022 via email
Results will show if you have been accepted into the program and the sessions you have been admitted to attend.
ELIGIBILITY:

In order to apply for this program, you must be a high school student in grade 10 or above at the time of the program. You may also apply if you recently graduated from high school (within the past 3 years) and are NOT currently enrolled at a university. Prospective transfer students are not eligible to apply.
The program is conducted entirely in English therefore it is recommended that applicants who are non-native English speakers have a level of English proficiency equivalent to one of the following*:
- IELTS:6.0
- TOEFL iBT:75
- TOEIC L&R:750
- EIKEN: Grade Pre-1
- Cambridge English Language Assessment: 169
- PTE Academic: 50



*You do not need to submit the above English tests scores to apply. These numbers are only for your reference.

REQUIREMENTS:

Before starting your VMUP application:

Read the 2022 APU VMUP Terms and Conditions
Please read the above document and if you agree, indicate in the online application form.
Take the 50 minute EF SET test (free online English test)
- Click here to take the test
- If you already have a test score: Only scores of the examination taken on or after December 1, 2019 will be accepted.
- All applicants, including English native speakers, are required to submit a test score.
- Exam duration is 50 minutes: reading 25 mins and listening 25 mins
- There is no minimum score required to apply for the program.
- After completing the test, enter your test score (1-100) and certificate URL (efset.org/cert/XXXXXX/) in the online application form.
- Please make sure that you use the same name for your EF SET test and your VMUP application so that we can verify your score.
- English native speakers and non-native speakers will be evaluated separately. Slots will be allocated based on the number of applications per category.

Start your VMUP application:

Step 1: Enter your application information (Use the application link above.)
Step 2: Self-introduction recording
- After completing step 1, a confirmation page automatically appears. To start steps 2, please click the link on the page. Or you can use the link in the confirmation email you will receive after completing step 1.
- When you click on the link for steps 2, a camera access notification will appear, make sure to click "Allow" in order to complete your recording. This recording must be completed on a desktop or laptop computer.
INQUIRIES
If you have any questions regarding the program, feel free to get in touch with the APU Office of International Admissions at [email protected].