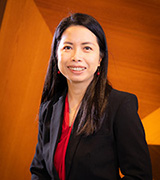 ALCANTARA Lailani Laynesa(アルカンタラ ライラーニ ライネサ)

教授

学位
博士(経営学)、筑波大学
修士(経営学)、筑波大学

研究領域
International Expansion, Innovation Diffusion, Macro Organizational Behavior

She completed her Ph.D. in Management from the University of Tsukuba, Japan in 2007. Her research interests are Innovation, International Expansion, Social Network, and Social Entrepreneurship. Her work has been published in the Journal of International Management, Asian Business & Management, Journal of Small Business and Entrepreneurship, Management Research Review, and many other PRJs. Prior to her appointment at APU, she worked for East Texas Baptist University as an Assistant Professor and as a Research Fellow at the University of Tsukuba.