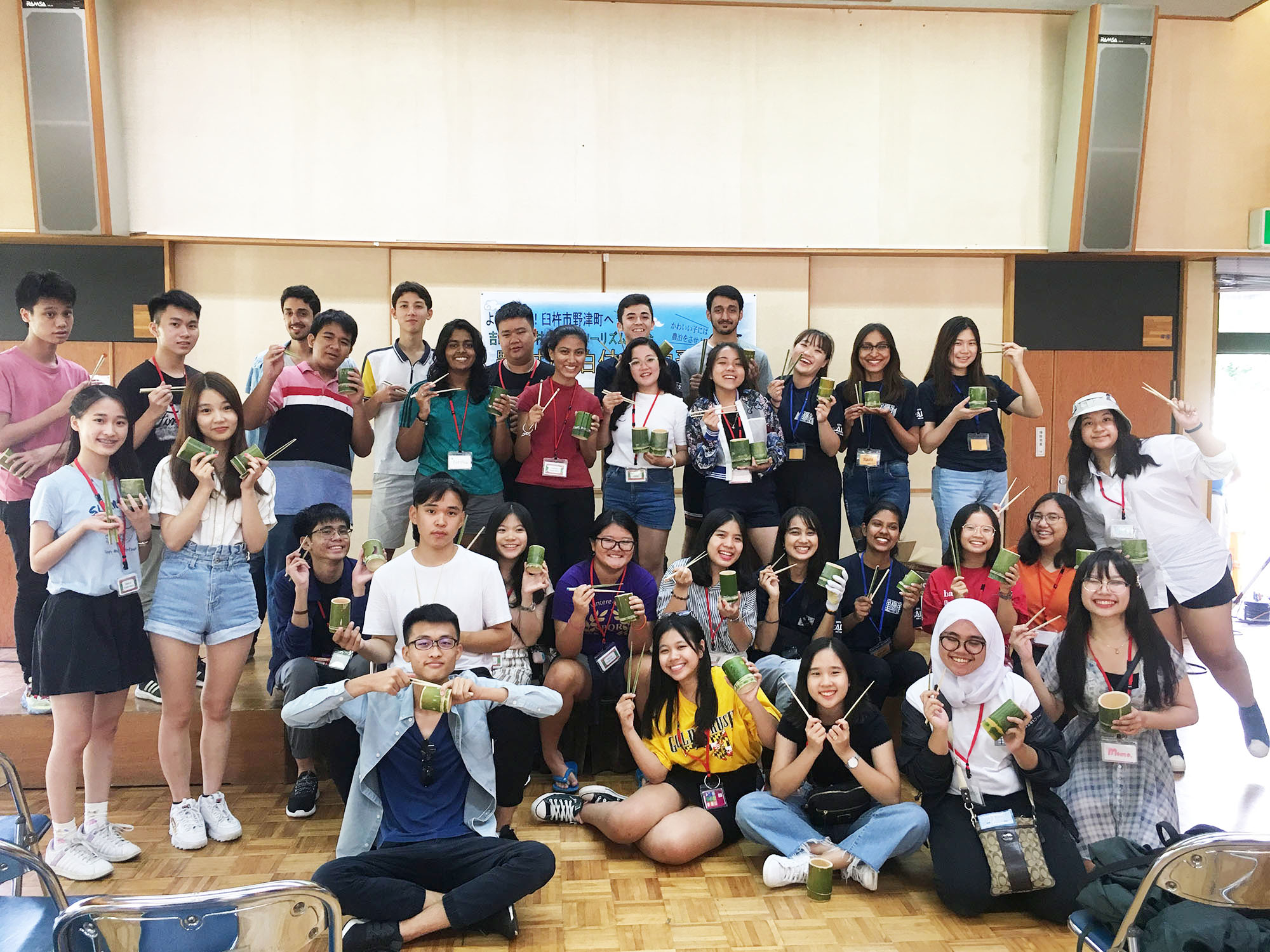 2021 Online ACE Program
2021 Online Academic and Cultural Experience (ACE) Program
Application period has CLOSED
The application period for the 2021 Online ACE Program has finished.
Following a one-year break to adjust to the new normal, the APU Academic and Cultural Experience (ACE) Program is back and better than ever! This year, the event will be held online, allowing you to discover Japan and connect to students around the globe from the comfort of your own home! What's more, this year the number of participants has been increased and operation fees have been waived, which means you will be able to make even more friends from even more diverse backgrounds!
The ACE Program is designed and hosted by Ritsumeikan Asia Pacific University (APU). Participation is open to high school students grade 10 and above at the time of the program. This year the theme of the program is "Developing Cultural Intelligence (CQ)". You will be able to learn about cultural intelligence while having fun with new friends. Here are a few more things to look forward to:
Making new friends from all over the world (students from over 30 countries have participated in previous ACE programs).
Improving your intercultural communication skills.
Discovering Japanese language and culture.
Taking part in university-level workshops and group work.
Receiving a certificate for attending APU's most popular pre-enrollment camp!
Don't miss this once-in-a-lifetime opportunity!
PROGRAM DETAILS
DATES AND TIME:
Dates: Monday, August 2, 2021 - Thursday, August 5, 2021
Time: 17:30 – 21:30 Japan Standard Time
CAPACITY:
120 students from around the world
LOCATION:
Zoom (further details will be sent to successful applicants)
SCHEDULE:
DAY 01: Monday, August 2
17:30 - 18:30
Opening Session
19:00 - 20:00
Develop your Cultural Intelligence (CQ) Workshop 1
Theme: Self-awareness of how culture influences your interactions with others
20:30 - 21:30
Online House Party! (Have a meal and share your living space with other participants.)
DAY 02: Tuesday, August 3
17:30 - 18:30
Beginner Level Japanese
19:00 - 20:00
Develop your Cultural Intelligence (CQ) Workshop 2
Theme: Understanding how to develop and apply CQ in yourself and others
20:30 - 21:30
Mix and Mingle (Let's get to know each other more!)
DAY 03: Wednesday, August 4
17:30 - 18:30
Online Campus and Beppu City Tour
19:00 - 20:00
Develop your Cultural Intelligence (CQ) Workshop 3
Theme: Effective living and working within a multicultural environment
20:30 - 21:30
Farewell Session
DAY 04: Thursday, August 5
| | |
| --- | --- |
| 17:30 - 18:30 | Making the most of your 4 years at the university: Practical tips, good practices, and lessons learned from alumni |
| 19:00 - 20:00 | Life-skills in building a multicultural world: Experiences from APU alumni |
| 20:30 - 21:30 | Inspiring stories: APU alumni making a difference in the world |
*Please note that the above schedule is subject to change. Accepted participants will be notified of any changes via email.
CERTIFICATION
Participants in this event can receive a certificate which they can use to supplement their extracurricular activities when applying to APU! You can get one too! In order to receive the Certificate of Completion, you will need to attend the opening session, the farewell session, and three CQ workshops. Your participation will only be valid if you attend the entire session.
NOTE:
The Certificate of Completion will ONLY be given to participants who attend the entirety of the sessions. Exemptions will not be made for participants who need to attend to urgent issues on the day or for technical issues such as internet connectivity, etc.
PRO TIP:
If you attend all the sessions, you will receive a special certificate and a secret gift from APU! If you are planning to enroll at APU, do not let this opportunity pass you by!
ELIGIBILITY
In order to apply for this program, you must be a high school student in grade 10 or above at the time of the program. You may also apply if you recently graduated from high school (within the past 3 years) and are NOT currently enrolled at a university.
LANGUAGE PROFICIENCY REQUIREMENTS:
TOEFL®iBT Test: 75 or above
IELTS: 6.0 or above
TOEIC: 750 or above
PTE Academic: 50 or above
Cambridge English Language Assessment: 169 or above
EIKEN: Grade Pre-1 or 1
You will be required to provide one of the above English proficiency examination scores in order to participate. If you cannot submit the above test scores, you have the following options:
Take the Duolingo English Test and submit the scores. You can take this test anytime online and receive your result within 48 hours. For more details, refer to the Duolingo English Test website.
Submit an English Proficiency Evaluation form. You can download the form here. This form should be filled in by an English teacher who has known you for at least half a year.
EXEMPTION FROM SUBMISSION OF LANGUAGE PROFICIENCY SCORES:
You are not required to submit an English proficiency test score if one of the following applies to you:
You have completed or will complete your 12th year of formal education in Antigua and Barbuda, Australia, the Bahamas, Barbados, Belize, Canada (excluding Quebec), Dominica, Grenada, Guyana, Ireland, Jamaica, New Zealand, Singapore, St Kitts and Nevis, St Lucia, St Vincent and the Grenadines, Trinidad and Tobago, UK, or USA.
You have taken or will have taken your most recent 3 years of formal education in the English language in a country other than those listed above and submit a screenshot of the website or a letter from your school proving that.
HOW TO APPLY



REQUIRED DOCUMENTS:

English Language Proficiency Test Scores or Language Proficiency Evaluation Form. Please refer to the Language Proficiency Requirements in Elegibility above for more details.
Scanned copy of the academic transcript from your high school. (All available transcripts from every year/semester you attended high school.)*
A copy of a government or school-issued photo ID. (for identification purposes)**

*

Please use your school's official form and get it signed by the principal and/or stamped with an official school seal. An official signed and dated translation must also be included for any documents that are submitted in a language other than English.

**

Please be sure that your photo and names are clearly visible and your name is written in the English alphabet on the ID you provide. If you do not have an official photo ID with your details in English, please provide a photo taken within the last three months.

By registering for this event, you will also be expected to agree to the 2021 ACE Program Terms and Conditions. You can find the document here.
SCREENING AND RESULT ANNOUNCEMENT
The results will be announced on Monday, June 14, 2021 via email.
INQUIRIES
If you have any questions regarding the program, feel free to get in touch with the APU Office of International Admissions.
Ritsumeikan Asia Pacific University (APU)
Office of International Admissions – 2021 ACE Program
1-1 Jumonjibaru Beppu, Oita 874-8577 Japan
Email: aceapu@apu.ac.jp / Tel: +81-977-78-1119